Summary
4Card Recovery has offered you an easy-to-use interface to resolve all possible data loss problems and let you re-access all your original data easily.

Kingston Flash Card Recovery by 4Card Recovery
Free download 4Card Recovery to copy out all lost or inaccessible files back from Kingston SD cards, Micro SD cards, CF cards and more with success and ease.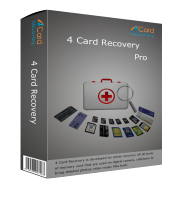 Kingston Flash Card Data Loss Problems
Nowadays, many camera or phone users apply Kingston flash cards (like SD cards, Micro SD cards, CF cards and other Kingston memory cards) to remain their precious, crucial or personal camera or phone photos, videos or other stuffs. However, sometimes, no matter how cautiously you do everything about these flash cards, you may also meet some data loss problems. For example, there are many similar data loss problems, like deleted flash card data loss, formatted flash card data loss, erased flash drive data loss and even corrupted flash card data loss, etc. As to all these unexpected flash card data loss problems, don't panic, 4Card Recovery can be the best choice for you to resolve all possible data loss problems and rescue your needed photos, videos and other information back successfully.
How to Resolve Kingston Flash Drive Data Loss Problems Step by Step?
Even though you've taken every possible precaution, you may also have to confront some Kingston flash card data loss problems. That has been proven by many flash card users. Moreover, the data loss problems could be realty troublesome, especially when you have lost your very, very important data without backups. But, from now on, you do not have need to worry too much, since you can easily employ 4Card Recovery to take all your needed data back. 4Card Recovery is a comprehensive data recovery tool that can help restore images, videos, audios, files, folders and the likes back from all branded flash cards due to unintentional deletion, formatting, RAW file system problem, corrupted card or more. It is easy and safe for everyone to use. Here are only three steps for you to copy out your card data:
Step 1:
Connect this flash card to your computer with a card Reader. Also download this 4Card Recovery and install it on your computer, not this flash card.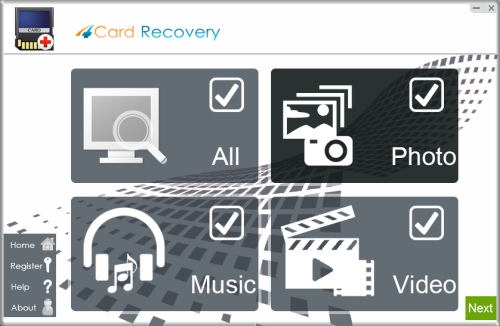 Select recovery options in the main interface
Step 2:
Perform a deep scan on this Kingston flash card. Just select a file type recovery mode and point out this flash card from other media.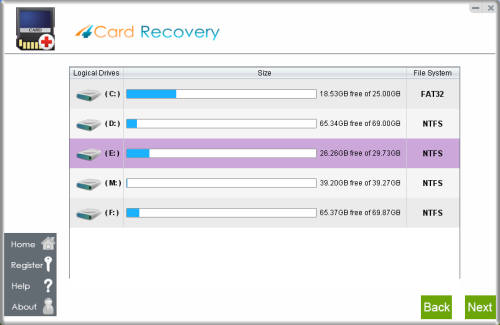 Select card to search photos off card
Step 3:
Wait when the software is performing scanning.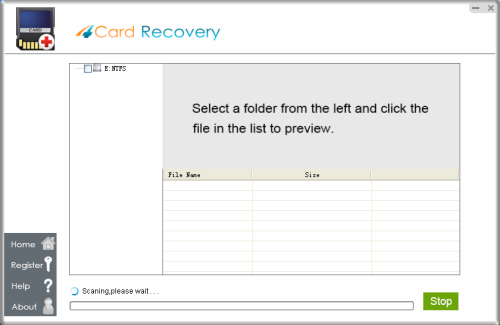 Wait while scanning lost photos, sometimes it takes about 20 minutes to scan a 32G card.
Tips: if it takes more than 2 hours to scan a 32GB card, you may stop the scanning and wait to see
what's already found. Since the card may contains bad blocks that takes longer time than usual.
Step 4:
 Preview and restore all wanted card files back in seconds.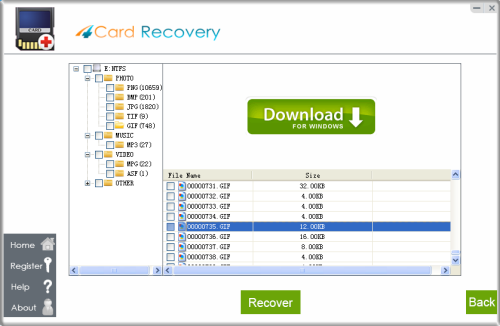 Preview lost photos and save found files. It would generate a folder to contain your lost data.
Please do not save the photo to the card where you lost them. Save them to your PC drive!

Download 4Card Recovery
PS:
* Be sure to install or launch this data recovery software on another storage media, not this Kingston flash card.
* Be sure to put new file or photo on different storage device, not on this Kingston flash card.
* Be sure to preview all scanned files for saving time.
* Be sure to make data backups all the time.
What Situations You Can Still Rescue Lost Flash Card Data?
As a beginner of data recovery, you may not know that not all data loss problems could be resolved. In fact, in some cases, you even cannot rescue any of your original data. Therefore, today, let's know some situations that you can still rescue lost data back:
1). Delete flash card data unintentionally without data backups
There are many possible situations that you may accidentally delete your important flash card data without copy left, like pressing "Shift+Del", clicking "Delete all", mistakenly deleting some ones when viewing, emptying Recycle Bin without checking twice and more.
2). Format or re-format flash card without data backups
Inadvertent formatting or reformatting also can cause flash card data loss problems for you. For example, format a flash card when you are asked to. Format a flash card when card file system turns into RAW. Format flash card for some unintentional operations, etc.
3). Virus-infected flash card without data backups
Data recovery tool sometimes also can help rescue some needed data back from virus-infected flash card.
4). Improper flash card operations
Some improper flash card operations sometimes also can make you lose data unexpectedly, like using the same flash card on several devices, extracting flash card when it is still working, ejecting flash card without clicking "safely remove hardware" and more.
There are also other situations. No matter what the situation you are experiencing, always stop using this flash card right now and take data recovery software to take chances immediately.

Download 4Card Recovery