Summary
Follow the guidance to perform data recovery on your Adata flash memory card so that you can easily rescue all your lost photos, videos, audios and the likes back with fast speed.

Adata Memory Card Recovery by 4Card Recovery
Free download 4Card Recovery to get back lost data back from flash memory cards created by many popular manufacturers, like Adata, Transcend, Sony, Kingston, Samsung and more.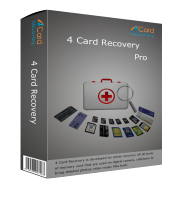 What Kind of Data Recovery Problems Does Adata Memory Card Bring You?
Like other memory card manufacturers, Adata also offers series of ideal flash memory cards for different people to freely use in diversified digital devices. However, sometimes, these ideal flash memory cards also will bring you some unexpected data loss problems. Honestly, if you have ever met similar data loss problems, you may already realize that these flash card data loss problems often can be easily caused by many elements, like deletion, card formatting, card file system error, virus and even card corruption and more. But, do you know that the lost flash card data may be still recoverable? Have never heard that before? Don't worry! If you really need the lost card data back, just try 4Card Recovery to see whether all your lost photos, images, videos, music and the likes could be retrieved with success.
Follow Guidance to Recover Adata Flash Memory Card Data
No matter what kind of data recovery problems this Adata flash memory card bring you, all you are supposed to do is really simply: temporarily pick out this flash card out from your digital device and run 4Card Recovery to take back all your stored flash card data after attaching this card to your computer. With this 4Card Recovery, you can freely click any data recovery mode from four ones displayed on its main screen and regain all wanted files back with fast speed and high efficiency. You always can easily grasp the data recovery process quickly when trying this data recovery tool with a really easy-to-use interface.
Let's follow simple steps to regain missing card data back:
Step 1:
Follow the above guidance to download this 4Card recovery. Open this data recovery application and opt for a data recovery mode.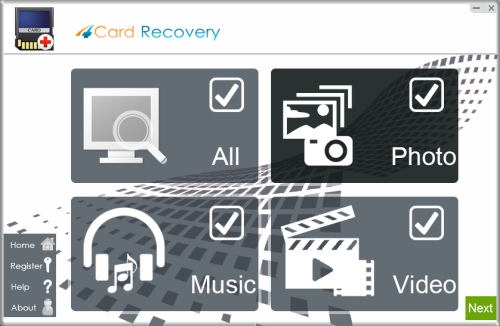 Select recovery options in the main interface
Step 2:
Check the listed storage media carefully and choose your Adata flash memory card.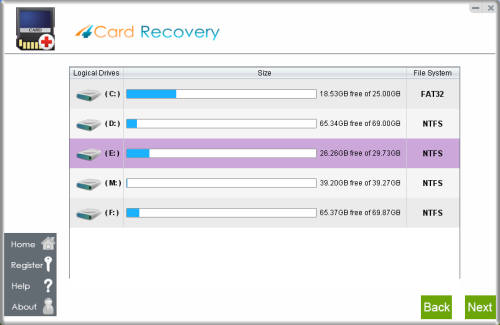 Select card to search photos off card
Step 3:
View all listed files after scanning and pick out useful ones.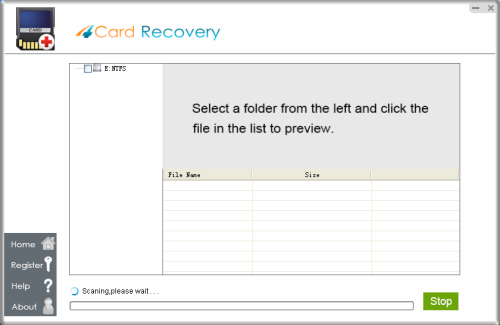 Wait while scanning lost photos, sometimes it takes about 20 minutes to scan a 32G card.
Tips: if it takes more than 2 hours to scan a 32GB card, you may stop the scanning and wait to see
what's already found. Since the card may contains bad blocks that takes longer time than usual.
Step 4:
Restore all selected ones back.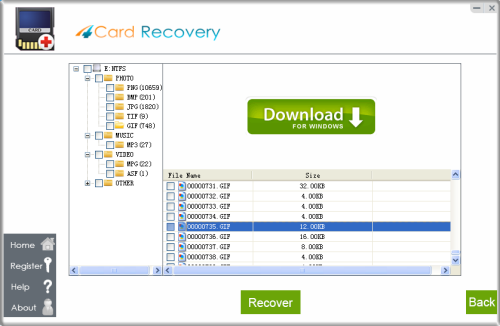 Preview lost photos and save found files. It would generate a folder to contain your lost data.
Please do not save the photo to the card where you lost them. Save them to your PC drive!

Download 4Card Recovery
PS:
* This Adata memory card may bring you much more complicated troubles, if you keep on using this card to hold something new.
* This data recovery program may also bring you much more real data loss, if you save and install this application on this Adata memory card.
* This memory card may bring you more similar data loss problems, if you do not learn lesson to save card data on separate places in the future.
More Information of Adata Flash Memory Card
Adata flash memory cards also can be freely used in many digital devices, like digital cameras, camcorders, media players, smart phones and more. They can be easily divided into two groups: the SD series and Micro SD series. The SD card series has offered many wonderful types with large capacity, like the SDXC cards with 64GB, the SDHC cards with 128GB and some common SD cards with 8GB, etc. Its Micro SD cards also never let you down. Therefore, just choose one based on your own needs, when it is necessary.

Download 4Card Recovery