Summary
This article will help you take back all undamaged original data back from Toshiba memory cards due to your improper deletion, format, extractions and other uncontrollable reasons/elements.

Toshiba Memory Card Recovery by 4Card Recovery
Free download 4Card Recovery to recover all stored videos, pictures, audios and files back from Toshiba memory card with its featured four data recovery modes.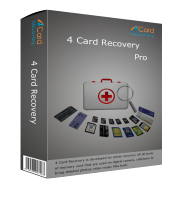 Toshiba Memory Cards Also Bring You Data Loss Problems?
Except some powerful USB flash memory, camcorders and hard disks, etc, Toshiba also offers a series of memory cards for camera/camcorder/smart phone users, like SD cards, SDHC cards and Micro SD/SDHC cards, etc. With considerately capacities and efficient performances, these Toshiba memory cards attract many users. However, sometimes, even being equipped with so many merits, these memory cards may also tend to cause problems for you, especially some card data loss problems due to purposely or unintentional deletion, quick or full format, unexpected virus infection, unplanned card corruption and more. Don't worry! When you are under any of those possible data loss problems, you can easily take the following steps to rescue all your lost/deleted data back from your Toshiba memory card simply by using 4Card Recovery.
How to Perform Toshiba Memory Card Lost/Deleted Data Recovery?
Even though Toshiba memory cards bring you data loss problems, as long as you have not done something improper to this card, you often can easily take back all your lost or inaccessible card data back with 4Card Recovery, which is a popular and qualified data recovery program. With this data recovery tool, you often can rescue your deleted/erased/inaccessible/unreadable/corrupted data back from different branded memory cards. Its four data recovery modes always supports all prevailed file types, like videos, audios, pictures, emails, messages, documents and so on. With this data recovery tool, you often can get everything back within simple clicks. Its easy-to-use interface always is operable for amateurs and experts.
Just perform the data recovery process in several steps:
Step 1:
Download the trial version of this data recovery. Install this tool on your computer and choose a data recovery mode.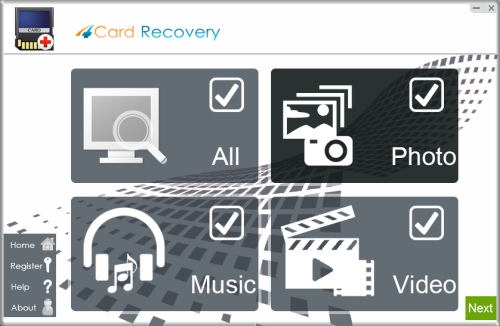 Select recovery options in the main interface
Step 2:
Choose this Toshiba memory card after it is listed in the window of this tool. Scan it latter.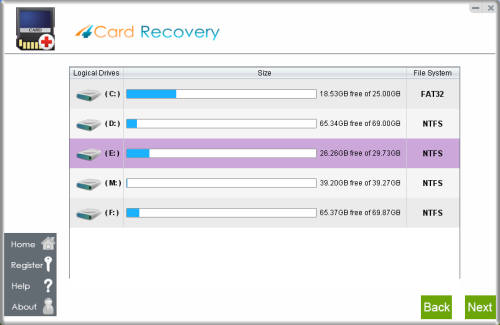 Select card to search photos off card
Step 3:
Check every scanned file to make sure al of them are still recoverable. Just pick out these recoverable ones.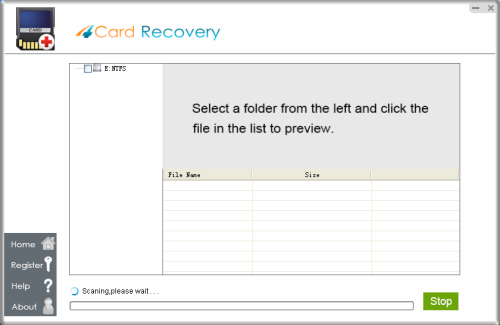 Wait while scanning lost photos, sometimes it takes about 20 minutes to scan a 32G card.
Tips: if it takes more than 2 hours to scan a 32GB card, you may stop the scanning and wait to see
what's already found. Since the card may contains bad blocks that takes longer time than usual.
Step 4:
Restore recoverable ones back to computer drive, not this memory card.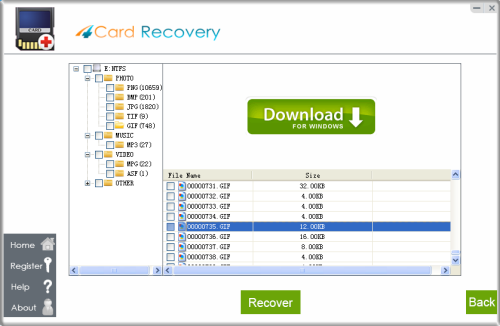 Preview lost photos and save found files. It would generate a folder to contain your lost data.
Please do not save the photo to the card where you lost them. Save them to your PC drive!

Download 4Card Recovery
Note:
* To make sure that all original memory card data is still safe and recoverable, do not write new files on this card.
* To make sure that all restored memory card data safe, do not move it back to this memory card again.
* To make sure that all important data will never be inaccessible or lost, do not remain it on only one memory card or drive again in the future.
4Card Recovery User Words:
User1: This data recovery tool is the one that has retrieve about 2000 pictures back from the camera memory card of my brother. It is worth a shot!
User2: By applying this data recovery tool, all you need to rescue your lost data is only several clicks mentioned above. And the data recovery consequence is also satisfying. So, it is really easy-to-use and efficient.
User3: I just read the information of this data recovery tool in a thread of a popular forum. It has been highly recommended by many users there. So, I finally give it a shot! Surprisingly, it really works powerfully and restored all my lost data back successfully.

Download 4Card Recovery