Summary
4Card Recovery, a comprehensive data recovery program, is capable to rescue all your wanted memory card data back from different Sony or other branded cameras, camcorders, smart phones and mores in simple clicks.

Sony Memory Card Recovery by 4Card Recovery
Free download 4Card Recovery to rescue all your recorded videos, photos and others stored on your Sony memory cards, when you have failed in protecting your precious data well.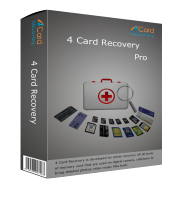 Sony Memory Card Data Is Loss or Inaccessible?
As we all know, Sony is often well-known for its well-designed digital cameras, video camcorders and smart phones, etc. Moreover, all of these digital electronic devices have helped people a lot to record their cherished persons, subjects and memory. However, in some cases, no matter how extremely you want to protect these precious photos, videos and others stored on the Sony memory cards of these electronic devices, you may also lose them inevitably. Why? It is simply because any careless click or unexpected computer or memory card problem can make the reserved data lost or inaccessible in some specific situations, such as unintentional deletion, quick/full format, RAW file system issue, memory card error, memory card corruption and more. But, don't worry! All these Sony memory card data loss problems are not as tricky as you think. Want to rescue your precious photos, videos and others back in minutes? Just take chances with Sony memory card file recovery tool named 4Card Recovery.
How to Rescue Inaccessible or Lost Memory Card Data?
Trough all of these Sony memory card videos, photos and others are inaccessible and cannot be seen or found nowhere, they are still recoverable, since they are still remained on this memory card. Moreover, as long they are not overwritten by anything else, they even can be there permanently. Therefore, don't be depressed, immediately download 4Card Recovery to rescue all your recorded data back. Why to use 4Card Recovery? Firstly, 4Card Recovery offered four file type data recovery modes for rescuing all your lost data with diversified file formats, even some latest file formats. Secondly, 4Card Recovery also can not only help recover data from Sony memory card, and also support all types of memory cards with different brands. It also can works on some USB flash drives. Thirdly, without some data recovery experiences, 4Card Recovery will also not cause troubles for you, since its operating interface is really ease-to-use and user-friendly. 
So, let's download 4Card Recovery to rescue data:
Step 1:
Plunge this Sony memory card with a card Reader or Adapter. And run this memory card to select a fixable data recovery mode.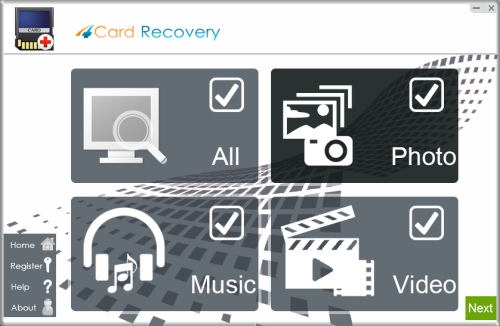 Select recovery options in the main interface
Step 2:
Specify the listed Sony memory card to scan it thoroughly.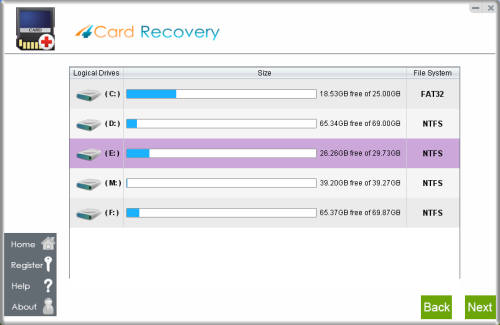 Select card to search photos off card
Step 3:
 Preview all found files to select out your cherished ones.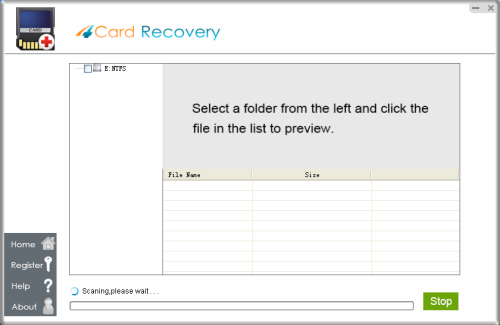 Wait while scanning lost photos, sometimes it takes about 20 minutes to scan a 32G card.
Tips: if it takes more than 2 hours to scan a 32GB card, you may stop the scanning and wait to see
what's already found. Since the card may contains bad blocks that takes longer time than usual.
Step 4:
 Restore all selected files to another storage device.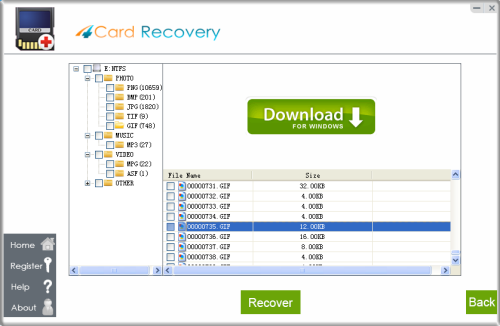 Preview lost photos and save found files. It would generate a folder to contain your lost data.
Please do not save the photo to the card where you lost them. Save them to your PC drive!

Download 4Card Recovery
Attention:
* Never use this Sony memory card to lose more original data before data recovery.
* Never use this Sony memory card to hold the restored data after data recovery.
* Never use only one memory card or storage device to hold all data of cameras, smart phones, camcorders and others.
*Never use one memory card on different cameras, smart phones or camcorders and others.
Memory Card File Recovery Questions and Answers
There are many tips that one should pay attention when he is trying to rescue data back from memory cards:
1). Why not to keep on using a memory card with data loss problems?
After some data loss problems happen to you, the memory card data is not destroyed or wiped as you worry. In fact, the lost data is still held on this memory card and locates on its original card space. However, it is also easy to be overwritten by anything new on the same card space. Therefore, if you want to rescue your lost data back, just do not save anything new on this memory card. Just stop using it for a while.
2). Why not to store recovered data on the same memory card?
If you save the restored data on the same memory card, the restored data would overwrite your memory card and make large amount of original data lost forever. In this way, it could be really tricky to keep on restoring some data that is still stored on this card.
3). Why not to save important data on only one memory card? Saving all important data on only one memory card actually is not a good habit to protect your data. Once this memory card has some data loss problems, you often cannot easily re-access your stored data. Therefore, never forget to save important data on different storage devices regularly in the future.

Download 4Card Recovery