Summary
4Card Recovery has offered great data recovery features for users to restore all contacts, messages, images and more back from Samsung memory cards when you are encountering some card data loss problems.

Samsung Memory Card Recovery by 4Card Recovery
Free download 4Card Recovery to get back all deleted, erased, inaccessible, unreadable and lost data back from Samsung memory cards under various situations.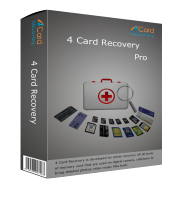 Samsung Memory Card Data Are Gone without Data Backups?
Nowadays, Samsung phones and Samsungs laptops have contributed a lot to this digital world with changes day by day. But, do you know that the Samsung memory cards also affect our daily life? Honestly speaking, these Samsung memory cards have not only made our lives more convenient, and also made our lives more complicated. For example, when you pay much attention to choose an excellent Samsung memory card for your phone or camera data, you may also lose your entire card data only by some accidental deletion, erasing, formatting, virus attacking or card corruption and other card problems. But, all these data loss problems are not irreparable. As long as they are not destroyed or overwritten completely, you still can use 4Card Recovery (a professional data recovery program) to restore all recoverable files back.
How to Recover Samsung Memory Card Data in Simple Three Steps?
In fact, comparing to other branded memory cards, Samsung manufacturer has offered much more memory cards for the users, like the common SD cards, Micro SD cards, CF cards, SDHC plus memory cards and Micro SDHC plus memory cards, etc. But, as to the data loss problems related to these various Samsung memory cards, you only need simple three steps to rescue all card messages, images, mails, contacts and the likes with 4Card Recovery, which is one of the leading memory card data recovery programs. With this data recovery tool, you can not only easily retrieve lost data back from Samsung memory cards and also can freely regain data back from many other branded cards, like Kingston, Transcend, SanDisk, Sony, Canon and far more. With this data recovery tool, you also can easily take lost data back form different types of memory cards, like SD cards, CF cards, Micro SD cards, Mini cards and so on.
So, let's start to recover card data back within simple four steps:
Step 1:
Take this Samsung memory card out of your phone or camera and insert it to computer. Also download and launch this 4Card Recovery. And then, check the listed four data recovery modes and choose a needed one for your card.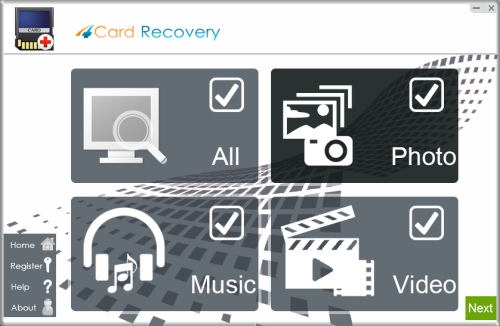 Select recovery options in the main interface
Step 2:
 Scan this Samsung memory card after picking it out from other storages devices.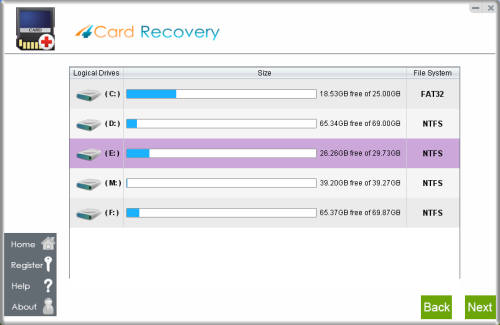 Select card to search photos off card
Step 3:
 Preview to remove all unwanted or useless files. Just mark out all wanted original files.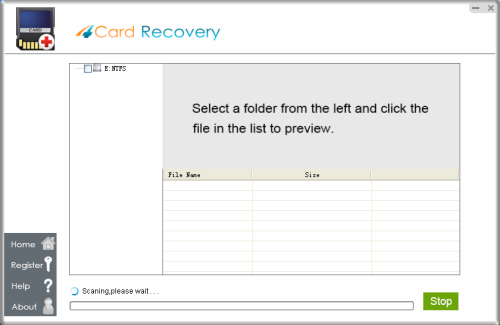 Wait while scanning lost photos, sometimes it takes about 20 minutes to scan a 32G card.
Tips: if it takes more than 2 hours to scan a 32GB card, you may stop the scanning and wait to see
what's already found. Since the card may contains bad blocks that takes longer time than usual.
Step 4:
 Recover all Samsung memory card data. Avoid saving the restored data on the same memory card.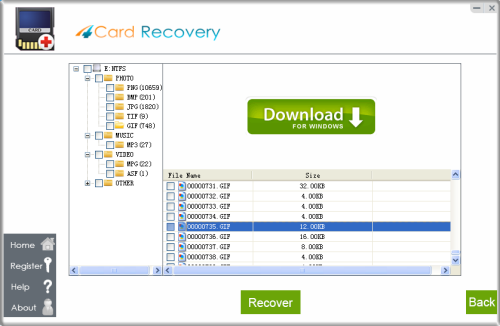 Preview lost photos and save found files. It would generate a folder to contain your lost data.
Please do not save the photo to the card where you lost them. Save them to your PC drive!

Download 4Card Recovery
PS:
* Before data recovery, this memory card should not be used in case of overwriting.
*Through data recovery, you probably cannot rescue every wanted file back, such as some corrupted ones, overwritten ones and more.
*After data recovery, this memory card cannot be set as the destination device to store the restored data in case of unwanted troubles.
*After experiencing this data recovery problem, you should learn to save several copies of everything important on different places.
Comments Edited by 4Card Recovery Users:
Comment1: At first, I just could not access my Samsung phone memory card for a not formatted error message and also could not easily format this card for the wanted photos. So, I had tried many possible ways without satisfying results. But, fortunately, I had used this 4Card Recovery and taken back most of my needed photos. The recovery result was really satisfying. 
Comment2: Keep your memory card unused for a while and plunge it to computer. And then, download this data recovery tool to check whether it will works well on your card. Don't worry! I have ever tried this tool many times. It is always efficient.

Comment3: After following the mentioned simple three steps, I successfully rescued my school photos back from my camera memory cards.

Download 4Card Recovery