Summary
You can use 4Card Recovery to restore all wiped videos, photos, contacts, messages, songs and the likes back from the memory card of LG mobile devices, like cell phones and tablets.

LG Phone Card Recovery by 4Card Recovery
Free download 4Card Recovery to recover lost phone data back from LG mobile phone memory card, no matter which type of phones you are using, like Android series, smart phone series or 4G phone series, etc.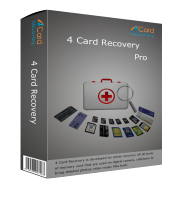 Have Not Kept Your LG Phone Memory Card Videos& Photos Well?
Comparing to the phone internal memory, the LG mobile phone memory card is much safer for you to remain your important phone information for its flexibility and portability. But, occasionally, you may also fail in keeping your card videos and photos well for some sudden reasons. Have you ever mistakenly formatted your phone memory card when planning to format another memory card or hard drive? Have ever deleted your phone memory card stuffs when trying to copy everything there to your backup storage device? Have you ever had to format this phone memory card when phone or computer asks you to format at first? Or have you ever wondered to access your phone memory card information after card corruption or card damage? OK! No matter how and why you've failed to protect your phone memory card data well, LG Mobile phone memory card recovery software like 4Card Recovery could be your chance to take all your photos and videos back.

Recover Lost Contacts, Photos, Videos, Messages, Videos from LG Phone Memory Card?
Saving all LG phone information (like contacts, photos, videos, messages, videos, etc,) only on the phone memory card always is not enough to keep all data safe all the time. Therefore, after experiencing this data loss trouble, you should get accustomed to save copies of all important phone contents on different storage devices regularly. But, now, regards to these deleted or lost phone card data, phone card information recovery software called 4Card Recovery is needed. With the help of this data recovery software, you can not only retrieve lost or deleted data back from phone memory card and also have chances to get left information back from a virus-infected or damaged/corrupted phone memory card.
Steps to recover Lost LG phone memory card photos, contacts, messages, videos:
Step 1:
Plunge LG mobile phone to computer and also download this card recovery software. Set your LG phone well, launch this recovery program and choose a data recovery mode from presented four on its main screen.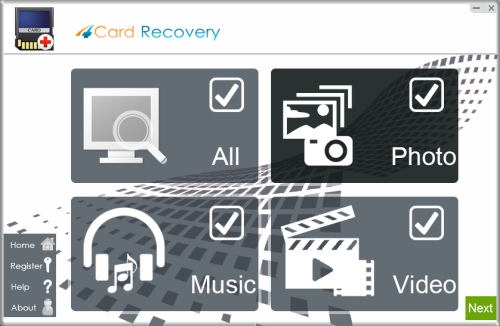 Select recovery options in the main interface
Step 2:
Scan your lost card contacts, photos, videos, messages and more. Precisely find this phone memory card before scanning.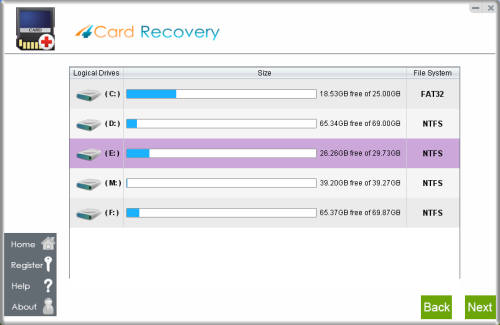 Select card to search photos off card
Step 3:
Select all scanned files, preview them and unmark all useless ones.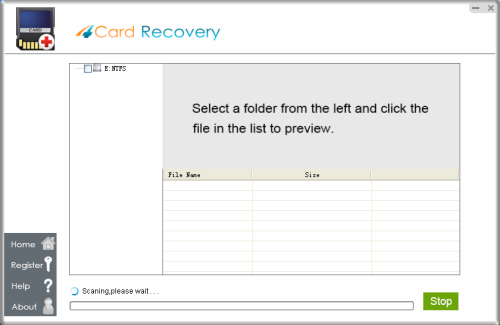 Wait while scanning lost photos, sometimes it takes about 20 minutes to scan a 32G card.
Tips: if it takes more than 2 hours to scan a 32GB card, you may stop the scanning and wait to see
what's already found. Since the card may contains bad blocks that takes longer time than usual.
Step 4:
Restore all possible stuffs back.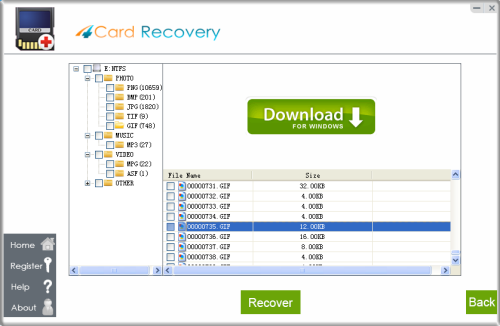 Preview lost photos and save found files. It would generate a folder to contain your lost data.
Please do not save the photo to the card where you lost them. Save them to your PC drive!

Download 4Card Recovery
Tips:
* Do not update your LG phone memory card data in case of your original phone data loss.
* Enable the USB debugging of this LG mobile phone step by step.
* Save all the restored videos, photos, messages and more on the other places of this computer. Do not put them on this phone memory card again.
LG Mobile Device Information:
LG, as a famous manufacturer of electronic devices, has produced two types of mobile devices for customers: the cell phone and tablets. As to the cell phones, on its official website, there has listed many series based on different standards, like Android phone series, smart phone series, 4G phone series, touch screen phone series and QWERTY phone series, etc. Some of these cells phones are able to be used with a memory card. But, some of them are not. Therefore, if you want to have one with phone memory card, you should pay much attention. However, as to the tablets, there are not so many choices for you. But, different types also have their own special features.

Download 4Card Recovery