Summary
4Card Recovery can be your choice to recover lost or deleted photos, videos and files back from assigned memory card, no matter whether you are using a Kodak camera or Kodak memory card.

Kodak Memory Card Recovery by 4Card Recovery
Free download 4Card Recovery to rescue your precious photos, videos and other files back from Kodak memory cards, no matter how you lose them.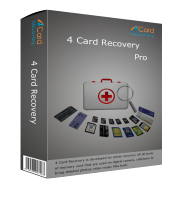 Kodak Camera/Memory Card Shoots, Videos Are Missing?
As we all know, the Kodak digital camera is really a great choice for travelers to enjoy trips as well as recording wonderful memory. Moreover, except these efficient devices, Kodak memory card also can be a nice choice to keep your meaningful photos, videos or files. But, no matter whether you are using a Kodak camera or Kodak memory card, you may also confront some unwanted photo/data problems or errors, like deleting some photos in a rush, hitting format button accidentally, computer/camera prompting "Memory card error", "RAW file system error" or "Not formatted error" and having to format memory card without rescuing data inside, virus attacks and more. Do you still wonder to take all your cherished shoots out? Yes? Ok! Keep on reading this article to recover all possible Kodak memory card data back with 4Card Recovery.
How to Recover Shoots, Videos from Kodak Camera/Memory Card?
Human errors and memory card errors are often the main causes of Kodak camera/memory card data loss. If your photo or video loss problem is also aroused by one of them, ok, don't worry! Your shoots, videos and files are still hopeful. With the help of 4Card Recovery, you always have chances to get them all back. 4Card Recovery is a really a helpful data recovery tool that can restore lost files with different formats and also can work perfectly on different branded memory cards, like Kodak, Samsung, SanDisk, PNY, Sonny and far more ones.
Here is a step-by-step guidance for you to recover your shoots, videos, files…
Step 1:
Free download this data recovery software and launch it on your computer. Continue to choose a data recovery mode. Just freely pick out one from four on its main screen.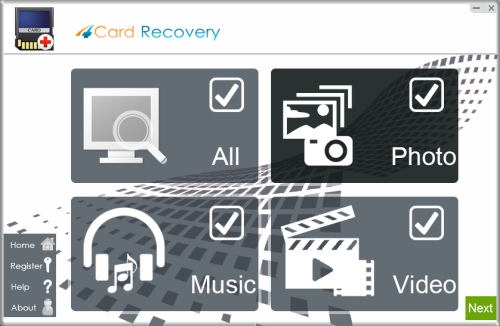 Select recovery options in the main interface
Step 2:
Continue to pick out this Kodak memory card. Just find it, click it and scan it there.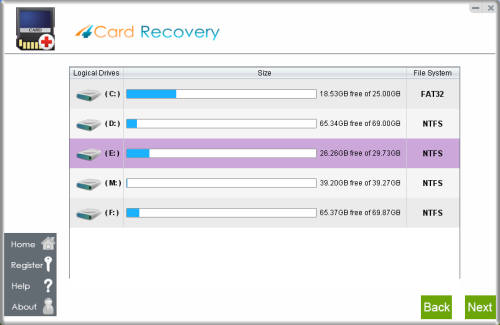 Select card to search photos off card
Step 3:
Continue to preview all scanned files and check all shoots there carefully.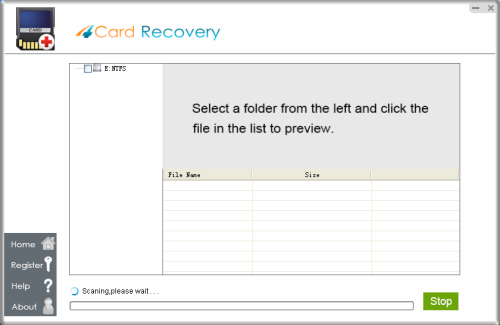 Wait while scanning lost photos, sometimes it takes about 20 minutes to scan a 32G card.
Tips: if it takes more than 2 hours to scan a 32GB card, you may stop the scanning and wait to see
what's already found. Since the card may contains bad blocks that takes longer time than usual.
Step 4:
Restore and move restored shoots and other contents to computer folder or partition.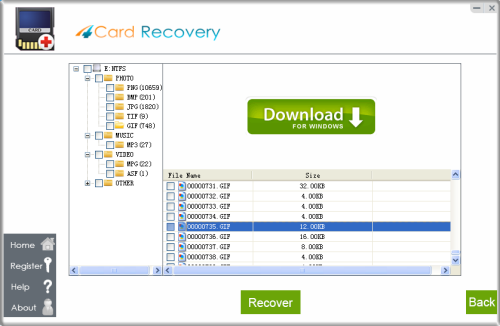 Preview lost photos and save found files. It would generate a folder to contain your lost data.
Please do not save the photo to the card where you lost them. Save them to your PC drive!

Download 4Card Recovery
Warning:
* Shoot no more photos with this Kodak Camera.
* Save no more restored photos or contents on this Kodak memory card.
* Make enough data backups on different storage devices or locations.
4Card Recovery User Comments:
Comment1: Keep this card recovery software installed well on your computer. You can have another nice job with it when you unfortunately have similar memory card or USB flash drive data loss problems.
Comment2 I have rescued a lot of useful files with this data recovery software. In fact, I have ever recommended it to some friends and they also get good results. Thanks!
Comment3. I have retrieved my pictures back. This recovery program even allows me to preview all scanned photos one by one before restoring. It is considerately? It's awesome!

Download 4Card Recovery