Summary
This article talks about how to recover files back from memory cards, when you have failed in stopping your important card videos, photos and files from being lost or inaccessible for deletion, format, virus, or card damage or corruption, etc.

Pretec Memory Card Recovery by 4Card Recovery
Free download 4Card Recovery to recover all your precious card files back with its easy-to-use interface, thorough card scanning, smart previewing and four worthwhile data recovery modes.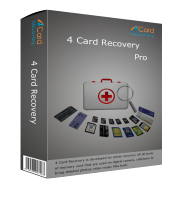 Have Failed Protecting Your Pretec Memory Card Data?
No matter how carefully you have acted and how many useful ways you have adopted, you may also unexpectedly fail in protecting Pretec memory card data and lose it without any satisfying backup, right? The Pretec memory card data loss problems just happen from time to time, right? OK! Don't feel annoying! Without satisfying or timely card data backups, you also can adopt other ways, like memory card data recovery software, to rescue your lost data directly back from this Pretec memory card. So, in order to successfully view your card files again, you absolutely can apply 4Card Recovery (which always has a remarkable performance in fixing memory card data loss problems, like RAW file system card data loss problems, unformatted card data loss problems, formatted card data loss problems, reformatted card data loss problems, corrupted card problems, deleted card data loss problems, etc,) to take chances.
How to Restore Your Pretec Memory Card Data?
Except some reliable SSDs, USB flash drives and other wireless protects, Pretec also offers many powerful memory cards, including CF cards, SD cards and Micro SD cards. Every type of memory cards have also been produced with diversified capacities. However, by using them, when enjoying the pleasant data storing experiences, you may also feel annoying for some card data loss problems. But, with 4Card Recovery, that annoying feeling can not stay long. Why? As one of the most popular memory card data recovery programs, 4Card Recovery has offered enough powerful data recovery features for you. For example, its advanced four data recovery modes enable you to restore data according to different card file types. Its easy-to-handle data recovery interface also requires no professional data recovery skills and knowledge.   So, download this memory card data recovery software and do data recovery on your computer:
Step 1:
Install this recovery tool and run it on your computer. Select a data recovery mode according to your lost card data type.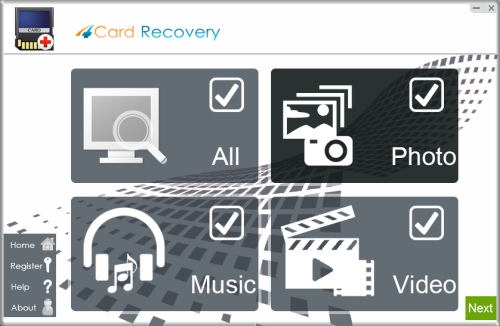 Select recovery options in the main interface
Step 2:
Scan this Pretec memory card presented on the media screen. Wait there when scanning.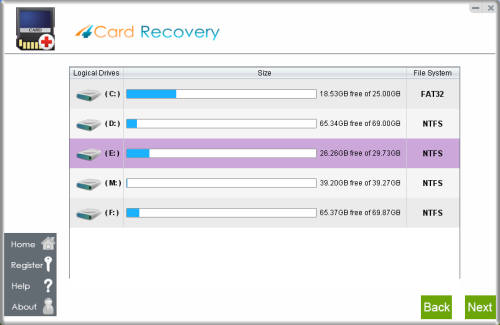 Select card to search photos off card
Step 3:
Click all listed photos or files to view them on the preview screen. Hook all satisfying ones.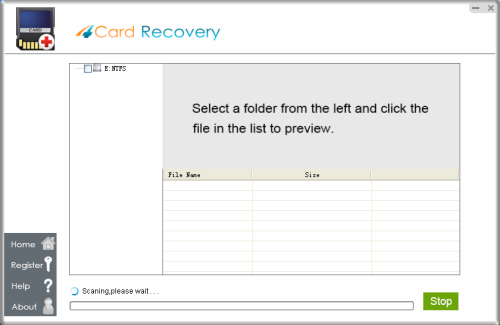 Wait while scanning lost photos, sometimes it takes about 20 minutes to scan a 32G card.
Tips: if it takes more than 2 hours to scan a 32GB card, you may stop the scanning and wait to see
what's already found. Since the card may contains bad blocks that takes longer time than usual.
Step 4:
Restore them to computer drives.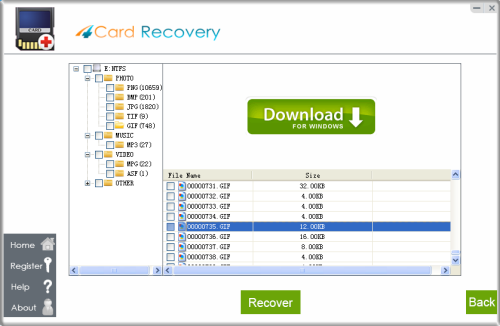 Preview lost photos and save found files. It would generate a folder to contain your lost data.
Please do not save the photo to the card where you lost them. Save them to your PC drive!

Download 4Card Recovery
Tips:
* Do not take new photos or files on this Pretec memory card with your camera/phone/camcorder.
* Do not format this Pretec memory card when you are asked to.
* Do not save the restored card photos on this Pretec memory card after finishing the data recovery.
* Do not store data on only one memory card in the future.
More Information of Pretec Memory Card
As you've read above, Pretec memory cards include three types: CF cards, SD cards, Micro SD cards. They also have offered many capacity types: 4GB, 16GB, 32GB, 64GB, and 128GB. Each type has been designed with different features, like fast read/write speed, large capacity and prefect compatibility, etc. They could be good matches for your smart phones, tablets, cameras and camcorders, etc.

Download 4Card Recovery