Summary
4Card Recovery, an advanced data recovery tool, always enables you to re-access your USB flash drive files when you done something improper to your USB flash drive, such as careless deletion, formatting, corruption or damaging, etc.

USB Flash Drive File Recovery by 4Card Recovery
Free download 4Card Recovery  to find all deleted or lost files back from USB flash drive. It always can cope with deleted data recovery, formatted drive or card recovery problems, corrupted drive or card recovery problems and virus-infected drive or card data recovery problems, etc.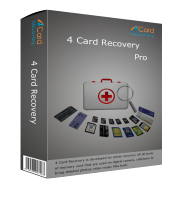 Why Do You Have to Restore USB Flash Drive Files?
USB flash drive files are incautiously deleted when trying to free up drive space? Mistakenly dragging some useful USB flash drive files to Recycle and empty it immediately? USB flash drive becomes completely empty when using it on some unsafe computers of coffee clubs, internet cafés and the like? USB flash drive files are lost after formatting? USB flash drive files are inaccessible for RAW file system or corrupted/damaged drive, etc? What's worse, also forget to make any backup of USB flash drive files? All right! It is absolutely necessary to restore USB flash drive files back when you are trapped in those cases. But, do you know how you can restore your files back safely and efficiently? Honestly, 4Card Recovery can do the trick. Stay with me and let's learn it together.
How to Recover Files back from USB Flash Drive?
Accidentally Deletion, formatting, corruption and damaging, etc, are often the major causes of USB flash drive data lose. But, that's not to say, you have to end up with data loss after unwanted deletion, formatting, corruption or damaging, etc. You also have another way to go: restore all wanted USB flash drive photos, videos, messages, documents and the likes back timely. Want to know what you should do to restore them? Simply download 4Card Recovery and apply it on your computer. On the one hand, 4Card Recovery can not only get data back from different memory cards, as its name indicates, and also can rescue data back from diversified USB flash drives. On the other hand, 4Card Recovery also provide you with 4 data recovery modes that enables you to restore different file types, like photos, videos, music and more. It often has no limitation in file type. Overall, it is really reliable and operable for your case.
Here, start this data recovery tool right now:
Step 1:
 Free download 4Card Recovery and run it to select a fixable data recovery mode from its main window.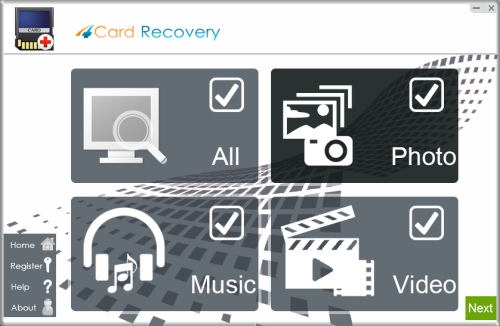 Select recovery options in the main interface
Step 2:
Assign the scanning device: your USB flash drive then. A deep scanning always makes a difference.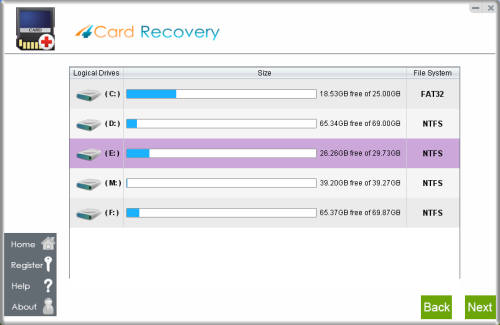 Select card to search photos off card
Step 3:
Wait when the software is performing scanning.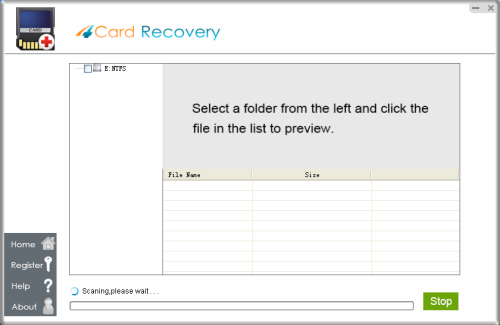 Wait while scanning lost photos, sometimes it takes about 20 minutes to scan a 32G card.
Tips: if it takes more than 2 hours to scan a 32GB card, you may stop the scanning and wait to see
what's already found. Since the card may contains bad blocks that takes longer time than usual.
Step 4:
 Preview and restore all previewed and recoverable files back.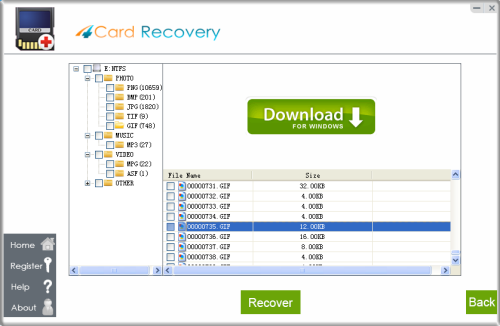 Preview lost photos and save found files. It would generate a folder to contain your lost data.
Please do not save the photo to the card where you lost them. Save them to your PC drive!

Download 4Card Recovery
Common Tips:
* The new file that writes on this USB flash drive may also really erase your original files permanently. Just avoid overwrite this USB flash drive.
* The thoroughly scanning always finds much more original files back and also take longer time. Just wait patiently.
* The retrieved files also can be lost again when you store them on this USB flash drive. Just move them to another drive or place.
* The important data always can be protected well when you make backups all the time. Just save it at least on two different drives or locations.
USB Flash Drive Becomes Empty?
USB flash drive shows nothing stored after attaching to some unsafe computers of coffee clubs, internet cafés and the likes? It sounds like your USB flash drive has been attacked by virus. Want to make sure? Just immediately run your antivirus tool to check whether there are some viruses on your USB flash drive. You are much more worrying about files reserved there? Just apply 4Card Recovery to restore them all back at the first place (of course, learn a lesson to back them on a different drives). And then, format this USB flash drive to remove all viruses completely. Moreover, in case of similar problems, never try to use USB flash drive on a unsafe computer and also regularly clean drive virus.

Download 4Card Recovery