Summary
4Card Recovery can help restore all saved information back without formatting when you are asked to format your USB flash drive without data backups. It also works even when you firstly format this USB flash drive accidentally or purposely.

USB Flash Drive Data Recovery by 4Card Recovery
Free download 4Card Recovery  to rescue all original files back before you set out to format this USB flash drive that has been attacked by virus, got some hard drive problems or RAW file system, etc.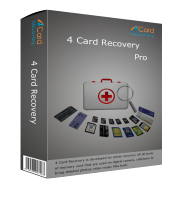 USB Flash Drive Cannot Be Used without Formatting?
The formatting process, especially the quick formatting process, can help resolve many USB flash drive problems, such as cleaning possible virus completely, restoring drive file system from RAW back to NTFS or FAT32, fixing some logical damaged drive problems and restoring drive common use, etc. That's why one is always suggested to format his attached USB flash drive when it has got some drive problems. But, the formatting process will also cause some negative results for you. For example, when you have to format a USB flash drive without any data backup, your contained information could be really dangerous. Therefore, in order to prevent any possible danger of unwanted data loss, you are supposed to rescue your USB flash drive data with 4Card Recovery at first!
How to Restore USB Flash Drive Data without Formatting?
Before the formatting process, you often have enough time to restore all important files back from this USB flash drive, provided that you've not written anything new on the same USB flash drive. In other words, temporarily, you have no need to worry about the possibility of successfully data recovery. So, let yourself free and move your tensed attention to choosing a reliable data recovery program like 4Card Recovery for your inaccessible USB flash drive data. 4Card Recovery, a data recovery tool that is compatible with all prevailed Windows OS versions, like Windows XP, Vista, 7 and 8, etc, can be the best solution for you to restore all lost or inaccessible data back from USB flash drives and memory cards. With this data recovery tool, you often can freely choose any data recovery mode from its pre-designed four and deeply scan your USB flash drive for a much more successful data recovery result. Its user-friendly interface will also give you another amazing data recovery experience. 
So, let's restore your USB flash drive data back step by step:
Step 1:
 Free download this data recovery tool. Always select a powerful data recovery mode based on your own conditions.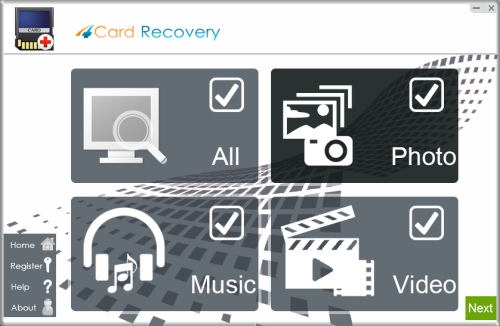 Select recovery options in the main interface
Step 2:
Distingush this inserted USB flash drive from other detected logical disks. Scan this USB flash drive afterwards.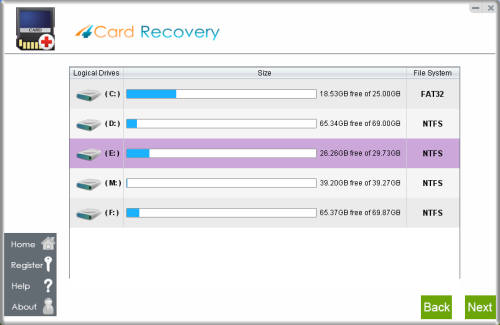 Select card to search photos off card
Step 3:
Wait when the software is performing scanning.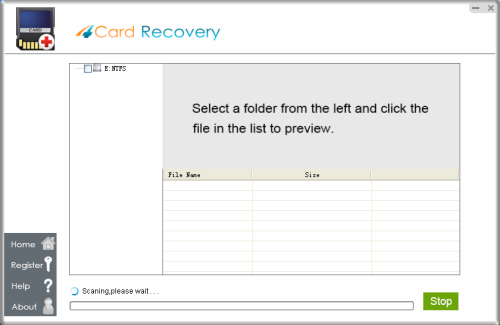 Wait while scanning lost photos, sometimes it takes about 20 minutes to scan a 32G card.
Tips: if it takes more than 2 hours to scan a 32GB card, you may stop the scanning and wait to see
what's already found. Since the card may contains bad blocks that takes longer time than usual.
Step 4:
 Preview and restore  all wanted files on a different location, not this USB flash drive.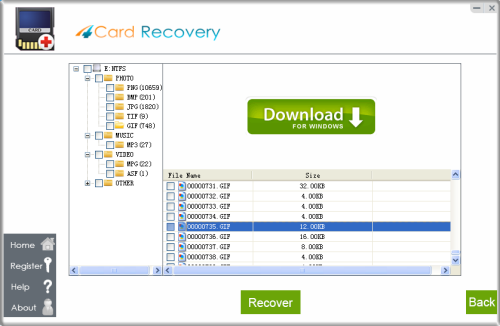 Preview lost photos and save found files. It would generate a folder to contain your lost data.
Please do not save the photo to the card where you lost them. Save them to your PC drive!

Download 4Card Recovery
PS:
* Even through it is possible to restore USB flash drive data without formatting, we also should not write new files on the same USB flash drive to cause further data loss.
*Even through all restored data can be completely restored by this powerful data recovery tool, saving it all on the same USB flash drive will also put it in danger.
* Even though we have no way to stop the data loss problem happening in the future, we do have ways to prevent these problems: backing up all important data all the time.
Want to Format USB Flash Drive at Last?
Too many worries will also bring unnecessary pressures. So, do not worry! Back up everything restored well? If your answer is "Yes", without any worry, you can straightly format this USB flash drive at least.
Is It Possible to Boot Computer from USB Flash Drive?
Yes, it is possible to boot from USB flash drive! In computing, we often set the internal hard drive or CDROM as the boot device so that we can have a fast and smooth booting. However, sometimes, when the internal hard drive or CDROM is physically or seriously damaged or corrupted, you often even cannot boot the computer, needless to say, you are wondering to firstly rescue your computer information. Hence, in case of similar computer problems, we can try to set the computer to boot from USB flash drive. Let's imagine: when your computer is crashed for some unknown reasons and cannot be booted, straightly insert your USB flash drive to boot this computer and check what has caused this computer problem for you. That sounds great, right? Why not to have a try?

Download 4Card Recovery