Summary
The following article will tell you how to copy back all your reserved Memorex USB flash drive files back with the help of 4Card Recovery step by step.

Memorex USB Drive Recovery by 4Card Recovery
Free download 4Card Recovery to find all remained documents, files, photos, videos, emails and other stuffs out from this Memorex USB flash drive before it is too late.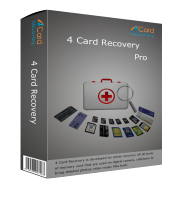 Memorex USB Flash Drive Files Are Lost or Inaccessible?
In order to extremely enrich the digital lives of users, Memorex USB flash drives have been developed with diversified features and high-efficiency. However, no matter how considerably these USB flash drives are designed, they may also causes troubles for you. Honestly, sometimes, no matter how carefully you act, you may also lose your Memorex USB flash drive documents, photos, videos, files and so on, only because of some improper or unintentional operations, such as deletion, formatting, dropping, file system converting and drive corruption, etc. What will you do when you have to face these data loss problems without data backups left? OK! Relax! Stop using this USB flash drive, search the related data loss problems on the internet and download 4Card Recovery to rescue all possible original files back. 
How to Restore Memorex USB Flash Drive Files?
No matter what types of USB flash drive data loss problems you are undergoing now, never give up and download our 4Card Recovery to take chances. 4Card Recovery is especially developed to recover different types of files back from all prevailed USB flash drives, like Kingston, Toshiba, Centon, Memorex, Lexar, Sony and more. Each of its pre-designed four data recovery modes can help deeply scan your USB flash drive and restore all found files back. Moreover, its well-designed interface is also user-friendly and easy to use. In short, no matter what data loss problems you have confronted, like RAW file system data loss issues, formatted drive data loss issues, deleted data loss issues, dropped drive data loss issue and corrupted drive data loss issues, etc, this 4Card Recovery could be your promising choice to restore all lost files back.
Just follow this way to restore your USB flash drive files back with success:
Step 1:
Download and install this 4Card Recovery. And then, the Wizard guidance will lead you to the main windows. Just select a fixable data recovery mode there.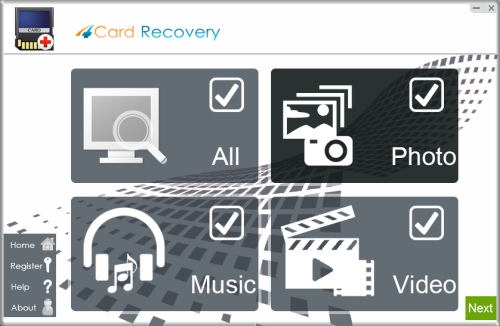 Select recovery options in the main interface
Step 2:
Scan your Memorex USB flash drive after specifying it out from other media listed there.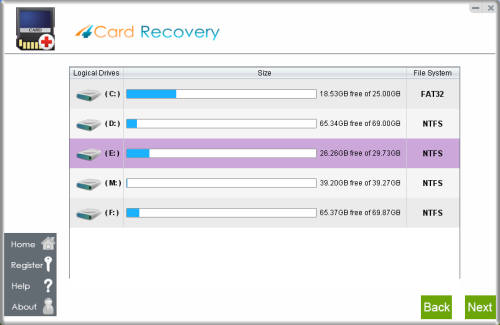 Select card to search photos off card
Step 3:
Preview any of your wanted files scanned out from this USB flash drive. Just select the ones that you need to retrieve.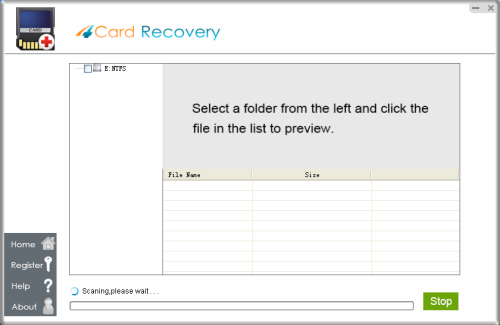 Wait while scanning lost photos, sometimes it takes about 20 minutes to scan a 32G card.
Tips: if it takes more than 2 hours to scan a 32GB card, you may stop the scanning and wait to see
what's already found. Since the card may contains bad blocks that takes longer time than usual.
Step 4:
Restore all restored files back and move them to another drive or place.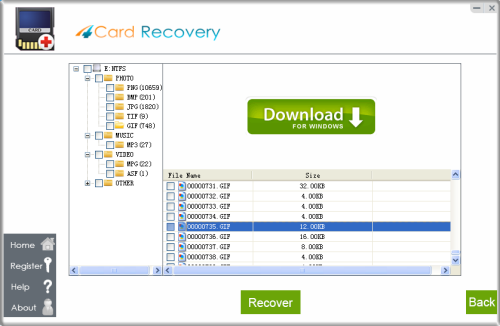 Preview lost photos and save found files. It would generate a folder to contain your lost data.
Please do not save the photo to the card where you lost them. Save them to your PC drive!

Download 4Card Recovery
Attention:
* Just download this 4Card Recovery with the provided link in case of any unsafe element.
* Just stop using this USB flash drive in case of original file loss.
* Just set another computer drive or external drive as the destination device to store restored files in case of data loss.
* Just get accustomed to back up all important data on different drives or storage devices timely.
More Information of Memorex USB Flash drive
There are many featured USB flash drive on the Memorex official website, such as USB Mini Travel Drive, Dual Micrp Travel Drive, USB Travel Drive 3.0 and USB Animal Series, etc. The USB Mini Travel Drive is produced with four types of capacities: 8GB, 16GB, 32GB, and 64GB. It is compact, lightweight and efficient. Its key ring design also makes it more convenient. The Dual Micro Travel Drive is produced with three types of capacities: 16GB, 32GB, and 64GB. It features for its dual USB interface. There are two types of USB interfaces on the two ends of this flash drive, one for PC or laptop and one for phone or tablet. And the USB Animal Series are produced with only one capacity: 8GB. But, it features for its cute and funny shapes, like red crab, yellow fish, green turtle and more. Just select one by yourself there. 

Download 4Card Recovery