Summary
4Card Recovery can be a good choice for you to launch on your computer and restore all lost, missing or deleted files back from different ADATA USB flash drives.

ADATA USB File Recovery by 4Card Recovery
Free download 4Card Recovery to regain your lost, missing or inaccessible data back successfully from your USB flash drives and also save your time and efforts.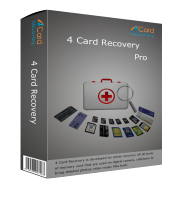 Need Download Data Recovery Software to Rescue ADATA USB Flash Drive Data??
Why you have to download data recovery software? Lose your ADATA USB flash drive data? Need data recovery software to get back data from ADATA USB flash drive that cannot be read for drive corruption or damage? Need data recovery software to get back data from ADATA USB Flash Drive that cannot be accessed for not formatted error, RAW file system error and more? Need data recovery software to get back data from ADATA USB Flash Drive that is deleted or erased for some careless operations? Or need data recovery software to get back data from ADATA USB Flash Drive that is attacked by virus? OK! Obviously, what you need is only an efficient USB flash drive data recovery program, right? For saving time and efforts in data recovery, you can take chances with 4Card Recovery, which is often a risk-free and powerful data recovery tool.
How to Restore ADATA USB Flash Drive Data Effortlessly?
Data recovery software often does the trick when you want to rescue last data back from USB flash drive or restore memory card after deletion, formatting and the likes. But, if you choose a right data recovery tool, you can also not only regain your original data completely, and also can save time and efforts. Therefore, we highly recommend you to employ 4Card Recovery, a USB flash drive data recovery tool with great data recovery features, like four advanced data recovery modes, fast scanning speed, memory card data recovery and efficient data recovery consequences. So, why not to give it a shot right now:
Step 1:
Free download 4Card Recovery here and select "Music", "Photo", "Video" or " All" mode to scan this USB flash drive.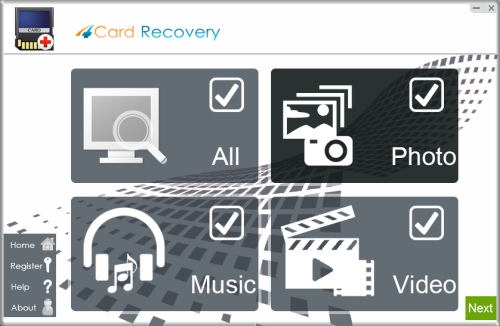 Select recovery options in the main interface
Step 2:
Select ADATA USB flash drive out and wait when it is scanning for your original files.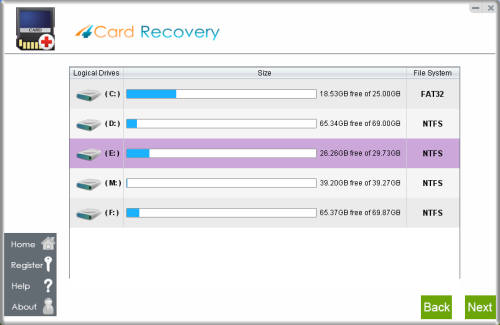 Select card to search photos off card
Step 3:
Preview all scanned files patiently to save time for data recovery.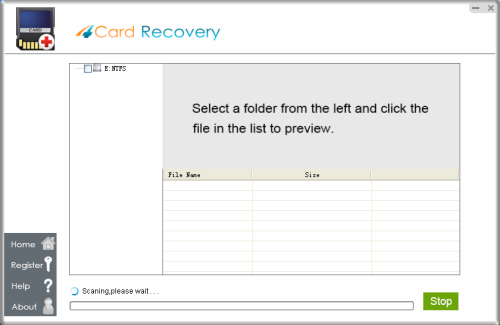 Wait while scanning lost photos, sometimes it takes about 20 minutes to scan a 32G card.
Tips: if it takes more than 2 hours to scan a 32GB card, you may stop the scanning and wait to see
what's already found. Since the card may contains bad blocks that takes longer time than usual.
Step 4:
Restore all marked data back and move it to your computer drives or partitions.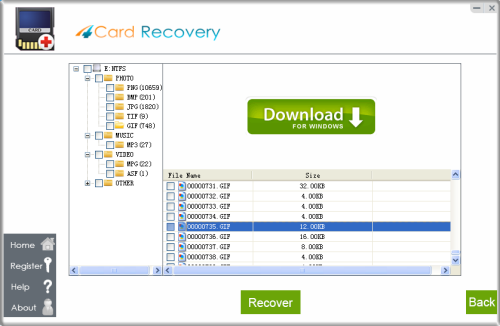 Preview lost photos and save found files. It would generate a folder to contain your lost data.
Please do not save the photo to the card where you lost them. Save them to your PC drive!

Download 4Card Recovery
PS:
* This ADATA USB flash drive should not be used after data loss.
* This ADATA USB flash drive should not be the destination storage device after data recovery.
* This ADATA USB flash drive also should not be the only location to store your important data in the future. Always back up things on different places.
More Information of ADATA USB Flash Drive
Unlike other USB flash drive manufacturers, ADATA has offered many interesting USB flash drive for the users out there. Are you a Crazy NBA fans? If you are, you may like these ADATA USB flash drives that are designed with NBA theme. They all are cute. Of course, they are also waterproof and efficient. Are you enjoying drinking some wine after work? The UC500 USB flash drive that is designed with a "message in a bottle" theme may attract your eyes. It is innovative in appearance design, portable and easy to use. Of course, if you don't care about the appearance of these USB flash drives, you also can choose its classic series. They all are portable and efficient. Just search more information on the ADATA USB flash drive official website.

Download 4Card Recovery