Summary
4Card Recovery is often highly recommended to help users restore erased, deleted, lost, inaccessible, unreadable, corrupted files back from a USB flash drive after some unwanted data loss troubles.

USB Flash Drive Data Recovery by 4Card Recovery
Free download 4Card Recovery to make all unreadable, erased, deleted or missing USB flash drive files accessible again, when your USB flash drive has got some data loss troubles.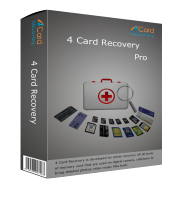 USB Flash Drive Files No Longer Work Normally?
USB flash drive files seem corrupted for accidental extraction? USB flash drive files cannot be used or opened for corrupted or damaged USB flash drive? USB flash drive files don't work normally for some unknown threats or viruses? USB flash drive files become really strange for sudden power surge or power failure? Or USB flash drive files are inaccessible for RAW file system problems? OK! Even though we cannot make sure whether all your USB flash drive files are really corrupted permanently, you absolutely should firstly do your own efforts to rescue them back by checking some promising ways. Do you know how many ways there are? If not, don't worry, at the first place, you can check whether a trusted data recovery tool like 4Card Recovery is workable for you.
How to Recover USB Flash Drive That Cannot Be Accessed Normally?
Like some hard nuts that cannot be cracked easily, the real corrupted files also cannot be restored easily. But, are you 100% sure all your USB flash drive files are really corrupted or damaged completely? If not, let's use 4Card Recovery to check whether all of them are irrecoverable. In fact, honestly speaking, 4Card Recovery is a really easy-to-use data recovery tool that has been equipped with a really intuitive interface. You often can understand its options and operations easily. 4Card recovery is also a really powerful data recovery tool that can easily find all possible files back with its four data recovery modes.
Step 1:
 Free download and install 4Card Recovery on your computer and timely select a data recovery mode.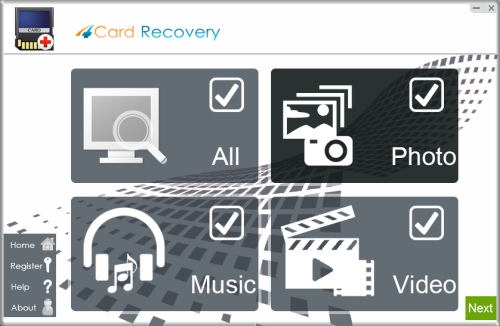 Select recovery options in the main interface
Step 2:
Click the drive letter of your USB flash drive. Click "Next" to start scanning.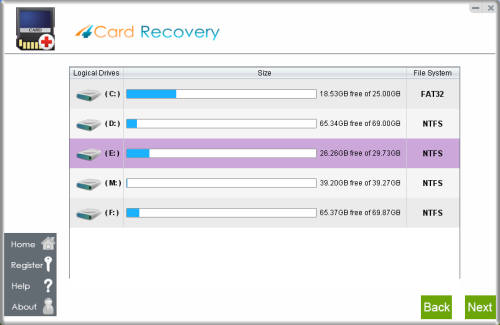 Select card to search photos off card
Step 3:
Wait during the scanning.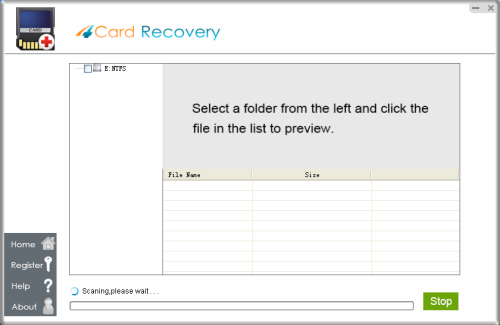 Wait while scanning lost photos, sometimes it takes about 20 minutes to scan a 32G card.
Tips: if it takes more than 2 hours to scan a 32GB card, you may stop the scanning and wait to see
what's already found. Since the card may contains bad blocks that takes longer time than usual.
Step 4:
Select scanned folder to preview all recoverable files one by one and restore marked ones back.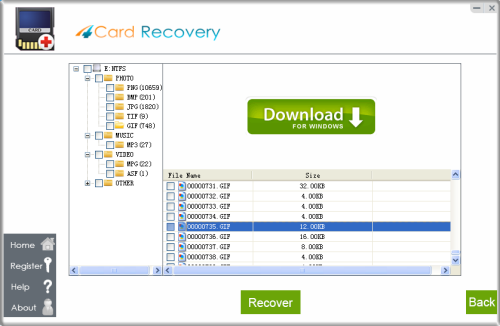 Preview lost photos and save found files. It would generate a folder to contain your lost data.
Please do not save the photo to the card where you lost them. Save them to your PC drive!

Download 4Card Recovery
Attention:
* It is always helpful not to overwrite or format the original storage device after some data loss troubles.
* It is always practical not to store all retrieved files on the original storage device after data recovery process.
* It is always necessary not to save all important data on only one hard drive or storage device.
Users Words:
User1: It is so wonderful and fortunately for me to find and use this data recovery tool. In fact, I have tried many similar data recovery methods recommended online. But, the results are not so satisfying. Part of them can only restore a little portion of my original USB flash drive data. Part of them can only restore one type of my original USN flash drive files. Part of them even cannot detect this USB flash drive. But, 4Card Recovery regained all my wanted files back.
User2: In my personal experiences, I think this 4Card Recovery is really better than other normal data recovery tools.
User3: This one is also worth trying. Unlike other data recovery tools online that also spread virus around, this data recovery tool is really safe. Of course, if you are still worried, you can firstly scan the tool files with your trusted antivirus program. The result will tell you whether I am right.
User4: I had this data loss problem the other day. But, I finally opened all my needed word files inside my USB flash drive with the help of this 4Card Recovery.

Download 4Card Recovery