Summary
This article will introduce you some useful ways to restore all your wanted data back when your USB flash drive is unexpectedly faulty, damaged, failed, dead or corrupted, etc.

Faulty USB Flash Drive Recovery by 4Card Recovery
Free download 4Card Recovery to freely copy all your wanted data out from your faulty/dead/failed/corrupted USB flash drive after checking something, like trying it on other computers or trying it with a different USB interface.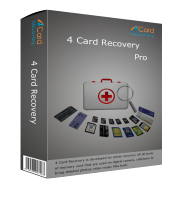 USB Flash Drive Got Some Problems?
USB flash drive seems corrupted for long time use? USB flash drive cannot be recognized by your computer for some improper operations? USB flash drive seems dead since it cannot work normally on your computer? Or USB flash drive seems crashed on your computer and cannot be found anywhere? But, USB flash drive files have not been copied out for backing up? Don't panic! You cannot give up the hope here. Firstly, connect this USB flash drive to another computer and check whether it can be read functionally there. No good luck? OK! Secondly, try to insert this USB flash drive to this computer with a different USB interface/cable or Adaptor and check whether the inner contents could be smoothly browsed. USB flash drive is recognized, but, the remained files are also inaccessible? OK! Thirdly, if you really cannot copy out all your contents manually, you can use data recovery software like 4Card Recovery to help you retrieve them back. 
How to Use 4Card Recovery to Restore USB Flash Drive Files?
The faulty/dead/failed/corrupted/crashed/damaged USB flash drive often cannot be used normally or functionally on a specific computer sometime. But, that's not to say, it also cannot be used when it has been attached on a different computer or when it has been changed with a different USB interface or USB Adaptor. So, when your USB flash drive has got similar USB flash drive problems, you also can try these ways and use 4Card Recovery to copy all your remained important files back with ease. As a comprehensive and risk-free data recovery tool, 4Card Recovery always can let you experience an amazing and unforgettable data recovery process with its four powerful data recovery modes and well-designed interface:
Step 1:
 Free download and install 4Card Recovery on computer drive or external hard drive. Pick out a data recovery mode when you are asked to choose one.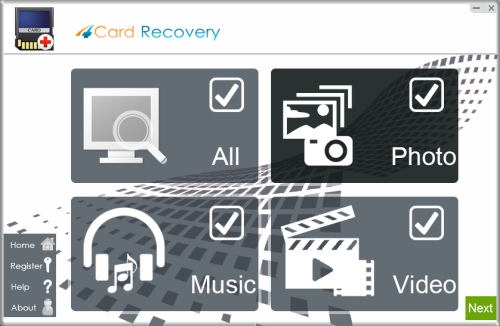 Select recovery options in the main interface
Step 2:
Pick out this faulty USB flash drive when you are asked to specify it from other logical disks.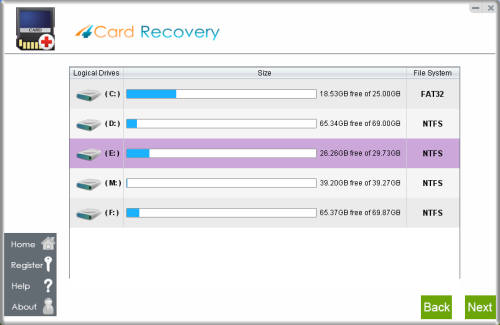 Select card to search photos off card
Step 3:
Pick out all wanted original files when you are previewing the scanned files.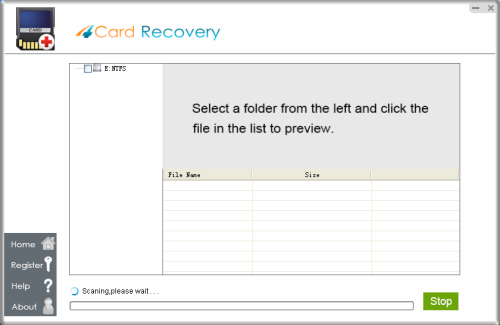 Wait while scanning lost photos, sometimes it takes about 20 minutes to scan a 32G card.
Tips: if it takes more than 2 hours to scan a 32GB card, you may stop the scanning and wait to see
what's already found. Since the card may contains bad blocks that takes longer time than usual.
Step 4:
Restore all picked files back.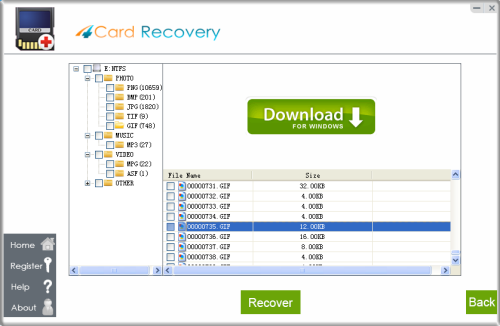 Preview lost photos and save found files. It would generate a folder to contain your lost data.
Please do not save the photo to the card where you lost them. Save them to your PC drive!

Download 4Card Recovery
Important Note:
* Do not attempt to put new file or folder on this faulty USB flash drive when it is recognized by computer.
* Do not attempt to put restored files on this USB flash drive since it is not as efficient and safe as before.
* Do not attempt to put all important drive data on only one drive or storage device again.
USB Flash Drive Cannot Be Recognized When Being Changed with a Different USB Interface?
In fact, my mentioned ways are also not workable with all these faulty USB flash drive problems. Therefore, if your USB flash drive also cannot be recognized even when you have changed a different USB interface/Adaptor, your drive must be seriously damaged. You'd better take it to a professional computer store for help.
User Experiences:
User1: 4Card Recovery has helped me recovered a lot of my formatted memory card photos. It's handy and also offers some free activities sometime.
User2: You'd better always make data backups in case of data loss problems. Of course, if you confront similar problem again in the future, this data recovery tool could be good idea for you to get your data back.  
User3: I had something similar data loss problems that had happened to my Toshiba USB flash drive. And the data loss problem nearly drove me creasy. But, due to this data recovery tool, I finally found my work files back.

Download 4Card Recovery