Summary
This article is about how to retrieve your original files with a variety of file types (like images, videos, music and more) back from your PNY USB flash drive that is formatted, reformatted, erased, dropped or corrupted for some reasons.

PNY USB Data Recovery by 4Card Recovery
Free download 4Card Recovery to do restore your essential files back from PNY USB flash drive when you make some common mistakes, like formatting/reformatting, erasing/deleting, dropping/falling and more.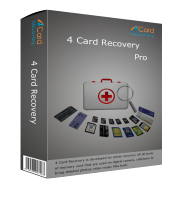 What Mistake Have You Made to Lose Your PNY USB Flash Drive Data?
PNY also is an important and popular storage device brand all over the word, like SanDisk, Toshiba and Sony, etc. Every day, the PNY USB flash drives, flash memory cards, Solid State Drives and more also contribute a lot to our convenient digital life. But, today, we will turn our attention to the PNY USB flash drive, especially concentrating on the PNY USB flash drive data recovery problems. Have you ever lost your PNY USB flash drive data for formatting or reformatting? Have you ever erased your PNY USB flash drive data for mistake deletion? Have you ever missed some PNY USB flash drive data for accidentally dropping or falling? Or have you ever confronted an inaccessible PNY USB flash drive for RAW file system? OK! No matter what mistake you've made to lose your wanted USB flash drive data, just count it in these data lose problem list and use 4Card Recovery, a professional USB flash drive data recovery tool, to take your data back easily.
How to Restore Lost PNY USB Flash Drive Data back?
There is no way for you to manually restore all lost or inaccessible file back one by one from PNY USB flash drive, unless you are an outstanding expert in this aspect. But, don't worry! There are professional data recovery tools that has been highly developed for you to rescue your USB flash drive data. For example, 4Card Recovery, a reliable data recovery tool, is also one of the best choices for you right now to check the recoverability of your original data. Its four functional data recovery modes and user-friendly interface always can easily simplify your data recovery process. Moreover, by using its Preview function efficiently, you even can extremely shrink the time of data recovery. In conclusion, 4Card Recovery is really an excellent data recovery tool for you to use right now:
Step 1:
 Free download and install 4Card Recovery on your computer and start it to choose a useful data recovery mode carefully. Also connect your PNY USB flash drive there.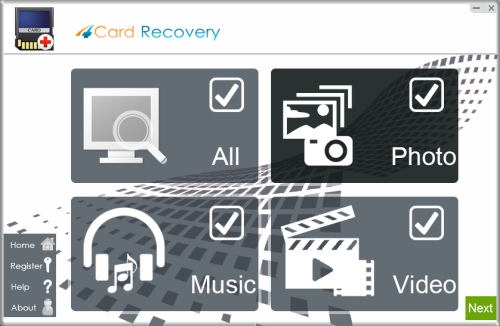 Select recovery options in the main interface
Step 2:
Select a specific device in the list to scan for your lost data. This PNY USB flash drive should be the one.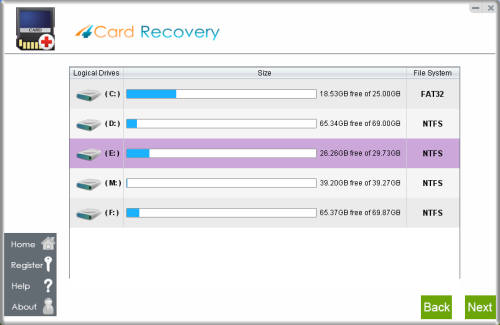 Select card to search photos off card
Step 3:
 Click "Preview" to pick out all recoverable contents. These files that cannot be rightly opened or read are often irrecoverable.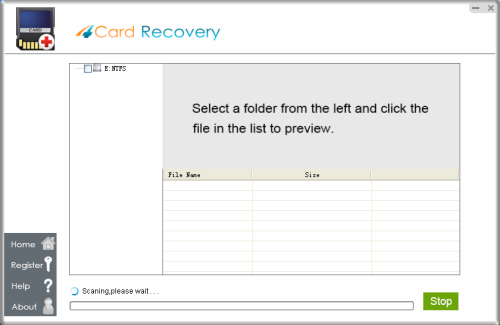 Wait while scanning lost photos, sometimes it takes about 20 minutes to scan a 32G card.
Tips: if it takes more than 2 hours to scan a 32GB card, you may stop the scanning and wait to see
what's already found. Since the card may contains bad blocks that takes longer time than usual.
Step 4:
Recover all recoverable files back.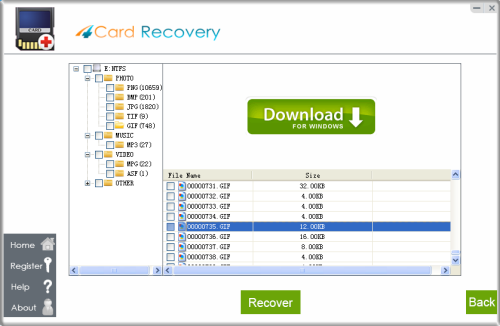 Preview lost photos and save found files. It would generate a folder to contain your lost data.
Please do not save the photo to the card where you lost them. Save them to your PC drive!

Download 4Card Recovery
Notice:
*Save all new files on computer drives or other external hard drives, not this PNY USB flash drive.
*Save all restored files on computer drive or other external hard drive, not this PNY USB flash drive.
*Check twice or more times before you decide to format/reformat or erase your drive.
*Save at least two copies of everything important on different drives or places.
Users Comments:
Comment1: Cool! Very nice data recovery tool! I am really glad that it works perfect on my formatted USB flash drive. Now, I have rescued my wanted data back and also can freely use my USB flash drive again. Thanks!

Comment2: As usual, I was attempting to use my USB flash drive on my computer. However, the USB flash drive cannot be accessed for "not formatted error" message. It seems that I can never access this USB flash drive without the formatting. But, without blindly formatting it immediately, u trued some data recovery tools online, including this 4Card Recovery. Surprisingly, this tool has finally rescued the largest amount of my original data. It is awesome!   
Comment3: It is so wonderful. I have tried this data recovery several times. It has never let me down yet! It can be your great chance to restore lost USB flash drive or memory card data.

Download 4Card Recovery