Summary
Let's pay more attention to restoring all your deleted/lost/inaccessible data back from your USB flash drive by using 4Card Recovery.

Kingston USB Drive Recovery by 4Card Recovery
Free download 4Card Recovery to rescue each of your wanted original files back from this USB flash drive when you have experienced some accidental deletion, formatting, reformatting drive corruption and more.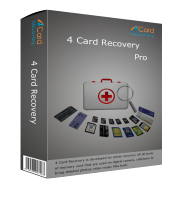 Depressing Kingston USB Flash Drive Data Loss Problems
Kingston USB flash drive has remained many important work files, personal pictures, wonderful movies, useful emails and messages, etc. But, these Kingston USB flash drive contents have been lost for some incautious accidents? A portion or most of your original files are deleted by your unintentional operations? Kingston USB flash drive is unexpectedly formatted when you are half asleep and do not put enough attention to the error pop-up? Kingston USB flash drive is corrupted when you are trying to rescue data and stop the formatting process suddenly or pull it out from PC directly? Or King USB flash drive is virus-infected since you often forget to scan it in daily use? Don't be depressed too much! You come to the right place! Here, a best approach for you to fix these USB flash drive data loss problems could be introduced!
How to Restore Kingston USB Flash Drive Data?
In the long history of human beings, when a problem occurs, there are always some people that will voluntarily stand out and try their efforts to resolve it, including these USB Kingston USB flash drive data loss problems. Moreover, fortunately, you have no need to do your own efforts for settling similar data loss problems, since there are some useful data recovery approaches that have already worked out for the victims like you. So, right now, stop everything else and use our best data recovery approach, 4Card Recovery, to rescue all your Kinston USB flash drive data back as much as possible. By using this data recovery tool, you can not only enjoy its easy-to-use interface to get back your data within minutes, and also can preview all needed files to save much more time. By using this data recovery tool, you can not only enjoy its four data recovery modes to rescue your different USB flash drive files back with high quality and quantity, and also can freely use it on different computers to regain your files back from different memory cards or other storage devices.
Let's have a further leaning about its data recovery steps:
Step 1:
 Free download and install 4Card Recovery on your computer. Immediately start it to click a useful data recovery mode on its main window.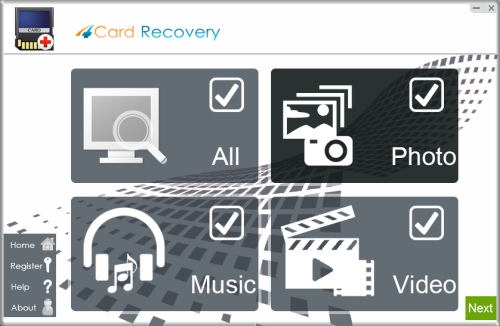 Select recovery options in the main interface
Step 2:
Click this Kingston USB flash drive on its detected media list. And then, this tool will begin to scan this USB flash drive deeply for a while.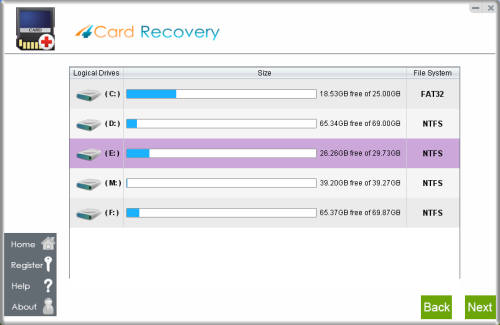 Select card to search photos off card
Step 3:
Click every useful file once to restore. The preview function allows you to pick out all you wanted files one by one.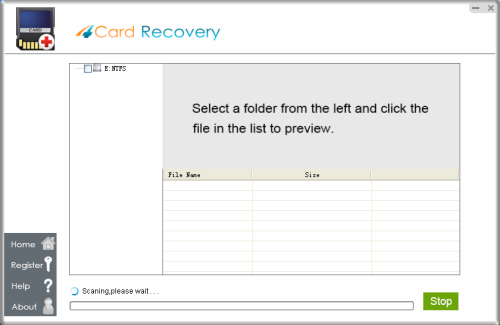 Wait while scanning lost photos, sometimes it takes about 20 minutes to scan a 32G card.
Tips: if it takes more than 2 hours to scan a 32GB card, you may stop the scanning and wait to see
what's already found. Since the card may contains bad blocks that takes longer time than usual.
Step 4:
Click "Recover" button to take back all your previewed files back.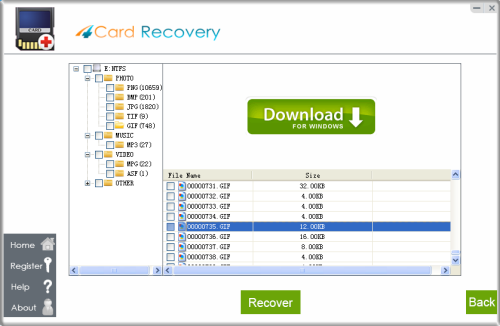 Preview lost photos and save found files. It would generate a folder to contain your lost data.
Please do not save the photo to the card where you lost them. Save them to your PC drive!

Download 4Card Recovery
Note:
* Given more attention not to save new file on this USB flash drive, new files can make all your original files lost really.
* Given more attention not to save restored files on the same USB flash drive, the restored files on the same USB flash drive also can be lost forever.
* Given more attention to your important data, you may easily prevent these terrible data loss accidents.
Some User Comments of 4Card Recovery:
Comment1: Excellent data recovery tool! The main benefit of this data recovery tool is that it allows you to download this useful software without any cost. It is also virus-free. 
Comment2: Extremely useful memory card data recovery software! Never know there is such a reliable data recovery application that can easily rescue my camera memory card photos back. The camera card data loss problem really makes me nervous and panic. But, fortunately, I find this tool online to fix my problem.
Comment3: Great tool! This tool will be really useful when the USB flash drive or memory card data loss problem occurs at any time and at any place. Just remember not to put anything new on this drive or card with data loss problems.

Download 4Card Recovery