Summary
4Card Recovery will be introduced here for you to restore all your non-backed up files without any risk from your USB flash drive that is recognizable but corrupted due to virus, improper operations, long time use, corrupted file system and more.

Corrupted USB Drive Recovery by 4Card Recovery
Free download 4Card Recovery  to rescue all office documents, preferable images and valuable videos or movies back from your corrupted USB flash drive when it is still recognizable on your computer.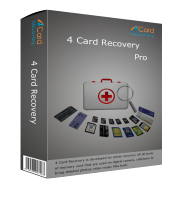 USB Flash Drive Is Corrupted, But Recognizable?
What have you done to this USB flash drive and made it corrupted? Improperly remove it from your computer without clicking "Safely Remove Hardware"? Randomly format it and stop the formatting process immediately for rescuing stored data? Carelessly hit or drop it and find it stops working functionally as before? USB flash drive file system is corrupted and cannot be read or accessed as before? Or unknown virus has attacked this USB flash drive and brought many unknown drive problems? But, USB flash drive files have not been backed up well yet? OK! Ease! Stop pushing yourself too hard! All these problems do not forecast a complete data loss. Oppositely, as long as you select a proper data recovery tool and take the right data recovery steps, rescuing your entire USB flash drive files back is not impossible or hopeless.
How to Recover Corrupted USB Flash Drive Files with 4Card Recovery?
When getting a corrupted USB flash drive, comparing to the corrupted physical drive, the stored files are often much more important, right? Therefore, in this case, you are supposed to firstly select a helpful data recovery program for rescuing your non-backed up files. Have any wanted data recovery tool flashed in your mind? If not, you can directly try 4Card Recovery, a considerate and professional data recovery tool. In fact, as I know, 4Card Recovery is specially designed for users to get needed original data back from a USB flash drive or memory card. Its wonderful data recovery features always attract many users. For example, as a risk-free data recovery tool, its downloading files and folders are always free from any possible virus or threat. As a powerful data recovery tools, its four card data recovery modes always can help resolve many unexpected data recovery problems. Your corrupted USB flash drive data recovery problem also could not be a hard nut for it. As a use-friendly data recovery tool, its interface is always easy and operable for everyone.
Hence, for your USB flash drive data, you can freely apply this tool:
Step 1:
 Free download 4Card Recovery and and install this tool on your computer. Also timely select a data recovery mode for this USB flash drive.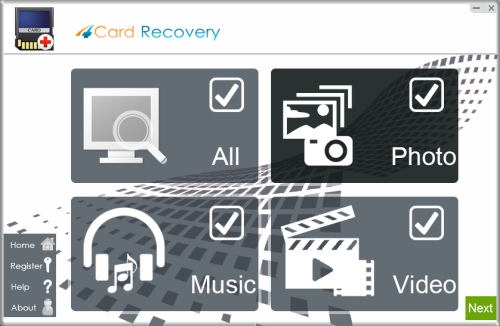 Select recovery options in the main interface
Step 2:
See whether this USB flash drive is detected by this tool and click it to scan.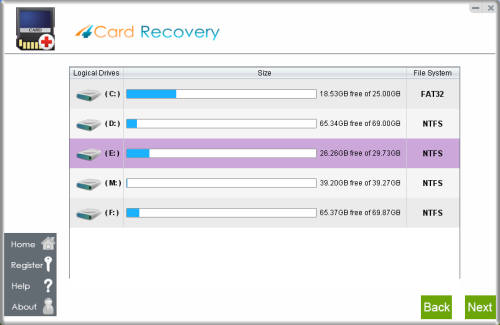 Select card to search photos off card
Step 3:
Wait when the software is performing scanning.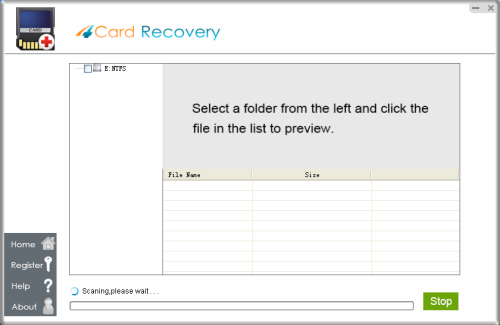 Wait while scanning lost photos, sometimes it takes about 20 minutes to scan a 32G card.
Tips: if it takes more than 2 hours to scan a 32GB card, you may stop the scanning and wait to see
what's already found. Since the card may contains bad blocks that takes longer time than usual.
Step 4:
 Preview and restore all wanted files on another drive or storage device.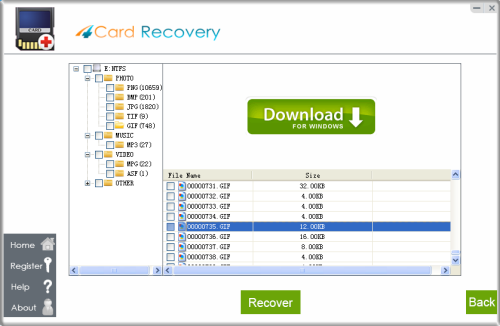 Preview lost photos and save found files. It would generate a folder to contain your lost data.
Please do not save the photo to the card where you lost them. Save them to your PC drive!

Download 4Card Recovery
Remember:
* In case of data loss, new files should not be written on this corrupted USB flash drive before recovery process.
* In case of data loss, the restored files should not be written on this corrupted USB flash drive after recovery process.
* In case of similar data loss, the important USB flash drive data should not be written on only one drive or place in the future.
Read More Information about USB Flash Drive
As a disk user, USB flash drive may be not strange to you. But, how much do your know about USB flash drive? Let's read more information about it here:
1). Names
A USB flash drive is often talking about a storage device that is often used to transfer data from one computer to another. For its portability and flexibility, it is wordily used by people. Moreover, in fact, except this well know name, the USB flash drive is often called as "Thumb drive". In some cases, some people also call it "Pen drive". Overall, no matter what it is called, it always brings great convenience.
2). Structure
Like some card Readers, USB flash drive also has a beautiful or durable outside covering and a USB interface. But, differently, it is also equipped with flash memory that allows one to store or put various files there. That's why it is can be used to transfer data between computers.
3). File system
In order to make it compatible with different computers/laptops, USB flash drive also is manufactured with different file systems, such as NTFS or FAT32. But, the NTFS file system is often much more frequently used.
4). Storage capacity
In order to facilitate all users, the storage capacity of USB flash drives on the market varies from 8MB to 1TB. So, one can freely choose a wanted one with proper storage capacity.

Download 4Card Recovery