Summary
4Card Recovery can be used for you to restore all your reserved data back from USB flash drive that needs to be formatted due to virus infection, rude extraction, incompatible file system, power surge and other USB flash drive problems.

USB Flash Drive Recovery by 4Card Recovery
Free download 4Card Recovery  to copy all stored information back from USB flash drive that asks to format, when you do not have any data backup reserved on other storage devices or locations.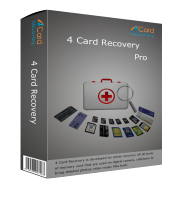 USB Flash Drive Needs to Be Formatted?
USB flash drive cannot be read normally and suggests you to format it? Desktop warns: "The disk is not formatted. Do you want to format it now?" and attaches two options: "Yes" or "No"? Laptops shows: "You need to format the disk in drive before you can use it. Do you want to format?" and gives two options: "Format disk" or "Cancel"? The access to USB flash drive is denied for RAW file system and you have to format it in advance? USB flash drive gets some errors or problems and needs to be formatted immediately? But, there are still some crucial files held inside this USB flash drive? OK! Don't panic! 4Card Recovery can help you rescue all left videos, photos, documents, files and more back before you format this USB flash drive.
How to Recover Files from USB Flash Drive That Needs to Be Formatted?
No matter what your windows has asked you exactly, you'd better not format this USB flash drive before rescuing all original data back. Want to completely copy back all your remained USB flash drive files? Immediately download 4Card Recovery to give you an unforgettable shot! Actually, 4Card Recovery, as an efficient data recovery tool, is always competitive and outstanding among other similar data recovery tools. Firstly, in the aspect of powerful data recovery features, it has been equipped with four advanced data recovery modes to settle enormous data recovery problems, like your unformatted USB flash drive issues, formatted USB flash drive issues or others. Secondly, in the aspect of convenience and simplicity, it allows you to directly download its demo here and apply it on your computer to restore all your wanted files back within several clicks. Moreover, its user-friendly interface also makes it different from other data recovery tools.
Here, let's experience its efficiency and simplicity immediately:
Step 1:
 Free download 4Card Recovery to go on. Any one of the four data recovery mode could be your chance. Just pick out one carefully.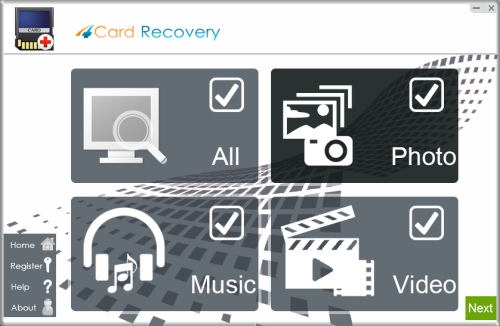 Select recovery options in the main interface
Step 2:
Hit your USB flash drive after clicking "next". The tool scanning may take sometime. Just wait patiently!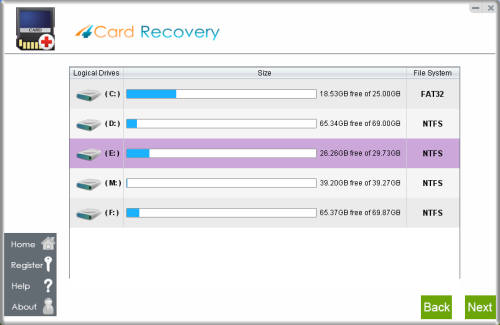 Select card to search photos off card
Step 3:
Wait when the software is performing scanning.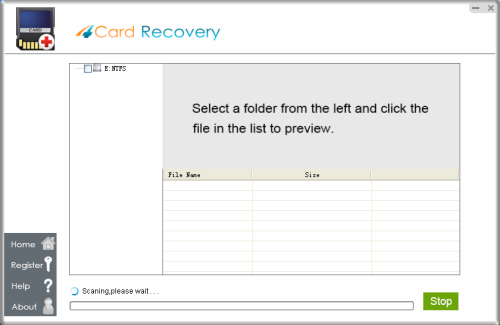 Wait while scanning lost photos, sometimes it takes about 20 minutes to scan a 32G card.
Tips: if it takes more than 2 hours to scan a 32GB card, you may stop the scanning and wait to see
what's already found. Since the card may contains bad blocks that takes longer time than usual.
Step 4:
 Preview and restore all marked files back. The checked files often can be successfully restored. Just move them all to other drive.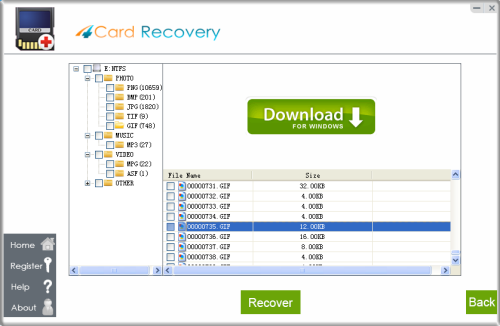 Preview lost photos and save found files. It would generate a folder to contain your lost data.
Please do not save the photo to the card where you lost them. Save them to your PC drive!

Download 4Card Recovery
Pay Attention:
*Any data recovery tool often cannot successfully restore some data that has been overwritten or damaged. So, you'd better not write this USB flash drive with anything else or format it in the beginning.
*Any restored files probably cannot be used or accessed when you save them all on the same USB flash drive. So, select anther computer drive or storage device to save them.
*Any important drive or card data often cannot be easily lost when you've backed it up on different drives or places. So, just save all crucial data on separate drives or cards in the future.
USB Flash Drive Still Asks You to Format?
USB flash drive also gets the same issue after rescuing all reserved data back? Without any hesitation, just format it as you are asked. This formatting in this moment often causes no data loss. Instead, you may get a functional USB flash drive at last.
User Experiences:
User1: Thanks for the 4Card Recovery. It has restored all my camera photos and videos back without failure. In fact, three days ago, I had mistakenly deleted some of my camera photos and videos by clicking "Shift+Del". All of them had disappeared. I even could not find it in Recycle Bin. But, thanks to this tool, I finally rescued all my wanted photos and videos back. Its four data recovery modes are really great!

User2: Good software! This tool has timely rescue all my USB flash drive files like images, movies, documents, texts and more back before I follow the Windows suggestion to format it. When the memory card of my friend was formatted mistakenly, he also said this tool helped him a lot! Thanks!

User3: Count me in! Thanks for this tool! Last time, my USB flash drive was mysteriously detected as RAW file system and all stored contents were inaccessible, this tools had helped me scanned this USB flash drive thoroughly and retrieved all my wanted files back. Good luck! 

Download 4Card Recovery