Summary
An efficient recovery method, applying 4Card Recovery, will be introduced for you to copy all lost files back from your Micro SD card due to accidental deletion.

Deleted Micro SD Card Recovery by 4Card Recovery
Free download 4Card Recovery to rescue all your deleted Micro SD card data back with ease. With this tool installed on your computer, you can freely apply it to retrieve your lost, deleted, missing, corrupted or inaccessible data back at any time you want.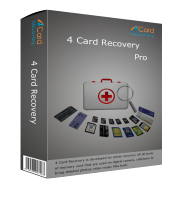 Micro SD Card Files Are Deleted?
There are many possibilities that one can delete his important Micro SD card files in daily life. What's yours? Mistakenly delete your card files instead of some unwanted files on your computer or other external storage devices? Mistakenly delete your card photos when enjoying or sharing them with others? Mistakenly delete your card videos when editing your computer documents with too fast speed? Or purposely delete some card messages when you forget to back up your crucial files well at first? You've spent really long time to restore these deleted files back, but have not got any success? OK! Don't be depressed! To take all your original files back after deletion is not such an impossible miracle as you think. In fact, as long as they are not complete lost for overwritten for any some improper operations, to restore all of them back successfully is really common easily for you. Here, download 4Card Recovery to rescue all your card files.
How to Restore Deleted Micro SD Card Files with Great Success?
After deletion, the successful data recovery is not impossible. But, the data recovery rate can fall to its lowest level, if you immediately do something improper to this Micro SD card. That can change a lot. Therefore, before rescuing all files back, you are supposed to leave this card alone for a while. And then, turn your attention to firstly copy back deleted files back with 4Card Recovery, which is specially designed for the victims of careless data loss. 4Card Recovery, a trusted data recovery tool, is specially designed for users to restore files back from memory cards like your CF cards, TF cards, SD cards, Micro SD cards and more. If it is necessary, it also can help you perform data recovery processes on some USB flash drives. With this tool, you even do not have to worry some unexpected recovery problems, its easy-to-use interface always cause no any hardship for users to rescue data. So, it is really efficient and risk-free.
Here, follow some steps to take back your files:
Step 1:
 Free download 4Card Recovery and run it to select a fixable data recovery mode from its main window.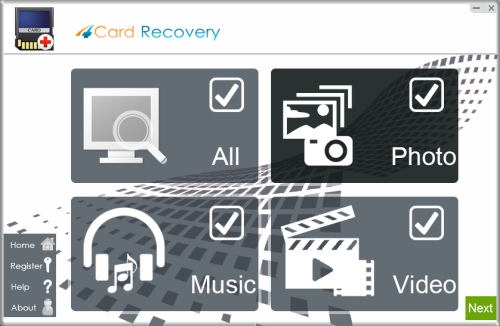 Select recovery options in the main interface
Step 2:
Scan this card and wait for minutes.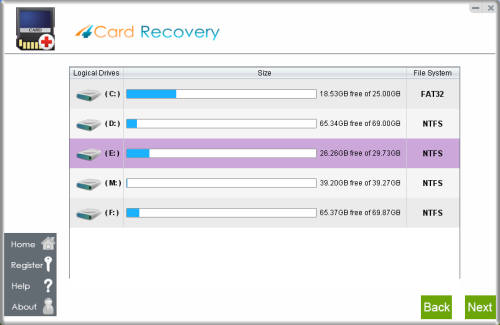 Select card to search photos off card
Step 3:
Wait when the software is performing scanning.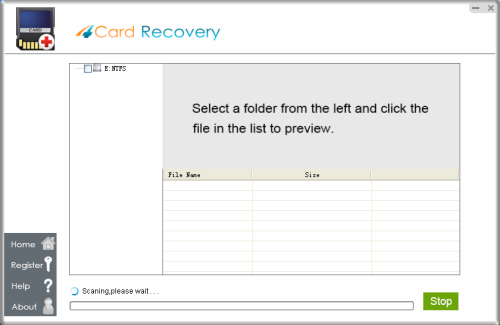 Wait while scanning lost photos, sometimes it takes about 20 minutes to scan a 32G card.
Tips: if it takes more than 2 hours to scan a 32GB card, you may stop the scanning and wait to see
what's already found. Since the card may contains bad blocks that takes longer time than usual.
Step 4:
 Preview and restore all previewed and recoverable files back.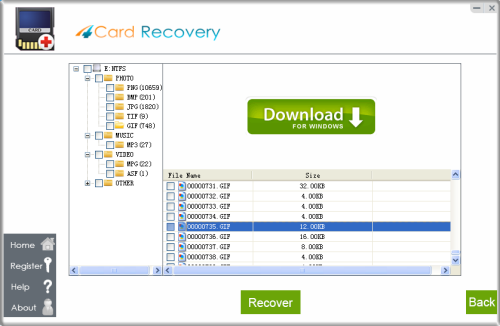 Preview lost photos and save found files. It would generate a folder to contain your lost data.
Please do not save the photo to the card where you lost them. Save them to your PC drive!

Download 4Card Recovery
Tips:
*In order to avoid low level of original card data recovery, you'd better not put anything new on this Micro SD card and also do not format the card for any reason.
*Previewed and restored card files should be moved to other computer drive or storage media in case of data recovery failure.
*Take up the habit to make several data backups well as possible as you can.
Important Micro SD Card Should Always Be Treated Carefully
After experiencing this trouble, I think you must have known how easily it is to bring card data loss because of your careless. Therefore, no matter when and where you have to deal with your card data, especially some crucial data, you should always pay all your attention and back up all something important well. Of course, if you expectedly face these similar data loss problems again somehow in the future, you also have no need to worry! Follow the same steps and regain all your wanted files back with 4Card Recovery, which can help cope with almost all possible data recovery problems with its four data recovery modes.

Download 4Card Recovery