Summary
This article will introduce how to restore all your wanted videos files back with 4Card Recovery from Panasonic camcorder SD card by undo deleting, formatting, erasing, corrupting or damaging, etc.

SD Card Video File Recovery by 4Card Recovery
Free download 4Card Recovery  to re-gain all SD card video files from your Panasonic camcorder after unwanted deletion, formatting, erasing, corruption or damage, etc. It also can assist restoring diversified data from different camera/phone/camcorder with various brands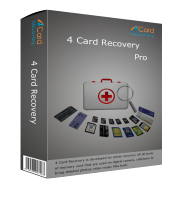 Panasonic Camcorder SD Card Videos Files Are Lost or Inaccessible?
In daily life, there are many coming things that we cannot predict. No matter whether they are good or bad, you do have to face them all and take the responsibility for your own decision. In computing, this theory also works. While using the Panasonic Camcorder, there are also many things that you cannot predict, such as accidental deletion, unexpected formatting, mistakenly erasing, unwanted memory card corruption or damage, etc. What makes matters worse is that you even do not have any camcorder card data backup. What will you do to take the responsibility for your carelessness? How can you try to rescue your already lost or inaccessible camcorder card videos back? Try to keep yourself calm! And then, apply 4Card Recovery to get back your lost or inaccessible video files back.
How to Restore Panasonic Camcorder SD Card Video Files back?
No matter whether your Panasonic Camcorder SD card is incautiously deleted, erased, formatted, corrupted or damaged, etc, your wanted video files are probably not erased or lost immediately. You can easily undo the deleting, erasing, formatting, corrupting or damaging and rescue all your inaccessible video files back with 4Card Recovery, which is popular for its wonderful memory card data recovery features. Want to know its features in details? OK! Firstly, this data recovery tool is capable of restoring almost all memory card data types, like videos, pictures, audio songs, movies, messages, emails and others. Secondly, this data recovery tool is compatible with both memory card(such as the Panasonic camcorder SD card, SDHC card, TF card, CF card and more) and USB flash drives (such as pen drive, USB and more). Thirdly, this data recovery tool is also made up of enormous simple and understandable hotkeys and options. It is really easy to use. Overall, this tool is really worth your trying:
Step 1:
 Free download 4Card Recovery and select "Photo" recovery mode to rescue your files back. The other "All" recovery mode also works for you.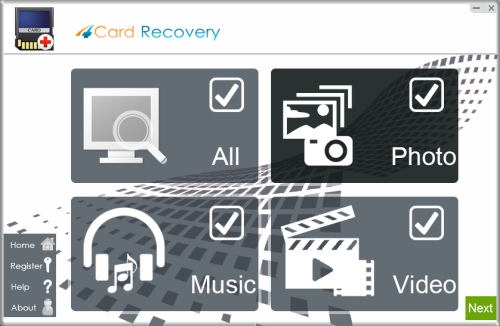 Select recovery options in the main interface
Step 2:
Find your camcorder SD card from the listed storage Medias. Scan it patiently.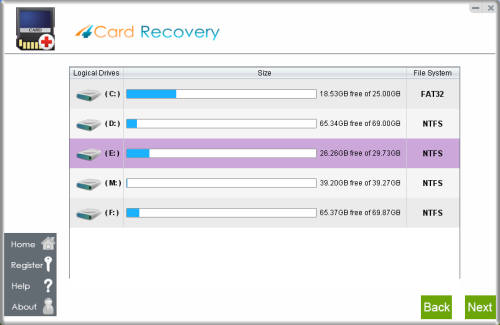 Select card to search photos off card
Step 3:
Wait when the software is performing scanning.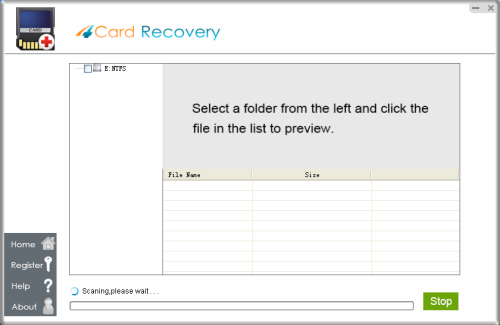 Wait while scanning lost photos, sometimes it takes about 20 minutes to scan a 32G card.
Tips: if it takes more than 2 hours to scan a 32GB card, you may stop the scanning and wait to see
what's already found. Since the card may contains bad blocks that takes longer time than usual.
Step 4:
 Preview and restore all wanted videos files back.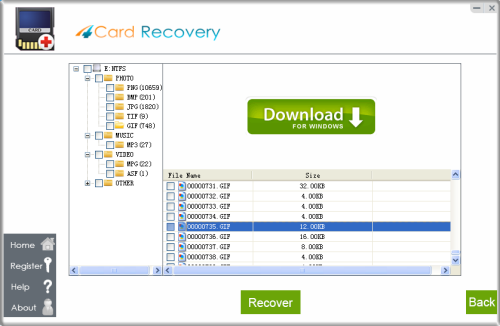 Preview lost photos and save found files. It would generate a folder to contain your lost data.
Please do not save the photo to the card where you lost them. Save them to your PC drive!

Download 4Card Recovery
Attention:
*No more data is written on this Panasonic camcorder SD card before data recovery.
*No more restored video file is written on this Panasonic camcorder SD card after data recovery.
*NO more important card data is only restored on only one camcorder SD card in the future.
Why to Use Panasonic AVCCAM?
Many professional people often choose Panasonic camcorders. Do you know why? Panasonic camcorder always has its own charms to them:
1). Efficient and Highly-qualified HD recording
With the Panasonic camcorders, you always can use them to record some wonderful and clear HD videos. It can help you record everything with high quality and low bit rates.
2).Efficient Memory Card with large capacity
Unlike some traditional camcorder that use videotape to store recorded videos, Panasonic camcorder often has a convenient SDXC or SDHC memory card to hold everything recorded. The memory card is much more efficient, compatible and flexible than videotape in this digital age. Moreover, the memory card capacity is often large enough for you to store some videos, such as 32GB, 64GB and more.
3). Efficient video editing
When you've recorded all your videos well, you also can connect this camcorder to your computer over a USB cable and careful edit these videos to improve them extremely.

Download 4Card Recovery