Summary
This article will introduce you a reliable SanDisk compact flash card data recovery program, 4Card Recovery, which enables you to restore all deleted, lost, inaccessible, missing or erased data back form your SanDisk memory card with high quality and fast speed.

SanDisk CF Card Recovery by 4Card Recovery
Free download 4Card Recovery to get all your general information back from SanDisk compact flash card after accidental deletion, improper formatting, unexpected card corruption, and more data loss problems.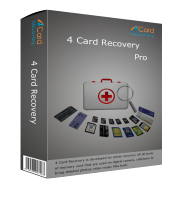 Want to Recover SanDisk Compact Flash Card Data?
As a convenient and portable memory card, SanDisk compact flash card sometimes is much more popular than some common memory cards for its special features, such as cheaper price, higher physical quality and more flexible, etc. However, by using this sort of cards, beside the good side, you may also have experienced some unhappy side, especially the negative card data loss problems. For example, many elements can bring SanDisk compact flash card data loss problems, such as incautious deletion, rudely formatting, unwanted falling or dropping, unexpected virus infection and even unhappy card corruption, etc. What has caused your card data loss? Want to recover SanDisk compact flash card data with ease? OK! Free download a powerful SanDisk compact flash card data recovery program, 4Card Recovery, here!
How to Recover SanDisk Compact Flash Card Data?
No matter what has happened to your SanDisk compact flash card, you should never give up hope to restore your lost data back. Just stop writing data on this compact flash card and apply 4Card Recovery to rescue your card data back. 4Card Recovery, unlike other common data recovery tools over the internet, enables you to restore almost all types of files with diversified formats, like picture formats, video formats, music formats and more. Moreover, it also has four useful data recovery option that can cope with nearly all card data loss problems. Its operation interface is also designed to be as easy as possible so that everyone can use it smoothly. Therefore, why not to use this data recovery tool:
Step 1:
Free download 4Card Recovery on its official website. Insert your compact card and start this tool to choose a practical data recovery mode for your case.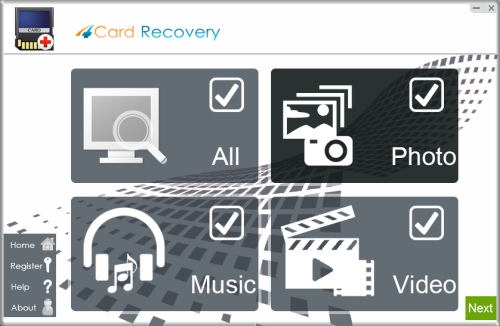 Select recovery options in the main interface
Step 2:
Select your compact flash card to start scanning.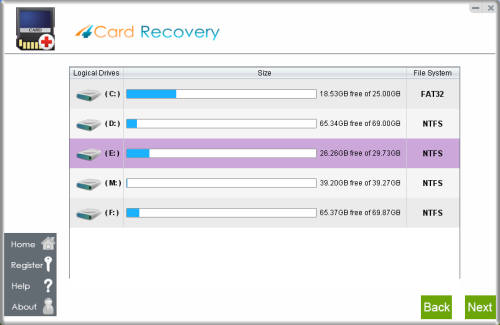 Select card to search photos off card
Step 3:
Wait when the software is performing scanning.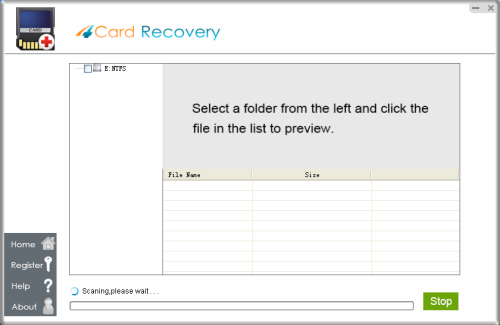 Wait while scanning lost photos, sometimes it takes about 20 minutes to scan a 32G card.
Tips: if it takes more than 2 hours to scan a 32GB card, you may stop the scanning and wait to see
what's already found. Since the card may contains bad blocks that takes longer time than usual.
Step 4:
Restore all checked card files back.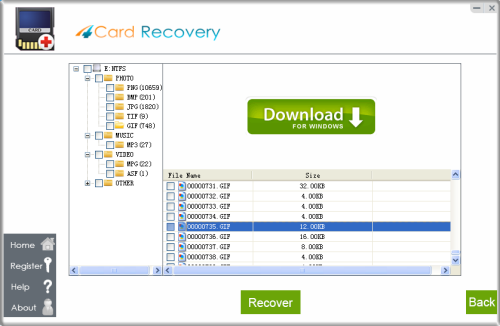 Preview lost photos and save found files. It would generate a folder to contain your lost data.
Please do not save the photo to the card where you lost them. Save them to your PC drive!

Download 4Card Recovery
Remember:
*Do keep your compact flash card alone before data recovery.
*Do save all restored compact flash card data on computer PC or other places, not on the same CF card.
*Do remember to keep at least two copies of everything important on different places in the future.
Other Compact Flash Card Data Recovery Tips:
As we've talked above, many elements can cause data loss for our compact flash card. But, not all of the data loss problems should be process in the same way. You also should take care about some tips.
1). Windows asks you to format compact flash card before accessing.
Sometimes, after inserting card, the windows would give you a message saying: ″The card is not formatted. Do you want to format it now?″ In this case, in order to take all original data back, you'd better skip this problem and do not format the card before you set out to restore all your wanted data.
2). New data should never be written on this compact flash card with data loss.
Before you've restored all your lost data back, any new file data also should be kept far away from this compact flash Card. Any new file can overwrite your original card data and make it irrecoverable.

Download 4Card Recovery