Summary
Let's learn some useful instructions for how to copy all wanted images, documents, videos, files and more contents back with 4Card Recovery from your SD card that is corrupted and cannot work functionally as before.

Corrupted SD Card Recover by 4Card Recovery
Free download 4Card Recovery to take all original data back when you have some data loss problems caused by memory card corruption.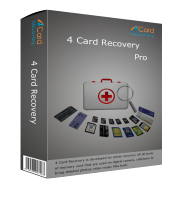 SD Card Files Are Lost due to Card Corruption?
As you've experienced, the card corruption often causes data loss for the memory card users. But, do you know what may lead to card corruption. In fact, as I know, there are many situations that can corrupt a memory card (including your SD card). Take your SD card as an example. You may corrupt your SD card for careless dropping or falling; You can corrupt your SD card for improper formatting process forced by "RAW file system error", "memory card error" and "not formatted error", etc; You can corrupt your SD card for rudely extracting operations when the card is still working on your computer or camera/phone; You even can corrupt your SD card for long time use, etc. No matter why and how your SD card is corrupted, just cheer up and check whether your SD card files are recoverable by applying 4Card Recovery.
How to Get Data from Corrupted SD Card?
Don't worry! Even when your SD card is corrupted anyway, it is still possible for you to rescue your remained card data back. Therefore, plunge this corrupted SD card to your computer and apply 4Card Recovery to get your data back. Don't know really well about 4Card Recovery? OK! Let's learn it together! 4Card Recovery, an easy-to-use data recovery tool, is designed to handle different types of memory card data loss problems with high efficiency, just like your corrupted card data recovery problems. Its four data recovery modes also make it possible to restore multiple types of memory card contents, just like pictures, documents, audio files, movies and more. Moreover, its user-friendly interface also requires not so much computer knowledge for the every user.
Therefore, you can use it feely:
Step 1:
Free download4Card Recovery and install it on your computer. Just ignore the antivirus warning message. This tool is proven to be safe by most of users. And then, click a data recovery mode from four.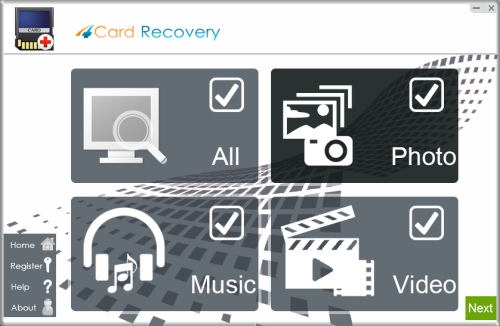 Select recovery options in the main interface
Step 2:
Identify your corrupted SD card from the device list. This card could be the scanning destination.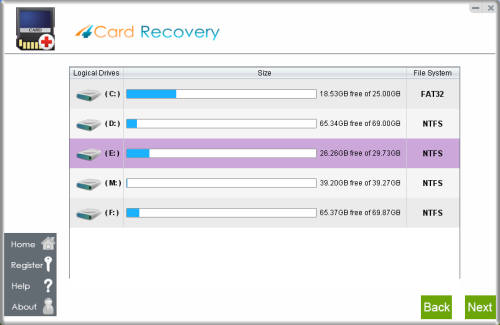 Select card to search photos off card
Step 3:
Wait when the software is performing scanning.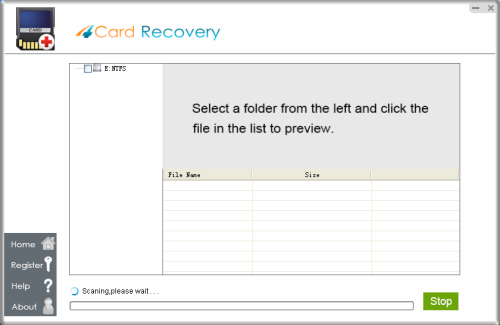 Wait while scanning lost photos, sometimes it takes about 20 minutes to scan a 32G card.
Tips: if it takes more than 2 hours to scan a 32GB card, you may stop the scanning and wait to see
what's already found. Since the card may contains bad blocks that takes longer time than usual.
Step 4:
Restore all selected files back in seconds.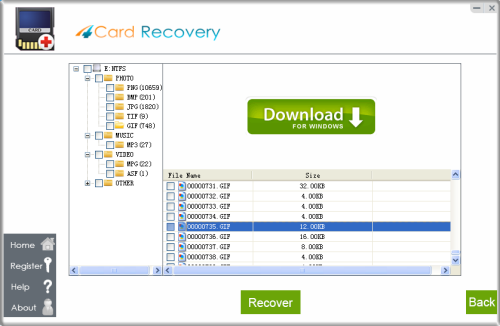 Preview lost photos and save found files. It would generate a folder to contain your lost data.
Please do not save the photo to the card where you lost them. Save them to your PC drive!

Download 4Card Recovery
Never Release before Complete Data Recovery:
* Never rewrite or overwrite this corrupted SD card before complete data recovery
* Never move all restored files on this corrupted SD card in case of further data loss.
* Never save all important data on only one SD card again.
Want to Format Corrupted SD Card for Further Use?
Are you suggested to format this corrupted SD card for further use? Yes, it is absolutely workable when your SD card is not seriously damaged. Actually, in some cases, the formatting process even can make your SD card work more efficiently. So, after data recovery, you can take chances with the formatting. But, if you unfortunately cannot format it in any way, you may have to give up this hope and try other ways. Or, you can simply change another card for your camera/phone.
Some Tips for You to Use a SD Card Longer
Let's learn some tips to extend your SD card life:
1). Keep your SD card clean all the time.
No matter whether you are using your SD card on your computer/camera/phone, you'd better always keep it clean. It could be a good way to remain it in a plastic case or plastic baggie, when it is not in use.
2). Remove/extract your SD card only when it is not used.
Before you remove or extract your SD card out of your camera/computer/phone, you'd better make sure this card is not still working. Just turn off your camera/phone before removing.
3). Keep your SD card away from many bad elements.
There are also many elements that may cause damage to your SD card, like heat, water, magnets and more. You'd better keep your card away from these elements as possible as you can.

Download 4Card Recovery