Summary
4Card Recovery is always worth trying to restore all your Transcend USB flash drive data that has been deleted, erased, lost or inaccessible for formatting/ reformatting or corruption, no matter what you've done to this USB flash drive

Transcend USB File Recovery by 4Card Recovery
Free download 4Card Recovery to firstly check whether all your needed Transcend USB flash drive data could be restored, no matter how sad you feel after your careless deletion, formatting/reformatting or corruption, etc.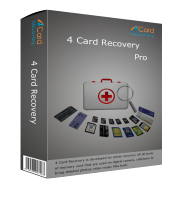 Feel really Sad for Losing Transcend USB Flash Drive Data?
The well-known Transcend USB flash drives also features for its amazing data transfer speed. However, like other USB flash drives with different brands, Transcend USB flash drive also can have the data loss problem, right? Do you still feel really sad for losing your Transcend USB flash drive data? Can you tell us how you lose your needed data? Click some wrong buttons and delete your Transcend USB flash drive files? Format or reformat your Transcend USB flash drive without any intention and lose wanted videos? Erase or remove Transcend USB flash drive without any advanced protection and all remained emails are missing? Corrupt or damage Transcend USB flash drive without any sign and left audio files are inaccessible? OK! Whatever you've done to this USB flash drive and however sad you feel now, immediately try 4Card Recovery to see whether all your files, videos, photos, emails and more are recoverable.
How to Firstly Restore Transcend USB Flash Drive Data?
No matter how efficiently your Transcend USB flash drives work, they also can cause you data loss problems for your unintentional operations. But, that is not as sad as you think. In fact, after some accidental deletion, formatting/reformatting, corruption and other improper operations, you also can get your useful files back with a professional data recovery tool. Therefore, don't worry! Let's download 4Card Recovery (which is specially developed to assist restoring crucial files like audios, files, photos, videos, emails, documents and other files back from a variety of USB flash drives and camera/phone/player/camcorder memory cards) to rescue your lost data! Steps for you to restore your files:
Step 1:
Install this tool on your PC drive and select any fixable data recovery mode when you see four different data recovery modes are shown there.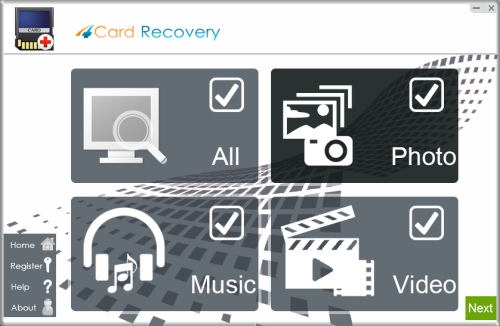 Select recovery options in the main interface
Step 2:
Point out the drive that you want this tool to scan. Just choose your Transcend USB flash drive out.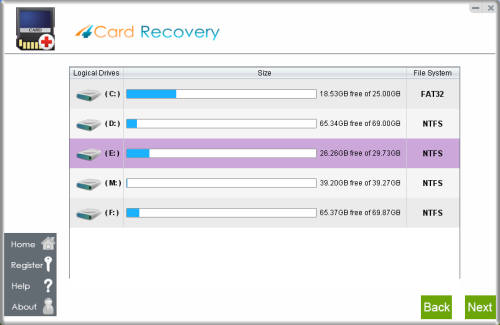 Select card to search photos off card
Step 3:
Preview all searched files one by one patiently, which can help you filter many corrupted or useless files.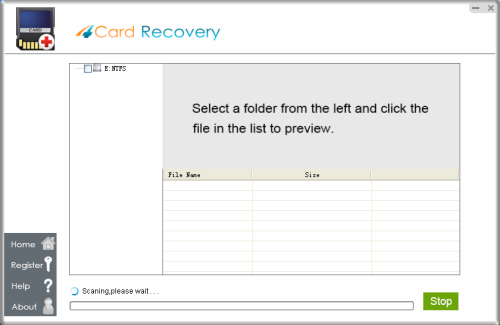 Wait while scanning lost photos, sometimes it takes about 20 minutes to scan a 32G card.
Tips: if it takes more than 2 hours to scan a 32GB card, you may stop the scanning and wait to see
what's already found. Since the card may contains bad blocks that takes longer time than usual.
Step 4:
Complete the data recovery process. The restored files always should be placed on another computer drive.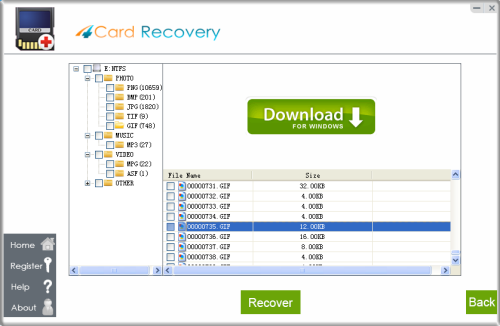 Preview lost photos and save found files. It would generate a folder to contain your lost data.
Please do not save the photo to the card where you lost them. Save them to your PC drive!

Download 4Card Recovery
Reminders:
* Remind yourself not to write new file on this Transcend USB flash drive before data recovery.
* Remind yourself not to install or save this data recovery tool on this Transcend USB flash drive before data recovery.
* Remind yourself not to save all restored data on this Transcend USB flash drive.
* Remind yourself to save all important Transcend USB flash drive data on different drives all the time.
More Information of Transcend USB Flash Drives
Transcend, as a famous electronic media manufacture, also provides many electronic products to its consumers, like memory cards, USB flash drives, external hard drives, solid state drives, memory modules, car video recorders and so on. As to USB flash drives, it also product many useful ones based on different needs. Its USB flash drives have been listed in group according to different themes or features on its official website, such as "Endurance", "USB 3.0", "Security" and "Luxury", etc. The capacity is also diversified for different needs. Of course, they are also portable and movable.

Download 4Card Recovery