Summary
This article will provide 4Card Recovery to you for restoring all lost data back from different types of HP USB flash drives before all original data there is overwritten.

HP USB Drive Data Recovery by 4Card Recovery
Free download 4Card Recovery to undo all possible data loss problems and take your useful files, documents, videos and pictures, etc, back from HP USB flash drives.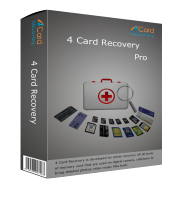 HP USB Flash Drive Data Seems Already Gone?
Except the well-known laptops or computers, the Hewlett-Packard Develop Company (or briefly called HP) also provides many useful USB flash drives with considerate capacities, like 1GB, 4GB, 16GB and 32GB, etc. However, when you confront some data loss problems related to these HP USB flash drives, you will realize that they also can be sources of troubles. Without any data backup, you've formatted or reformatted this HP USB flash drive? Without saving everything crucial on a different drive, you'd deleted some useful information of conferences? Without storing copies of everything precious on backup drive timely, you've been suggested to format this HP USB flash drive before accessing? Or HP USB flash drive has corrupted or damaged and all stored information seems already gone? OK! Stop worrying! You still can rescue your HP USB flash drive data back without further troubles before it is too late. 
How to Recover Crucial Data back from HP USB Flash Drive?
Data loss problems happen from time to time. But, that doesn't suggest that the crucial data in your HP USB flash drive has been really lost and cannot be regained forever. Actually, with the right guidance, you always can easily recover your crucial data back with the help of 4Card Recovery, which is a handy data recovery tool that aims to help you restore everything important from personal information to commercial materials back from your USB flash drives and memory cards. Like some free data recovery tool online, this USB flash drive data recovery tool has a really simple and easy-to-handle interface. But, unlike some common data recovery tools online, this USB flash drive data recovery tool has offered four outstanding data recovery modes for you to choose for different data loss problems.
Here, follow the helpful guidance to restore all your wanted HP USB flash drive data back:
Step 1:
Free download and install 4Card Recovery. Insert this HP USB flash drive on this computer and choose a fixable data recovery mode after installing it well there.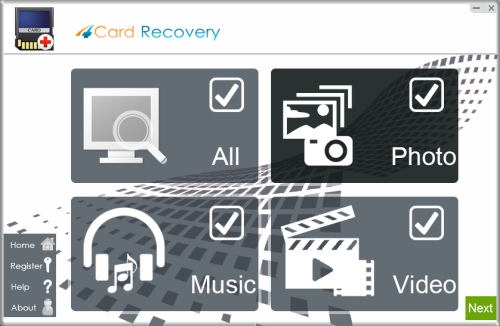 Select recovery options in the main interface
Step 2:
Click your HP USB flash drive once and click "next" to scan.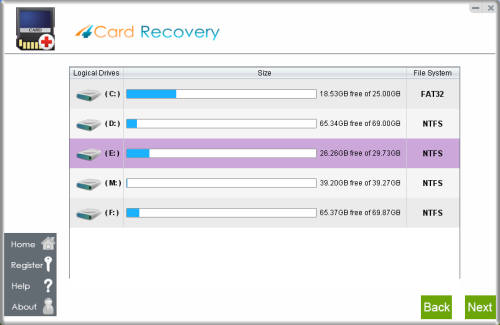 Select card to search photos off card
Step 3:
Click all recoverable and useful files after previewing them all.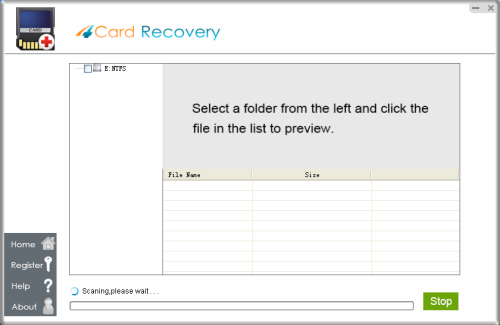 Wait while scanning lost photos, sometimes it takes about 20 minutes to scan a 32G card.
Tips: if it takes more than 2 hours to scan a 32GB card, you may stop the scanning and wait to see
what's already found. Since the card may contains bad blocks that takes longer time than usual.
Step 4:
Recover all selected files on the right places, at least, not this HP USB flash drive.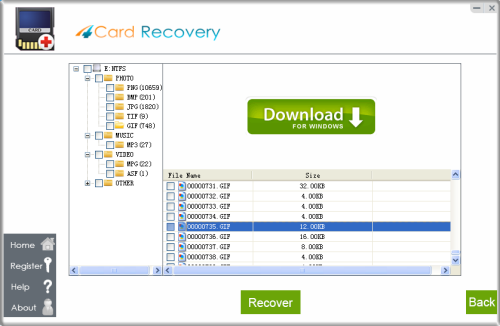 Preview lost photos and save found files. It would generate a folder to contain your lost data.
Please do not save the photo to the card where you lost them. Save them to your PC drive!

Download 4Card Recovery
Warnings:
*Do not want to lose data before data recovery? Never save new file on this HP USB flash drive.
*Do not want to cause much more data loss after data recovery? Never save the restored data on this HP USB flash drive.
*Do not want to encounter the similar data loss problem in the future? Never write all important data on only one USB drive or hard drive again.
More Information of HP
HP, as a famous company in computer technology, has offered many related hardware, software and other services to customers all over the world. For example, in the terms of hardware, it provides laptops, tablets, printers, monitors and flash drives, etc. In the terms of software, it provides backup programs, recovery programs, data analyzing programs and more. In terms of services, it also provides the essential support services, IT financial & asset recovery, technology consulting, and so on. For more information about the products or services of this company, you can check on its official website.

Download 4Card Recovery