Summary
4Card Recovery, a powerful data recovery tool, can help you easily handle all possible data loss problems and rescue Imation USB flash drive data back completely.

Imation USB Data Recovery by 4Card Recovery
Free download 4Card Recovery to perform a quick and safe data recovery process on your Imation USB flash drive. This tool always does its utmost to help users rescue their original data back as much as possible. Just scan your drive more times.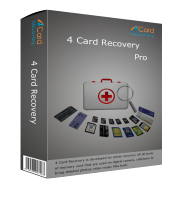 Imation USB Flash Drive Data Is Lost?
Imation USB flash drive data is lost for unintentional quick or full format? Imation USB flash drive data is lost for purposely or inadvertent deletion or erasing? Imation USB flash drive data is lost for having to convert the RAW file system back to functional file system? Imation USB flash drive data is lost for virus infection? Or Imation USB flash drive data is lost for drive damage or corruption? Don't worry! There are many reasons that can make one lose his sensitive, personal or business files from Imation USB flash drive. But, not all of them are irrecoverable. In fact, in most cases, as long as the USB flash drive has been kept well after the data loss problems, many lost files could be rescued. So, follow us and download 4Card Recovery to retrieve your lost files back.
How to Recover Data from Imation USB Flash Drive?
No matter which brand of USB flash drive you are using or how expensive this USB flash drive is, it is also apt to lose your reserved data sometime. But, the data loss problems are not as complicated or harsh as you think. Actually, in most cases, as long as you take the right choices, all of your lost files could be easily restored with the help of some reliable data recovery tool. Here is a best choice is for you now: 4Card Recovery, which is especially made for some storage media users who desperately want to restore their lost or inaccessible data back due to accidental deletion, formatting, virus attacking and drive/card corruption or damage, etc. Its four data recovery modes can deeply scan your USB flash drive or memory card and rescue your data with fast speed and high quality.
So, let's free download 4Card Recovery to copy your data back
Step 1:
Plunge this Imation USB flash drive into the USB slot of your computer and launch this tool on your computer. Click the created shortcuts on your desktop to select a right data recovery mode.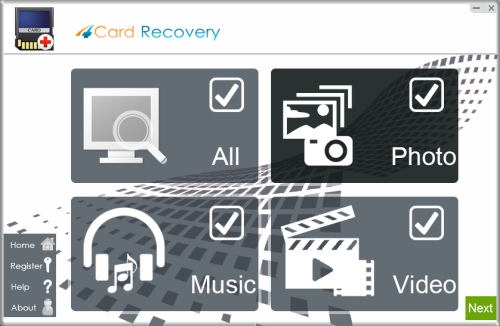 Select recovery options in the main interface
Step 2:
Click the icon that stands for your USB flash drive on the media window. And then, wait for the deeply scanning.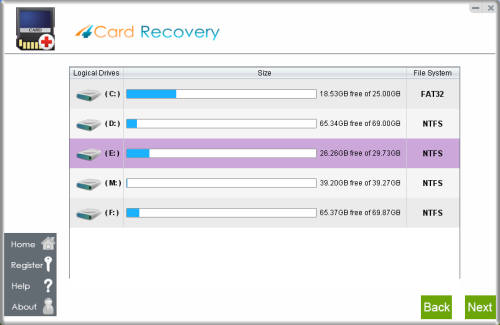 Select card to search photos off card
Step 3:
Click all scanned files to preview and make sure all the selected ones are recoverable and useful.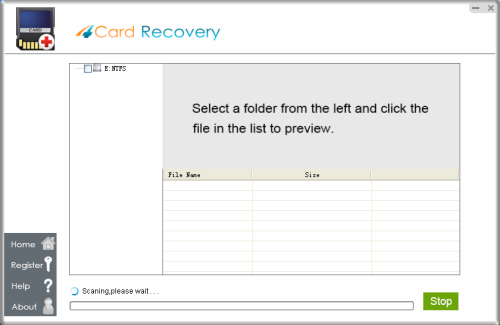 Wait while scanning lost photos, sometimes it takes about 20 minutes to scan a 32G card.
Tips: if it takes more than 2 hours to scan a 32GB card, you may stop the scanning and wait to see
what's already found. Since the card may contains bad blocks that takes longer time than usual.
Step 4:
Restore all selected files.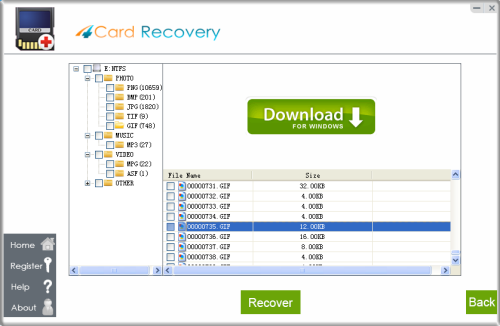 Preview lost photos and save found files. It would generate a folder to contain your lost data.
Please do not save the photo to the card where you lost them. Save them to your PC drive!

Download 4Card Recovery
Note:
*You are highly suggested to keep this USB flash drive away from anything new before data recovery.
*You are highly suggested to keep the restored files away from this USB flash drive after data recovery.
* You are highly suggested to keep all important data at least on two different places in the future.
User Words:
User1: With an 8GB USB flash drive, I have stored all my videos, business documents and private pictures on it. But, three days ago, it was formatted by my little cousin and all of them were gone. In order to get them back, I nearly pulled out all my hair. But, fortunately, I found this mentioned data recovery tool which had scanned my USB drive and restored all my wanted files back. Thank Goodness!
User2: I have an Imation USB flash drive that has got "not formatted error" message and all placed files are inaccessible. That nearly drives me crazy. But, luckily, by following the suggestions of my friend, I have tried to restore all my lost files with 4Card Recovery. Now, everything is fixed. All my files, especially my self-made videos, are restored successfully.
User3: In fact, I firstly think this data recovery tool only supports different USB flash drive, since it has ever completely got my USB flash drive data back. But, after trying it on the memory card of my bother, I know that this tool also can do a good job on a phone/camera memory card. So, it is really great!

Download 4Card Recovery