Summary
4Card Recovery, a special USB flash drive data recovery program, can help you take all possible data back from your Crucial USB flash drive, no matter whether this USB flash drive is your only data backup device or not.

Corsair USB Data Recovery by 4Card Recovery
Free download 4Card Recovery to manually copy back all the existing original data from your Crucial USB flash drive. Without the help of professional companies or experts, you can save much money and avoid many unwanted troubles.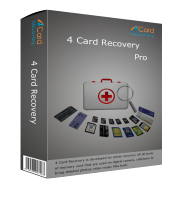 Crucial USB Flash Drive Is the Only Data Backup Device?
As the computer knowledge is widely spread, in these days, more and more people have learned to make data backups all the time in case of data loss. Furthermore, many storage devices, internal or external, could be their choices to store important data, like hard drives, SSDs and USB flash drives, including the featured Crucial USB flash drives, etc. However, have you ever considered what you can do to rescue your data when this backup storage device also has some data loss problems, like deletion, formatting/reformatting, drive damage/corruption, virus infection and other improper or unintentional operation? OK! Stop worrying anything! 4Card Recovery has offered many great features for you to rescue your wanted data back
How to Recover Crucial USB Flash Drive Data?
When this Crucial USB flash drive gets data loss problems, you cannot find any data backup elsewhere? OK! Calm down! You are not going to hell for this tiny thing. Oppositely, you are in a paradise that is filled with hopes. In fact, as long as this USB flash drive is not unrecognizable, 4Card Recovery, a professional USB flash drive data recovery tool, can help you rescue all your original data back. Can not believe it? OK! At first, only its four advanced data recovery modes allow you to recover data with enormous   formats. And then, it also can work on both of USB flash drives and memory cards. Thirdly, its easy-to-use interface and risk-free features also can be a good cause for you to choose.
So, follow below easy steps to get back your data:
Step 1:
 Free download and install 4Card Recovery. A fixable data recovery mode also should be selected there carefully.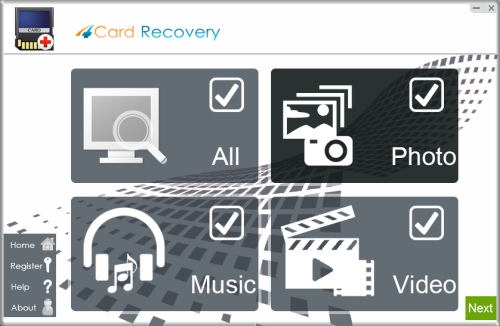 Select recovery options in the main interface
Step 2:
Mark the drive letter of your plunged Crucial USB flash drive. And then, waiting the scanning could be your next thing.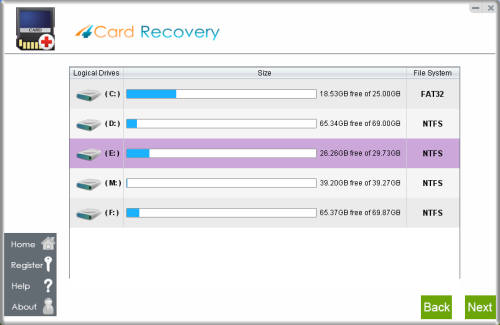 Select card to search photos off card
Step 3:
Wait during the scanning.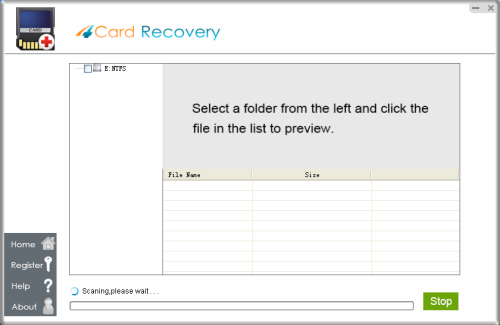 Wait while scanning lost photos, sometimes it takes about 20 minutes to scan a 32G card.
Tips: if it takes more than 2 hours to scan a 32GB card, you may stop the scanning and wait to see
what's already found. Since the card may contains bad blocks that takes longer time than usual.
Step 4:
Recover all files. Save them all to computer drive or other USB flash drive.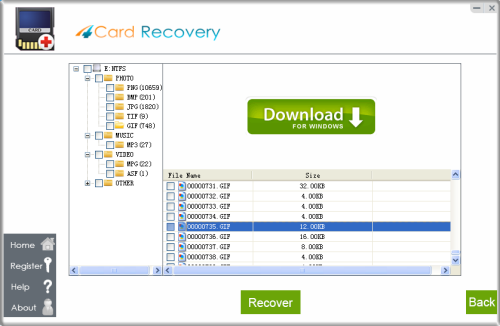 Preview lost photos and save found files. It would generate a folder to contain your lost data.
Please do not save the photo to the card where you lost them. Save them to your PC drive!

Download 4Card Recovery
Attentions:
* Crucial USB flash drive should not be overwritten before data recovery.
* Crucial USB flash drive should not be the place to save the recovered files after data recovery.
* Crucial USB flash drive should not be the only place to help all important data in the future.
More Information of Crucial USB Flash Drive
Unlike other manufacturers of USB flash drives, Crucial has offered USB flash drives with only three capacities: 8GB, 16GB and 32GB. All produced USB flash drives are also manufactured with a USB 2.0 interface. Therefore, if you are considering buying a Crucial USB flash drive, you should also make sure all your computers or laptops are also compatible with USB 2.0 interface. Even through these USB flash drives are limited in capacity to some degree, they also can allow you to freely store or transfer your data, photos, music, videos and more. Therefore, you also can freely choose Crucial USB flash drive.

Download 4Card Recovery