Summary
This article will introduce you a leading data recovery program, 4Card Recovery, to retrieve all USB flash drive data back, no matte what brand of USB flash drives you are using, like Sony, SanDisk, Toshiba, Kingston and the likes.

Silicon Power USB Data Recovery by 4Card Recovery
Free download 4Card Recovery to retrieve all your wanted Silicon Power USB flash drive data back. Moreover, except this Silicon Power USB flash drives, it also supports many other USB flash drives with different brands and other memory cards.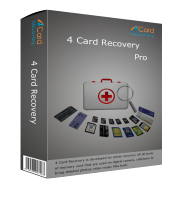 Your Important Information Is Lost or Deleted from Silicon Power USB Flash Drive?
Silicon Power is also a widely-used brand of electronic products. Its USB flash drives are also really popular and famous. However, even these Silicon Power USB flash drives with great fame all over the word also are inclined to cause data loss problems sometimes. Have you ever encountered Silicon Power USB flash drive data loss problems? In fact, these problems can be simply aroused by a really tiny thing, like accidental file deletion/removing, drive formatting/reformatting, RAW file system restoring, virus attacking and even drive damaging/corrupting, etc. Hence, you should never forget to make backups of everything important inside this Silicon Power USB flash drive. However, your important information there has been already lost or deleted? Don't be depressed. 4Card Recovery will show you how to effortlessly restore all your data back.
How to Restore Your Silicon Power USB Flash Drive Data?
Even thorough the official website of Silicon Power has offered many useful services and programs for users to cope with different USB flash drive problems. But, as to the USB flash drive data loss problems, you may also have to rely on yourself. At least, you have to personally choose a powerful data recovery tool to restore your lost/deleted data back. How about 4Card Recovery? Have you ever heard about the outstanding data recovery features of 4Card Recovery? 4Card Recovery, honestly, is a professional data recovery tool that is designed for ones like you to rescue different types of files back from USB flash drives and memory cards. It is enhanced with four advanced data recovery modes. The simple and easy-to-use interface also makes it much more workable and practical.
So, here are simple three steps for you to take back your Silicon Power USB flash drive data:
Step 1:
Free download and install 4Card Recovery. Connect Silicon Power USB flash drive to your Windows computer. Follow the wizard guidance to choose a file type recovery mode.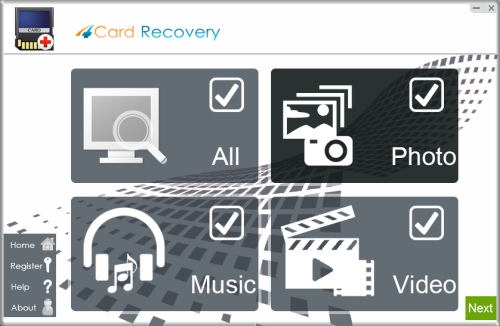 Select recovery options in the main interface
Step 2:
Scan this Silicon Power USB flash drive. You should firstly pick out this drive there.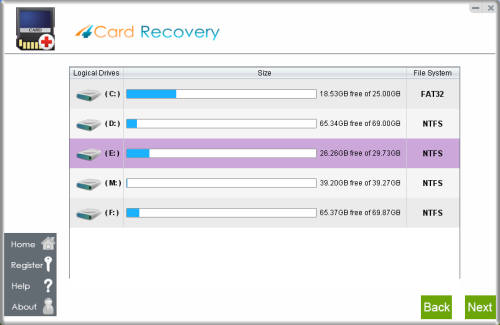 Select card to search photos off card
Step 3:
You may wait during the scanning.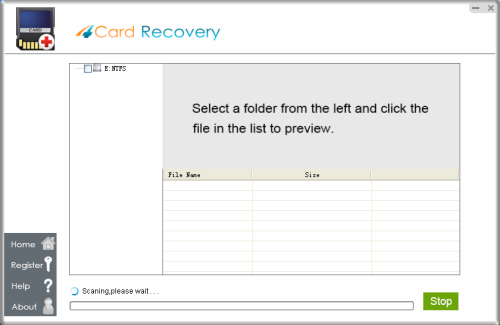 Wait while scanning lost photos, sometimes it takes about 20 minutes to scan a 32G card.
Tips: if it takes more than 2 hours to scan a 32GB card, you may stop the scanning and wait to see
what's already found. Since the card may contains bad blocks that takes longer time than usual.
Step 4:
Restore all scanned files back. The preview button can help you target all needed files back only.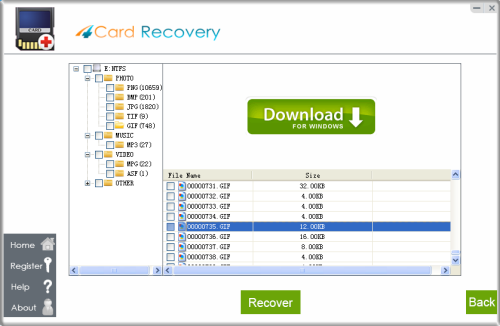 Preview lost photos and save found files. It would generate a folder to contain your lost data.
Please do not save the photo to the card where you lost them. Save them to your PC drive!

Download 4Card Recovery
Note:
* Do not let this Silicon Power USB flash drive accessible to any new file.
* Do not let the data recovery tool installed on this Silicon Power USB flash drive.
* Do not let the restored files stored on the same Silicon Power USB flash drive.
* Do not let the important data stored on only one drive again in the future.
User Words:
User1: By using 4Card Recovery, what you all need to do is only plunge the USB flash drive or memory card to your computer and install this data recovery tool on another computer drive. And then, this tool will help you restore all your wanted data back in minutes. 
User2: I also could not view my memory card files when my camera memory card was asking to format on my laptop. But, thanks to this data recovery program, I finally accessed them successfully.
User3: When my USB flash drive was formatted mistakenly, I firstly tried a series of some free data recovery tools. But, they all didn't retrieve all my wanted data back as I wished. But, this data recovery seemed to be different, since it successfully got back all my photos back.

Download 4Card Recovery