Summary
This article will strongly recommend you to restore all your lost or deleted photos, videos, audios, documents and other files back from USB flash drive by applying 4Card Recovery, a worthwhile data recovery tool.

Lexar USB File Recovery by 4Card Recovery
Free download 4Card Recovery to rescue all original files back from any type or any brand of USB flash drive. Different memory card data recovery problems also can be easily settled by using this data recovery tool.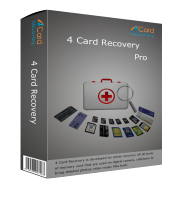 Need Regain Lexar USB Flash Drive Data with Ease?
Nothing is shown on your Lexar USB flash drive for extracting it too fast last time? Nothing can be accessed on your Lexar USB flash drive without formatting? Nothing important can be reviewed on your Lexar USB flash drive after accidental deletion? Nothing can be found on your Lexar USB flash drive when it is corrupted? Or nothing can be re-used on your Lexar USB flash drive when the file system is corrupted or changed? Need ways to regain Lexrar USB flash drive data with ease? OK! Don't worry! That is not an impossible task! Be patient and careful! Keep this Lexrar USB flash drive free from overwriting and download 4Card Recovery to restore all your reserved files back with fast speed.
How to Recover Files from Lexar USB Flash Drive?
The Lexar USB flash drive is often famous for its reliability and durability. However, while using it to transfer or store important files, it may also arouse some data loss problems at any time. Do you know how to cope with these data loss problems? Do not know anything about that? OK! Briefly speaking, without writing anything new on this USB flash drive, you can merely use 4Card recovery to rescue all your original files back with ease. Why? On the one hand, even though 4Card Recovery specializes in memory card data recovery, it also has been highly developed to perfectly restore different types of files back from USB flash drives with any type or brand. On the other hand, even through it is designed so comprehensive that it can cope with almost all data recovery problems, it also is easy to use due to the user-friendly interface and some Wizard guidance. .
So, immediately try this simple and trusted data recovery tool:
Step 1:
Download this data recovery tool on your computer drive and select a data recovery mode from four.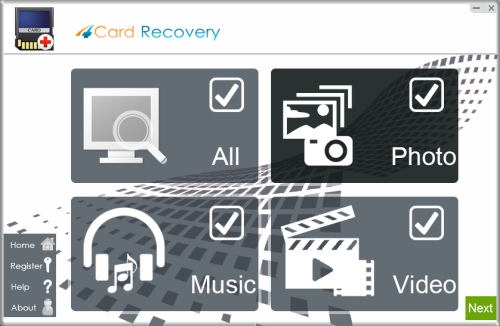 Select recovery options in the main interface
Step 2:
Select your USB flash drive out from other logical drives. And then, scan it for searching your files there.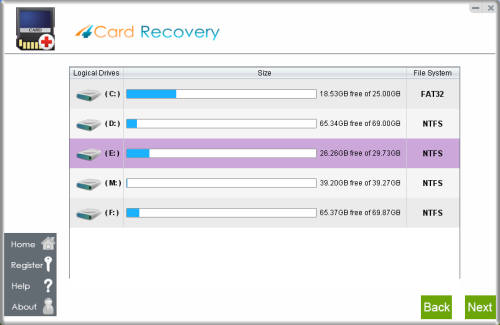 Select card to search photos off card
Step 3:
Select all recoverable files with different types out after thorough scanning.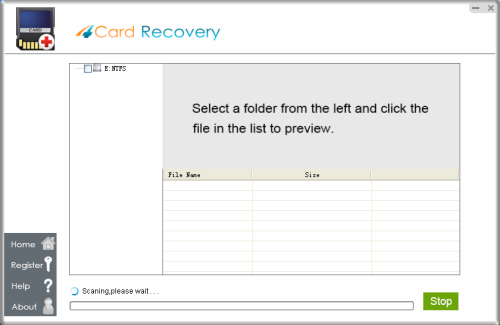 Wait while scanning lost photos, sometimes it takes about 20 minutes to scan a 32G card.
Tips: if it takes more than 2 hours to scan a 32GB card, you may stop the scanning and wait to see
what's already found. Since the card may contains bad blocks that takes longer time than usual.
Step 4:
Restore all files back.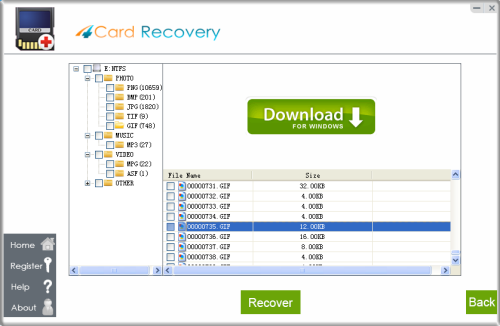 Preview lost photos and save found files. It would generate a folder to contain your lost data.
Please do not save the photo to the card where you lost them. Save them to your PC drive!

Download 4Card Recovery
Tips:
* Saving the tool files on this USB flash drive will overwrite your original files.
* Saving the restored files on this USB flash drive may cause farther data loss.
* Saving all important data at least on two storage devices or locations in the future.
User Comments:
Comment1:16GB USB flash drive cannot be accessed. There is 0 bytes used space and 0 bytes free space. The file system also is in RAW. In order to view my files inside it again, I give this 4Card Recovery a shot! It doesn't let me down! Now, all things have been restored, It is awesome!
Comment2: I have failed to see my Lexar USB flash drive on my computer after I have stopped the formatting process suddenly. Even thorough it can be found in Disk Management, the stored files are also inaccessible. So, after reading this article, I have tried this 4Card Recovery, which finally rescued my wanted files back. Thanks!
Comment3: This data recovery tool really has a good performance on my camera memory card. All the deleted photos have been restored back.

Download 4Card Recovery