Summary
4Card Recovery has been proven to be an excellent solution to take all lost files back from Verbatim USB flash drives or other branded USB flash drives, after deletion, formatting, virus attacking or corruption, etc.

Verbatim USB File Recovery by 4Card Recovery
Free download 4Card Recovery to undo nearly all data loss operations and rescue all your wanted USB flash drive files back, no matter whether this data loss problem bring you horrible consequences, personally or commercially.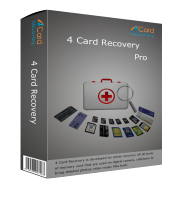 Verbatim USB Flash Drive Data Loss Causes You Troubles?
Generally, no matter how perfectly your USB flash drive is produced, you may also meet the data loss problems occasionally, right? Have you ever carefully thought about the reason? Actually, it is you that cause the data loss problems, not the USB flash drive, in some cases. Take your Verbatim USB flash drive as an example. Even through the Verbatim USB flash drive has been taken as one of the most efficient and reliable USB flash drives, you also can lose your stored data for some careless operations, like deletion, formatting, forgetting to run antivirus scan before accessing, unintentionally dropping/falling and forgetting to make data backups all the time, etc. But, don't worry! Even thorough you are careless sometimes, you do not deserve this. Let's try to rescue all your lost Verbatim USB flash drive data back with 4Card Recovery
How to Recover Verbatim USB Flash Drive Data?
No matter whether the Verbatim USB flash drive data loss problem bring bad consequences to your job or personal life, you can simply download 4Card Recovery to test whether all your original USB flash drive is really or completely gone. 4Card Recovery, an outstanding and compact data recovery solution, can not only restore data (such as pictures, movies, documents, emails and the likes) back from USB flash drives, and also can rescues files back from memory cards. Its compact interface also is proven to be operable for everyone.
So, read on to these following steps to rescue your data back:
Step 1:
Download 4Card Recovery and check whether it is compatible with your computer. Select an efficient data recovery mode when you are asked to choose from four displayed there.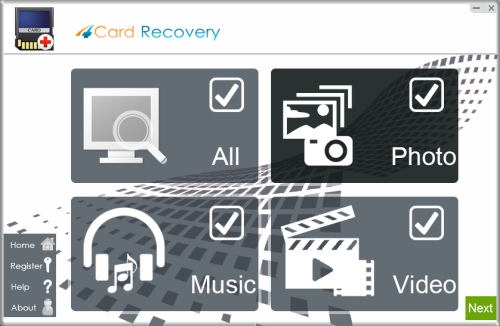 Select recovery options in the main interface
Step 2:
Select this Verbatim USB flash drive. And then, click "next" to scan it.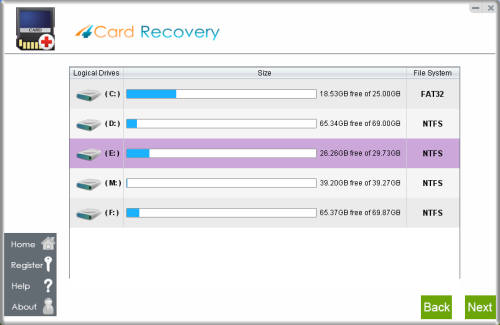 Select card to search photos off card
Step 3:
Wait patiently during the scanning.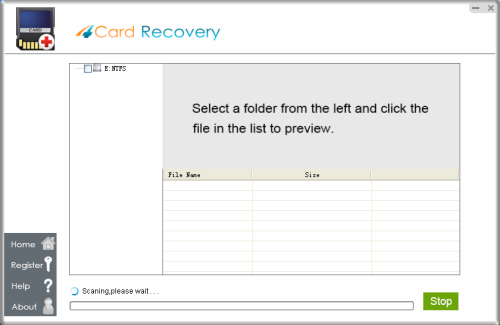 Wait while scanning lost photos, sometimes it takes about 20 minutes to scan a 32G card.
Tips: if it takes more than 2 hours to scan a 32GB card, you may stop the scanning and wait to see
what's already found. Since the card may contains bad blocks that takes longer time than usual.
Step 4:
Preview the found files after scanning. Then selecte the files you need and recover them.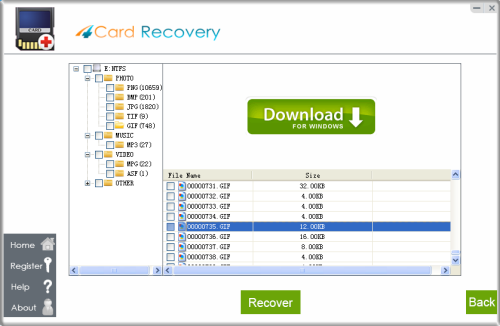 Preview lost photos and save found files. It would generate a folder to contain your lost data.
Please do not save the photo to the card where you lost them. Save them to your PC drive!

Download 4Card Recovery
Note:
* Please be sure that all your lost files are not overwritten by anything else on the same USB flash drive.
* Please be sure that this downloadable data recovery tool is not installed on this USB flash drive.
* Please be sure that all your scanned files could be previewed carefully, which can help you save much time of restoring.
* Please be sure that all your restored files could be transferred to other drive in case of data loss.
* Please be sure that all your important or valuable data could be stored on several drives or places in the future.
More Information of Verbatim USB Flash Drive
In order to meets the various needs of users, Verbatim has divided its USB flash drives into two group: Everyday USB flash drives and Professional USB flash drives. The first group includes a series of USB flash drive with different types (like Store 'n' Go USB 3.0 Flash Drive, Store 'n' Go Micro USB Drive, Dog Tag USB Drive and more) and capacity(from 2GB to 64GB). They all are portable, efficient and beautiful. The second group is specially designed for some users that need to save some professional, personal or sensitive data. Except all the fast transfer speed, good warranty, proper storage device and other advantages, these USB flash drives are equipped with a powerful 256 bit encryption that allows you to create a secure to protect your stored data free from unwanted access. That's also why they are included in this "Professional USB drives" group.

Download 4Card Recovery