Summary
Read this article to know exactly how to recover data back from PQI USB flash drives step by step with the help of 4Card Recovery, when you are experiencing some PQI USB flash drive related data loss problems.

Moser Baer Flash Drive Recovery by 4Card Recovery
Free download 4Card Recovery to retrieve all deleted or lost files back quickly, when you are experiencing PQI USB flash drive or other branded USB flash drive data loss problems without data backups.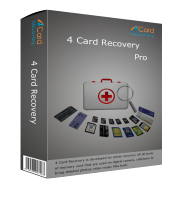 What's Your PQI USB Flash Drive Data Loss Problem?
There are many different USB flash drive data loss problems and these data loss problems also could be caused by many different reasons. What is your PQI USB flash drive data loss problem? PQI USB flash drive data is missing for sudden deletion? PQI USB flash drive data is inaccessible for RAW file system or unformatted error message? PQI USB flash drive data is lost for unintentional formatting or reformatting? PQI USB flash drive data is gone for drive corruption or other drive problems? Also forget to make any data backup on another drive or place? Don't be depressed! Your lost USB flash drive files may not be as vulnerable as you think. They are probably still stored on this USB flash drive. Just keep this USB flash drive unused for a while and resize every possible hope to restore all your lost files back. 4Card Recovery could be your next hope and chance.
How to Recover Lost Files from PQI USB Flash Drive?
The lost or deleted files often can be restored with the help of some data recovery tools like 4Card Recovery, since these files are not really removed off from the USB flash drive directly after deletion, formatting, reformatting and corruption. They are still there and only inaccessible. Therefore, don't worry! Just use the provided version of 4Card Recovery to get back all your original USB flash drive files back. 4Card Recovery is designed to be so easy that you can quickly handle it without any similar data recovery experience. A couple of simple clicks are all you need to do for data recovery. Moreover, its advanced four data recovery modes also will make the data recovery consequences more efficient and satisfying. Hence, let's experience its efficiency together:
Step 1:
Insert your PQI USB flash drive and download the free version of 4Card Recovery here. And then, choose a wanted data recovery mode there.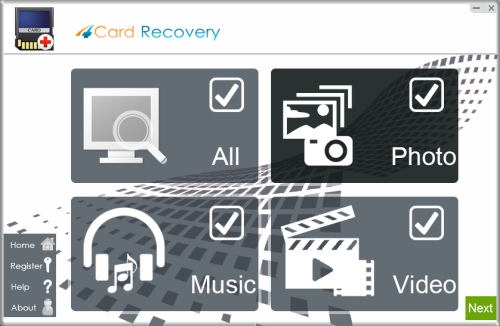 Select recovery options in the main interface
Step 2:
Choose the scanning device: your connected PQI USB flash drive. The scanning can search out all existing files inside this USB flash drive.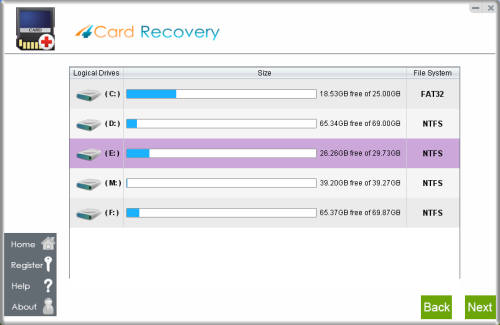 Select card to search photos off card
Step 3:
Preview all found files and remove some useless or corrupted ones.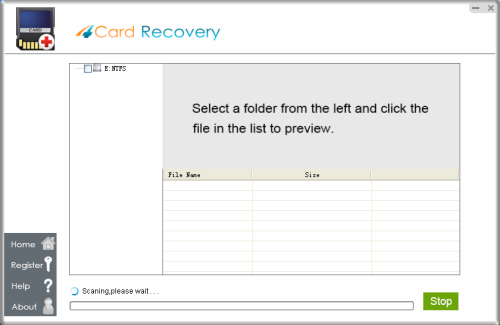 Wait while scanning lost photos, sometimes it takes about 20 minutes to scan a 32G card.
Tips: if it takes more than 2 hours to scan a 32GB card, you may stop the scanning and wait to see
what's already found. Since the card may contains bad blocks that takes longer time than usual.
Step 4:
Restore all your needed files back. Also choose another drive to save the restored files.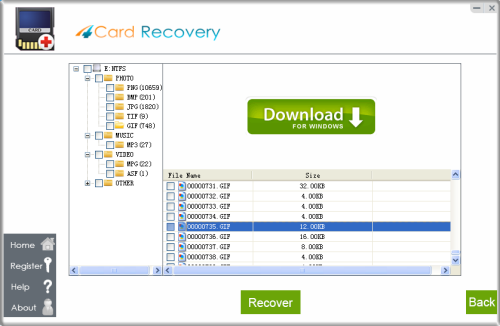 Preview lost photos and save found files. It would generate a folder to contain your lost data.
Please do not save the photo to the card where you lost them. Save them to your PC drive!

Download 4Card Recovery
Warnings:
* You cannot save and install data recovery software on this USB flash drive in case of overwriting.
* You cannot save the restored files on the same USB flash drive in case of data loss.
* You cannot save all the important drive or card data on only one drive or location in the future.
User Comments
Comment1.I have tried the above mentioned data recovery software to restore my files from my RAW Kingston USB flash drive. Even though I have no data backups left, it finally has restored 95% of my original files. It has helped me a lot.  
Comment2. Thanks very much for sharing this data recovery tool with us. I have used it once ever. It has finally worked perfectly to restore all my accidentally deleted images and files off from my SanDisk USB flash drive.
Comment3. You will be surprised at the data recovery results after using 4Card Recovery. It has finally restored all my wanted pictures, audios and files back from my phone memory card. If you are suspicious, just download it and test it by yourself. 

Download 4Card Recovery