Format My SD Card Without Data Backup?
Two days ago, I formatted my Lenovo smartphone memory card since I thought I had copied everything there to my backup drive well. But, yesterday, when I need some videos that should have been transferred from this SD card to the backup drive, I just found nothing related there. And then, I remembered that I had forgotten to back up them there. Now, this SD card is formatted and all the photos and videos are not shown there. Is there any hope for me to rescue them back from this formatted SD card? 
Yes, there is hope for you to restore the lost videos and photos! But the precondition is that you've not overwritten this formatted SD card with any new data! Right now, in case of any farther complicated or troublesome data problems, you need take back your videos and images back from this formatted SD card with SD card format recovery software.
Four Steps to Recover Formatted SD Card Videos
If this formatted SD card has been overwritten by new data, your original card videos and images may be partially lost. But, the data recovery software also can help you get back the rest card data back. Therefore, no matter whether this card is overwritten or not, you can rely on formatted SD card data recovery software to regain all lost card data as much as possible. With this card format recovery software, you can easily rescue all possible data within simple four steps: 
Step 1:
Download and install this software. When you are asked to choose data recovery mode from four, simply highlight one based on your conditions.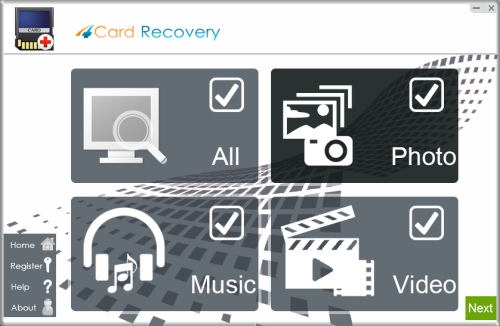 Select recovery options in the main interface
Step 2:
Scan this formatted SD card and wait till the scanning process is accomplished.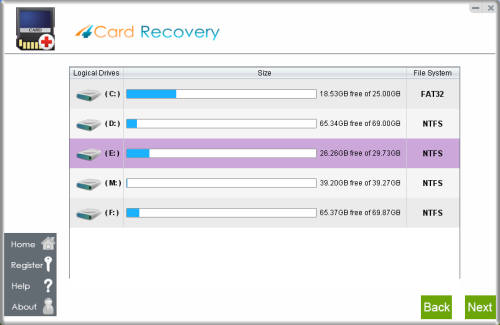 Select card to search photos off card
Step 3:
Open all scanned files and check how many of them could be retrieved.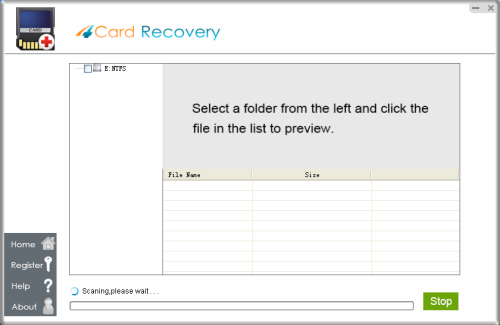 Wait while scanning lost photos, sometimes it takes about 20 minutes to scan a 32G card.
Tips: if it takes more than 2 hours to scan a 32GB card, you may stop the scanning and wait to see
what's already found. Since the card may contains bad blocks that takes longer time than usual.
Step 4:
Restore your images and videos back.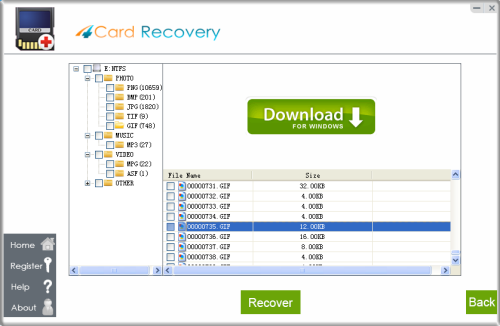 Preview lost photos and save found files. It would generate a folder to contain your lost data.
Please do not save the photo to the card where you lost them. Save them to your PC drive!

Download 4Card Recovery
Remember:
* Turn off your smartphone and pull the battery out before picking out your SD card. 
* Keep SD card unused and safely before recovering all videos back. 
* Save all SD card data on different drives in case of similar troubles.
Format SD Card with Data Backups
There are many reasons that you have to format your SD card, like RAW file system card, not formatted error, memory card error, virus threats and more. Moreover, the formatting process could be really efficient to fix these card problems in a short time. But, that doesn't suggest you should format a SD card once you are asked to. You should always firstly back up everything important or check your card backups well and then, do the formatting process to resolve all card problems. Never format SD card without data backups.
Re-use This SD Card Freely after Data Recovery
After data recovery, you can freely use this SD card, as long as the restored card videos and images are backed up well. Without serious physical card problems, like countless bad sectors, broken card, bent card or burned card, this SD card often can work efficiently as before. Never forget to prepare card data backups for avoid any data loss problem again in the future. 

Download 4Card Recovery