Best Way to Recover SD Card Files after Format?
Yesterday, I put a Micro SD card of my friend to format it on my computer since there were some card problems. Don't worry! I had backed up the information inside this card well in advance. But, since I planed to transfer some photos form this Micro SD card on my SD card at the outset, I had also plunged this SD card on this computer, too. And finally, I just mistakenly formatted my SD card instead of this Micro SD card. Moreover, the stuffs inside this SD card were not saved on other places. Now, all my SD card files (including music, videos and photos and more) are lost. I have searched a lot on the internet and be introduced that the best solution is to use some data recovery program. But, I really have no idea about similar programs. So, do you have any idea for me? What is the best way for me to recover SD card files back after format?
Stop Worrying! Retrieve Formatted SD Card Files
Hey, as you've learned from the internet, data recovery software is really workable in your case. So, stop worrying and download a SD card format recovery program to recover your music, videos, photos and more back. What you should do right now is really simple:
Step 1:
Start your computer, download this card format recovery software, insert this card to computer and run it there. Choose a data recovery mode from four.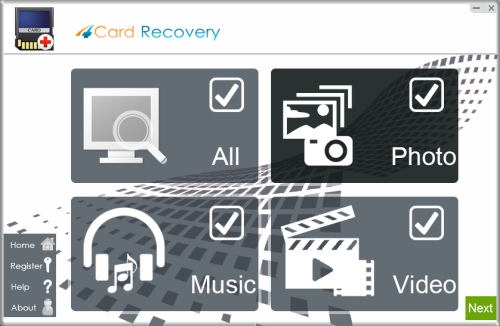 Select recovery options in the main interface
Step 2:
Open next page, click the media that stands this SD card and scan it patiently.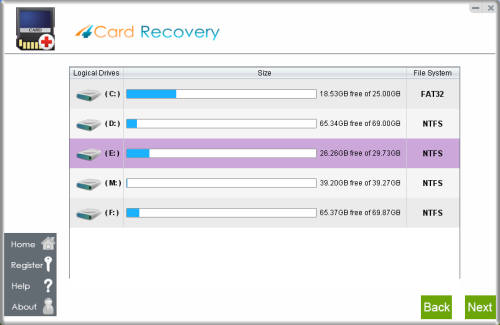 Select card to search photos off card
Step 3:
View all listed files and pick out satisfying ones.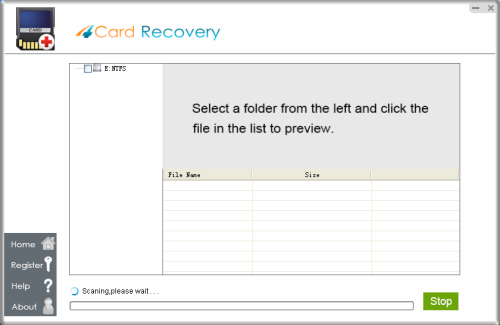 Wait while scanning lost photos, sometimes it takes about 20 minutes to scan a 32G card.
Tips: if it takes more than 2 hours to scan a 32GB card, you may stop the scanning and wait to see
what's already found. Since the card may contains bad blocks that takes longer time than usual.
Step 4:
Click "Recover" button and select the computer drive or external hard drive as the destination storage places.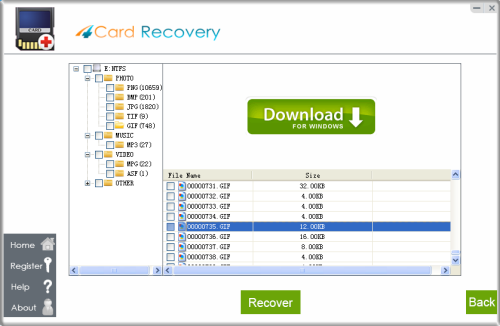 Preview lost photos and save found files. It would generate a folder to contain your lost data.
Please do not save the photo to the card where you lost them. Save them to your PC drive!

Download 4Card Recovery
Act Carefully:
Put this formatted SD card aside before you've restored everything.
Selecting an appropriate data recovery mode can be more quick and efficient.
Save restored data on a different memory card or places to avoid further data loss.
Get an impressive lesson to save two coppices of everything important on different places.
SD Card Format Recovery Software
There are many data recovery programs that are developed to help SD users like you restore lost, missing, erased, deleted or inaccessible data back. Moreover, unlike other data recovery software online, a SD card format recovery program that is designed with four data recovery modes can help you extremely increase your data recovery efficiency. It has been tested and used by people. Most of them have a good result. So, it will also not let you down.
Here are some well-known information of this software:
1).It can work with card data loss problems caused by these errors: "Memory card error", "Card Not Formatted", "SD Card Error", "Corrupted Card Error", "RAW File System Convert" and more.
2).It supports all prevailed file formats, image formats, audio formats and video formats, etc.
3).It is compatible with all popular Windows version, such as Windows 7, Windows 8, Windows Vista and Windows XP, etc.  
Where Are Your SD Card Stuffs after Format?
It is common sense that the formatting process will erase everything on a hard drive or memory card. But, have you ever tested whether that idea is really right? In fact, in my experiences, the formatting process does not delete anything on this SD card. Your card stuffs are still resided on this SD card. As long as you are not taking more files with this SD card, you always can let them back simply by trying data recovery software. That's you are introduced to use similar tools. So, in order to perform a perfect card data recovery process, you'd better wisely select a trusted one for your card stuffs. Of course, for more security, you may also have to pay some money.

Download 4Card Recovery