RAW File System SD Card with Inaccessible Files?
Do you get a RAW file system SD card right now? The computer also asks you to format this card when trying to access any file inside? OK! Firstly, make sure what you really want, the SD card or remained card files. If your choice is this SD card, you can simply format this card to fix this RAW file system problem. If your choice is the inner data, do not overwrite this card and find solutions to rescue data back latter. But, if you want to rescue both of your data and remained files, ok, just act carefully: take back SD card data back with RAW SD card data recovery software at first and format this card for converting RAW file system back to NTFS or FAT 32 afterwards. Just search for a data recovery tool online to help you out.
RAW File System SD Card Data Recovery
Many SD card RAW file system programs are promoted over the internet. So, it is not hard for you to select one. But, in order to increase the chances of preface data recovery, you should take some efforts to land powerful SD card data recovery software.
Here are common steps for you to rescue RAW SD card data back:
Step 1:
Connect this RAW card to your computer and Download this card data recovery software from its official website.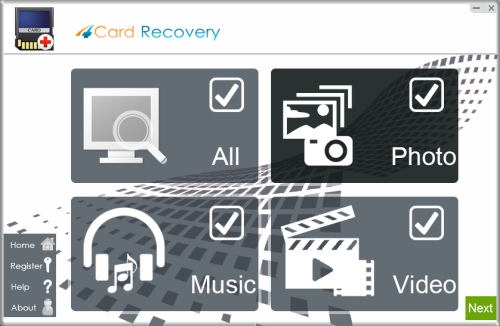 Select recovery options in the main interface
Step 2:
Launch this tool and choose a data recovery mode for your RAW file system problem. (With its user-friendly interface, you always can know the major functions of every data recovery mode simply from their names.)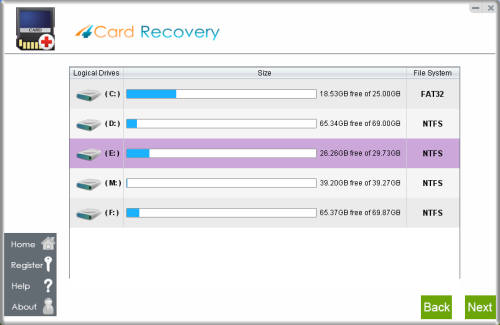 Select card to search photos off card
Step 3:
Mark out all needed data to restore after the thorough scan. (In order to save your time, this freeware allows you to directly mark out the useful data alone for restoring.)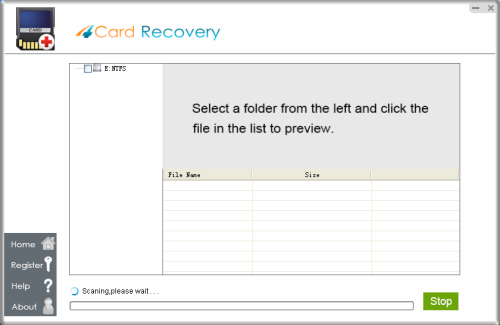 Wait while scanning lost photos, sometimes it takes about 20 minutes to scan a 32G card.
Tips: if it takes more than 2 hours to scan a 32GB card, you may stop the scanning and wait to see
what's already found. Since the card may contains bad blocks that takes longer time than usual.
Step 4:
Recover all data and save it on another card or drive in case of data recovery failure. (Its "Preview" feature also allows you to check whether all your data is retrieved rightly.)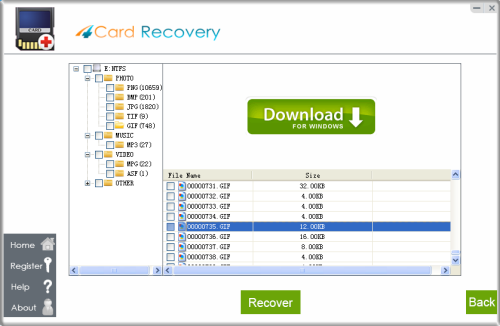 Preview lost photos and save found files. It would generate a folder to contain your lost data.
Please do not save the photo to the card where you lost them. Save them to your PC drive!

Download 4Card Recovery
Warnings:
(1). Avoid adding new files on this RAW memory card before all needed files are restored.
(2). Avoid saving restored data on this RAW memory card in case that it is lost again for the following formatting process. 
(3). Avoid remaining all important card data on this memory card only in the future. 
Fix RAW File System Problem
RAW file system often can be easily fixed by formatting process. Why? Clearly speaking, the formatting process often can help convert RAW file system back to previous functional file system, like NTFS or FAST32. In this technological era, unlike other converting operations that need to be accomplished with the help of a special converting program, such as Photo converting programs, video converting programs and more, the RAW file system converting operation is really simply. What you should do is merely to format this RAW hard drive/memory card and then, your computer will do the following things for you.
Common Symptoms of RAW File System Problems
Do you know that there many common symptoms that can help you land a RAW file system problem? If you do not know, just read them below:
(1).The most typical symptom is that the computer Windows will display a popping-out error message saying: "The disk is not formatted. Do you want to format it now?"
(2).The most obvious symptom is that the previous "NTFS" or "FAT32" file system will be changed into "RAW" in "Disk Management" or "Properties".
(3).The strangest symptom is that your used space and free space of memory card capacity will also be displayed as 0 bytes in "Properties".
Famous Memory Card Brand
Do you know that there are many different famous memory card brands on the market? In fact, when trying to choose a proper memory card for our camcorder/phone/camera/music players, sometimes, we will also take the brands into considerations. That's also why you should know something about the famous memory card brands. Actually, as I know, there are many reliable memory card brands that are worth trying, like Samsung, Sony, Kingston, Toshiba, SanDisk, PNY, Centon and more. Therefore, next time, if you really need to buy one, always search enough information for your wanted memory card brand.

Download 4Card Recovery