Summary
Mirrorless camera memory card data recovery software is available here for users to restore all precious pictures from different branded mirrorless camera memory card after losing all wanted camera card stuffs without data backups.

Mirrorless Camera Card Recovery by 4Card Recovery
Free download 4Card Recovery to restore all lost, erased or inaccessible pictures from the memory card of your mirrorless digital cameras, no matter which type of digital camera or memory card it is.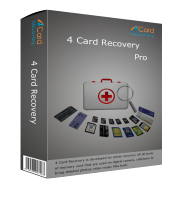 Mirrorless Camera Memory Card Data Recovery Help Is Needed Right Now?
Generally, in comparison to SLR digital cameras, the Mirrorless cameras are often much smaller, lighter, quieter and handier. Hence, when you are traveling outside, visiting some museums or enjoying some music or dramas in theaters, the mirrorless cameras could be the best choice to record the unforgettable moments. But, if you inadvertently delete or erase some previous photos when rushing to capture more wonderful ones, or accidentally format the mirrorless camera memory card to lose much more treasured images, without any farther operations, you can simply put this camera memory card to computer and get them all back with mirrorless camera memory card data recovery software. With this software, it is also possible to take lost camera photos, videos, files, messages and more back from a camera memory card with RAW file system error, virus-infected camera memory card or logically corrupted camera memory card.
How to Recover Mirrorless Camera Memory Card Photos?
All over the world, there are many manufacturers that produce mirrorless cameras for purchasers, like Sony, Olympus, Pentax and Samsung, etc. Which one are you interested in? Or which one are you using right now? OK! Never mind! No matter which manufacturer has created your mirrorless digital camera, when it comes to the camera memory card data loss problems, the camera memory card data recovery software is what you need to help you restore everything lost back, just like 4Card Recovery. By using this data recovery software, you always can easily take all types of prevailed files back from nearly all popular camera/smart phone/ player memory cards.
Therefore, let's use several steps to regain all possible previous camera card photos back:
Step 1:
To start the data recovery process, download this software and install it well on a computer. To rescue your camera card data, insert this card to the same computer and choose a file type to go on.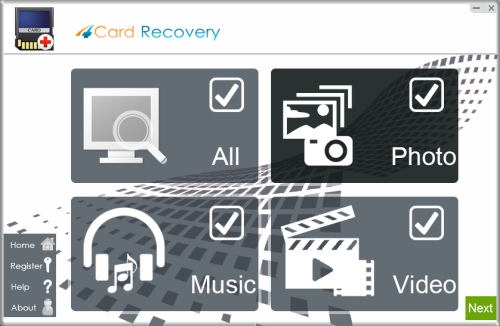 Select recovery options in the main interface
Step 2:
To start the camera card scanning, highlight the drive letter that stands for your camera memory card.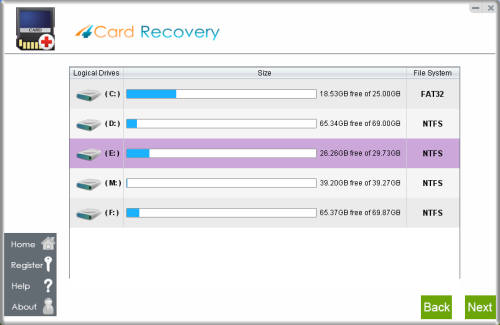 Select card to search photos off card
Step 3:
To rescue all needed data back, preview all found photos and label the useful ones out.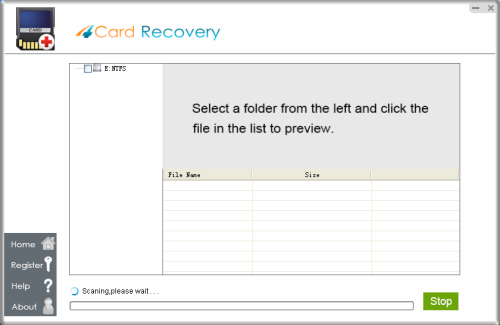 Wait while scanning lost photos, sometimes it takes about 20 minutes to scan a 32G card.
Tips: if it takes more than 2 hours to scan a 32GB card, you may stop the scanning and wait to see
what's already found. Since the card may contains bad blocks that takes longer time than usual.
Step 4:
Recover those marked card photos back.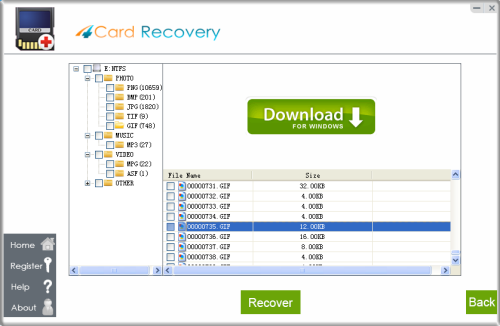 Preview lost photos and save found files. It would generate a folder to contain your lost data.
Please do not save the photo to the card where you lost them. Save them to your PC drive!

Download 4Card Recovery
Tips for Smooth Photo Recovery:
* Never load more photos on this mirrorless camera memory card before the data recovery process.
* Keep all restored mirrorless camera memory card photos away from the original memory card after the data recovery process.
* Before deleting camera card information or formatting memory card, check the memory card data backups carefully.
Differences Between Mirrorless Cameras & SLR Cameras
Comparing to SLR cameras, the mirrorless cameras, as their names implies, do not have a mirror to divert the lighting to help produce clearer and more colorful photos. So, in this aspect, as to a professional photographer, the SLR or DSLR cameras could be more practical. However, due to this feature, the mirrorless cameras also has own appeals to some photo amateurs. Without a mirror, it could be created as small as possible and you also have no need to change the lens frequently for different photo effects. Without a mirror, there is also no need to lift the light reflection mirror and the process of photo capturing could be really quite. Without a mirror, it could be produced as light as possible and you can easily take it with you everywhere. It could be really portable. Therefore, if you are interested in such sort of cameras, just purchase one to enrich your life.

Download 4Card Recovery