Need Fix Micro SD Card with File Shortcuts?
Hey, how can I access my files from my Micro SD card? The day before yesterday, I inserted my Samsung smartphone to the PC of my friend for transferring some interesting games. Forgetting to do the antivirus scanning, this card just worked fine there without any strange problem. But, when trying to copy all these games on my laptop, all files inside this Micro SD card were turned into shortcuts. More strangely, when clicking them to open the files, there was nothing changed or shown. How can remove all these shortcuts and restore my game files back? Is it really virus-infected?
Based on your description, your Micro SD card is really virus-infected. There are many viruses that can spread via storage devices and change your files into unworkable shortcuts. You should never forget to do anti-virus scanning before using again, especially when you use your card on a new or unknown computer. But, now, to rescue your card files, a Micro SD card data recovery program is needed.   
Method1: Recover Micro SD Card Files with Data Recovery Software
Due to virus infection, your Micro SD card files may be hidden and becomes inaccessible. Before they are really erased off from your Micro SD card, the memory card data recovery software could help you get them all back. This data recovery software always will scan your card deeply and take your files back as many as possible:
Step 1:
Install this card data recovery software after downloading. Start it on your computer and enable a data recovery mode.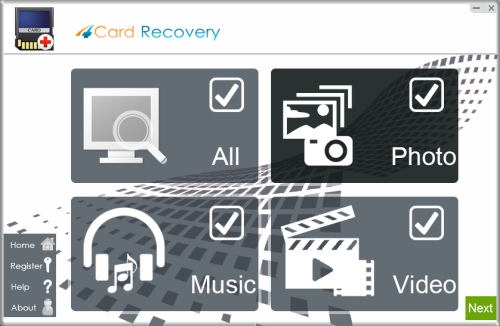 Select recovery options in the main interface
Step 2:
Start scanning this card after finding it out from other listed media.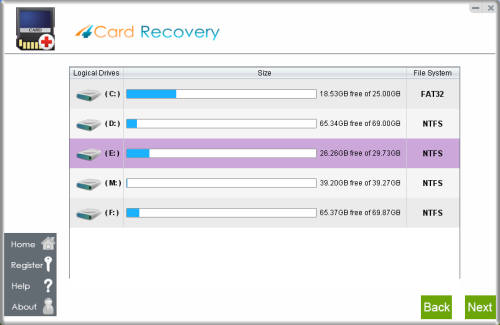 Select card to search photos off card
Step 3:
Start checking all scanned files and label out all your needed ones.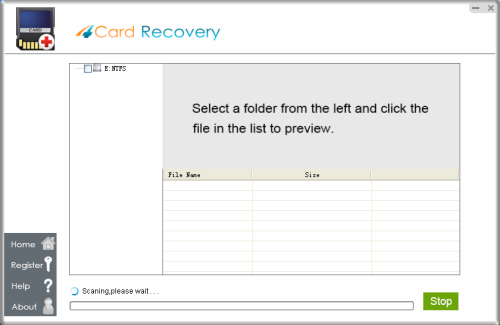 Wait while scanning lost photos, sometimes it takes about 20 minutes to scan a 32G card.
Tips: if it takes more than 2 hours to scan a 32GB card, you may stop the scanning and wait to see
what's already found. Since the card may contains bad blocks that takes longer time than usual.
Step 4:
Start recovering all wanted files back.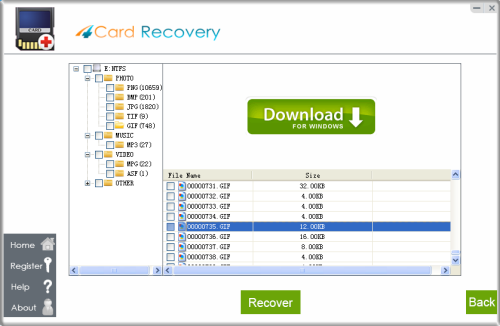 Preview lost photos and save found files. It would generate a folder to contain your lost data.
Please do not save the photo to the card where you lost them. Save them to your PC drive!

Download 4Card Recovery
PS:
* Save your restored files on computer drive in case of virus-infection.
* Back up all Micro SD card data timely in case of data loss.
Method2: Show Hidden Files back Step by Step
If your files are really hidden by these existing viruses, you can easily show them all back and remove the virus afterwards. Here are steps for you to show them all out again: 
Step1. Click "Start" to open "Run" on the appearing list.
Step2. Enter "control folders" and click "OK".
Step3. Open "View" tab and find out "Hidden files and folders" option.
Step4. Check whether "Show hidden files and folders" is marked. If not, just mart it right now.
Step5. See whether all your Micro SD card files are all back.
PS: This method is not workable with all virus-infection problems.
Method 3: Bring Micro SD Card Files back with Antivirus Programs
As the commonest method to fix a virus-infection problem, an efficient antivirus program always can help a lot. Within several clicks, you can successfully remove all existing viruses out from your PC, hard drive or memory card. So, in order to access your Micro SD card files again, you can use similar antivirus programs. It is not difficult to land one over the internet. 
PS: But, if Antivirus tools still cannot turn all your wanted files back, you may have to apply the data recovery program mentioned above.

Download 4Card Recovery