Micro SD Card Has "Memory Card Error"?
Hello! I hope I am not the only one that has gone through this "memory card error" problem. I have used my Micro SD card over three months on my Nikon digital camera. I always directly stored all new photos and information on this Micro SD card. But, in this morning, when taking some new photos with this camera, a "memory card error" popped out and let me format before shooting. So, I guessed this Micro SD card may be the source of this problem. Perhaps the formatting process is really necessary. I absolutely can do that, as long as I can firstly rescue my previous card photos back. Is there any way for me to recover these inaccessible photos from this Micro SD card?
Copy Back Previous Micro SD Card Photos
Yes, don't worry! Your guess is right! It could be the problem of your Micro SD card. Just check it on your computer right now! What result have you received after attaching it to your computer? You can freely use this card and view your photos there? All right! It is absolutely the problem of your camera. Just try to fix it with some professional suggestions. Or you also get the same "memory card error" on your computer? OK! It could be your card problem. Do not site still there! Just immediately download Micro SD card data recovery software to get back all your photos before the necessary formatting process. This card data recovery software works just like a professional data recovery company which can do its utmost to retrieve your previous card photos back as many as possible. 
Of course, you also can run this software more times for harvesting your original photos completely.
Detailed Steps to Recover Micro SD Card Photos
With this card data recovery software, it is also not complex to recover your photos:

Step 1:
Download and Launch this card recovery software. Specify "Photo" recovery mode to rescue your card photos. It is also workable with other files types, like music, videos, messages, texts, and more.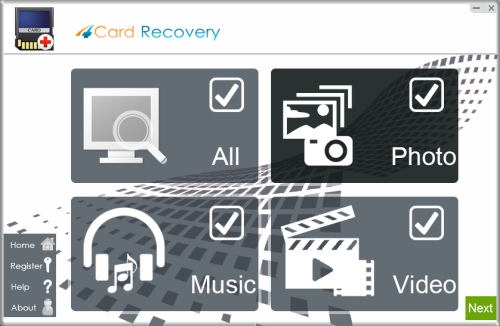 Select recovery options in the main interface
Step 2:
Scan this Micro SD card. You need to wait for a while, when it is scanning your card.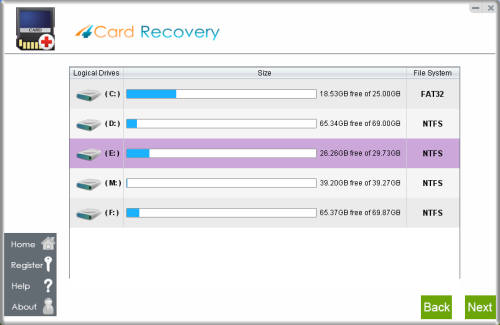 Select card to search photos off card
Step 3:
Preview function allows you to find your needed photos on by one precisely.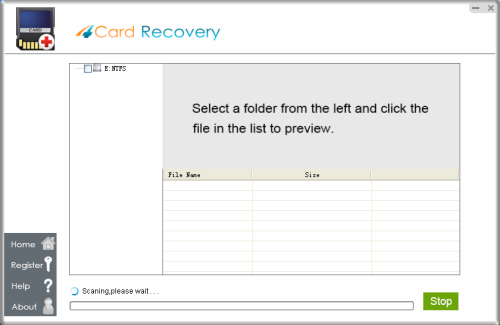 Wait while scanning lost photos, sometimes it takes about 20 minutes to scan a 32G card.
Tips: if it takes more than 2 hours to scan a 32GB card, you may stop the scanning and wait to see
what's already found. Since the card may contains bad blocks that takes longer time than usual.
Step 4:
Recover all your Micro SD card photos back.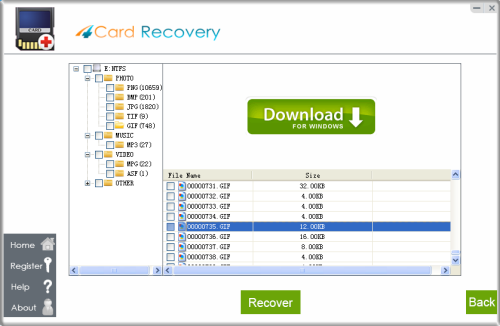 Preview lost photos and save found files. It would generate a folder to contain your lost data.
Please do not save the photo to the card where you lost them. Save them to your PC drive!

Download 4Card Recovery
Take Care "Not to Do":
* Take care not to shoot new photo on this Micro SD card. More ones you write there, more data you will lose.
* Take care not to format this card before data recovery.
* Take care not to save restored photos on this Micro SD card. More troubles could be aroused by your improper actions.
*Take care not to be so careless about your card information. The best bet for you is to back it up on different storage devices.
Remove "Memory Card Error" Problem
Back up all Micro SD card photos well and format this card for fixing its "Memory card error" problems. And then, freely use this card to produce more wonderful photos.
Beneficial Features of This Card Recovery Software
When confronting a new or unknown application, people often have doubts anyhow. Is that right for you? If you do have some worries about this data recovery software, I hope the following beneficial features could help you reduce some of them:
1).A user-friendly and easy-to-use Interface: This software is developed to be as simple as possible. You always have no need to worry about how to finish the data recovery process. Just follow the designed guidance and use it as you understand.
2). Four Powerful Data Recovery Modes: By trying this card recovery software, you can have four data recovery modes to process different data loss problems separately and efficiently, such as formatted card data recovery problems, unformatted SD card recovery programs and even some damaged card data recovery problems.
3). Support Various Data Types and Storage Devices: This software also supports various data types, like videos, photos, documents and other types of information back. The number of compatible storage devices also never let you down, like SD cards, Micro SD cards, CF cards, TF cards and other memory cards, USB flash drives, Pen drives, memory sticks and more removable drives, etc. 

Download 4Card Recovery