Micro SD Card Photo Rescue
Hey, recently, I am using a SanDisk Micro SD card on my digital camera. It is borrowed from my friend. But, yesterday, I noticed a problem with this Micro SD card. When attempting to copy 325 photos from this card to my computer, the windows would ask me to format this card .Moreover, any of the photos inside cannot be accessed. As I loaded it back to camera, it also hung all the time. But, after changing this Micro SD card, the camera would work fine as before. So, I guess that this card may be damaged or virus-infected. But, I am not sure. Please, help me rescue the Micro SD card photos and restore the card functional use! I am really afraid that my friend will blame me for damaging his Micro SD card. Please, help me!     
I am sorry to hear that! I hope your friend is not so harsh! Honestly, as to your Micro SD card problem, I cannot make sure whether your Micro SD card is really damaged or virus-infected, since many elements can cause the "Not Formatted Error" for a memory card. But, that doesn't mean your data is hopeless. With the help of some Micro SD card data recovery software, you may still have chances to rescue your photos and restore this card functional use.
Rescue Micro SD Card Data Photos
Do you always use this Borrowed Micro SD card properly? This card not formatted error problem also could be caued by human errors, like sudden ejecting, randomly using card on different devices without anti-virus scanning and more. But, no matter whether the card problem is aroused by you, do not use this card to take more photos and try to get back all card photos back with Micro SD card recovery software, which is designed to retrieve lost photos, images, audios, videos and more back from a Micro SD card.
Immediately go try this software to rescue your 325 photos back:
Step 1:
Download and start this software. A data recovery mode should be selected on the next page.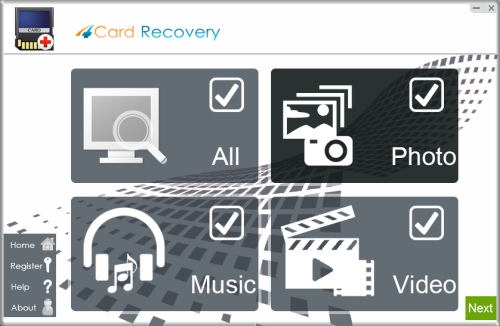 Select recovery options in the main interface
Step 2:
Find this Micro SD card and scan it to search out all your original photos.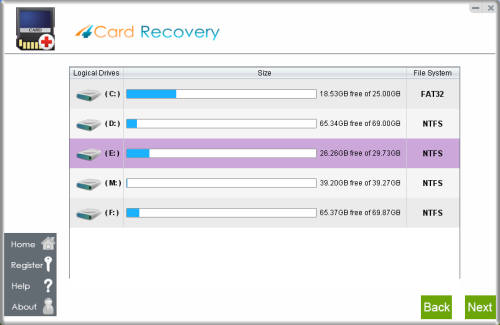 Select card to search photos off card
Step 3:
Preview all listed photos and pick out recoverable ones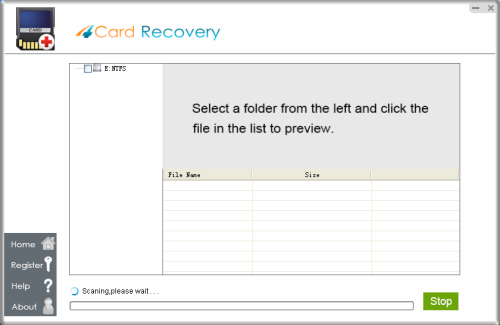 Wait while scanning lost photos, sometimes it takes about 20 minutes to scan a 32G card.
Tips: if it takes more than 2 hours to scan a 32GB card, you may stop the scanning and wait to see
what's already found. Since the card may contains bad blocks that takes longer time than usual.
Step 4:
Restore them to your drive or storage device.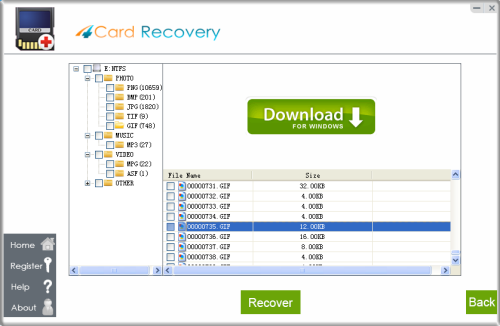 Preview lost photos and save found files. It would generate a folder to contain your lost data.
Please do not save the photo to the card where you lost them. Save them to your PC drive!

Download 4Card Recovery
Please Note:
*Back up all important Micro SD card data on your computer drive.
*Use any memory card or hard drive properly.
Restore Micro SD Card Common Use
In order to use this Micro SD card commonly, you are supposed to format this card after data recovery. And then, load it back to your camera and see whether it could work well there.
Some Common Symptoms of Virus Infection
There are some common symptoms that can help people recognize a virus-infected memory card or hard drive. Read the below ones: 
1). Pop-up ads shows out frequently.
2). Error messages pop up repeatedly.
3). Essential functions cannot work.
4). Computer freezes/slows down and even crashes.
5). Drive or memory card files are all changed into invalid short-cuts.
6). Computer says it has detected some virus.
What You Can Do to Virus Infection?
Here are several tips for you to remove virus:
1). Launch an efficient antivirus tool and use it to scan your computer thoroughly.
2). Remove all scanned virus and separate all suspicious file/folder.
3). Format this virus-infected drive or memory card for completely cleaning any existing viruses.

Download 4Card Recovery