Summary
4Card Recovery is developed to help you recover your lost SMS, videos, music, pictures and more back, when data loss problems happens to your Sony phone memory card (like Micro SD card, SDXC card, SD card and the likes). 

Sony Phone Card Recovery by 4Card Recovery
Free download 4Card Recovery to search out all your lost phone card contents and also restore them all back from your Sony mobile phone memory card.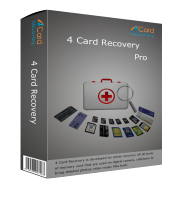 Delete Sony Mobile Phone SMS, Videos, Pictures off from Memory Card?
What type of Sony Mobile phones do you use? Is it in accordance with your life style? Do you save all your important SMS, videos, pictures and other data on the phone memory card? As a matter of fact, the precious mobile phone data is often supposed to be saved on the memory card, not on the phone internal memory. Why? There are often far more chances and easier to take these lost phone contents back when you've placed them on the memory card. Once your stored stuffs are lost or deleted off from this Sony phone memory card for some unexpected causes (such as accidental deletion, unformatted card formatting, RAW file system formatting, memory card error, virus infections or card damage, etc), you can easily land a Sony phone memory card data recovery program to directly retrieve your wanted stuffs back from this memory card. 
How to Recover Sony Phone Memory Card Contents?
The phone SMS, video, photo, music loss problem can change your pleasant mood oppositely in seconds. It could be unbearably suffering when you try to take your lost stuffs back with continuous frustrations/difficulties. But, these data loss problems sometimes also can be simply fixed in minutes, as long as you select reliable phone memory card data recovery software like 4Card Recovery, which can deeply scan your memory card and restore all deleted, erased, inaccessible or missing data back with fast speed and high quality.  
Here are steps for you to rescue lost SMS, videos, photos, music and more:
Step 1:
Go to download this phone memory card recovery software and link this memory card to your computer. Run this software to select "All" recovery mode. Other three modes are also powerful.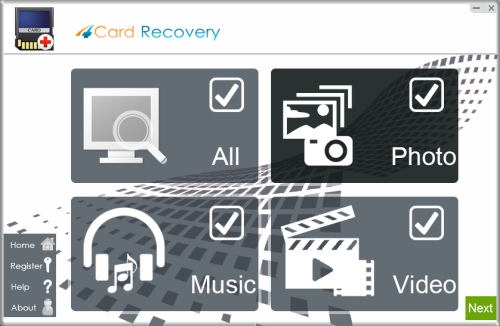 Select recovery options in the main interface
Step 2:
Go to next page and scan this phone memory card.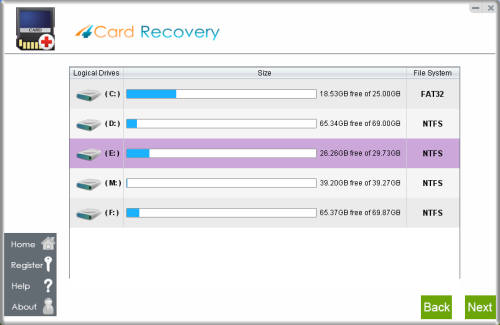 Select card to search photos off card
Step 3:
Select the folder from the left and preview your needed files there.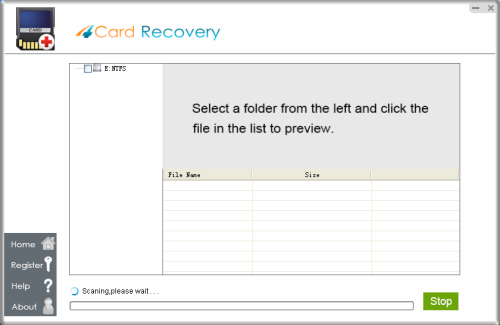 Wait while scanning lost photos, sometimes it takes about 20 minutes to scan a 32G card.
Tips: if it takes more than 2 hours to scan a 32GB card, you may stop the scanning and wait to see
what's already found. Since the card may contains bad blocks that takes longer time than usual.
Step 4:
Recover all selected files to computer drives or partitions.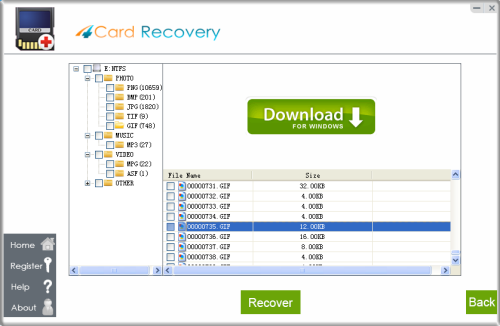 Preview lost photos and save found files. It would generate a folder to contain your lost data.
Please do not save the photo to the card where you lost them. Save them to your PC drive!

Download 4Card Recovery
Remember Some Tips:
* Keep this Sony phone memory card well after data loss problems. Do not write or format it randomly.
* Keep the restored memory card SMS, videos, music and other files on computer drives or partitions.
* Keep baking up your Sonny phone memory card data in the future.
Useful Knowledge of Sony Mobile Phones:
There are many types of Sony phones on the market. Most of them are designed with internal phone memory (like 4GB, 8GB, 16GB, 32GB and more) and RAM memory (like 1GB, 2GB, 512MB and more). But, not all of them enable its owner to insert a memory card to expand the phone memory. In other words, not all of the phone owners can store their data on the phone memory card, since some of them even cannot use a memory card there. Therefore, in case of data loss troubles, you should always timely back up your phone stuffs well, not only on the phone memory and also on other computer drives or storage devices.

Download 4Card Recovery