Summary
4Card Recovery has offered many efficient features for you to recover your Kingmax USB flash drive data back within several simple and fast clicks, before the original data is overwritten or corrupted completely.

Kingmax USB Data Recovery by 4Card Recovery
Free download 4Card Recovery to restore all types of files back from your Kingmax USB flash drive. Its reliable data recovery features also allows you to rescue data back from other types of USB flash drives and memory cards.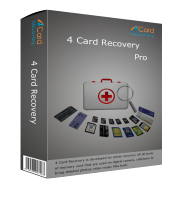 Why Your Kingmax USB Flash Drive Files Are Inaccessible or Lost?
Kingmax USB flash drive, as a good competitor of other famous branded USB flash drives, like Kingston, Seagate, PNY and more, also has its own customers all over the word. However, as a Kingmax customer, even though you've not lost your confidence in this storage device, you sometimes are also really annoying about the data loss problems of this Kingmax USB flash drive? For instance, are you sometimes unable to access your USB flash drive files for some not formatted error or RAW file system error? Have you lost your USB flash drive data for accidental deletion or formatting? Or have you lost your USB flash drive data for drive corruption or damages? OK! No matter how and why you lost your USB flash drive data, just put this USB flash drive aside until you are prepared to restore all your wanted files back with the help of data recovery software like 4Card Recovery.
How to Restore Kingmax USB Flash Drive Files back?
Making sure that all of your important USB flash drive files are backed up well at least on two different places all the time often can help avoid many unexpected or accidental data loss problems. But, if you do not have that habit, with the high development of computer technologies, you also can restore your lost or inaccessible data back with data recovery software like 4Card Recovery. 4Card Recovery, with its four advanced data recovery modes, often can help restore lost files back from different branded USB flash drives, like SanDisk, Kingston, Sony, Toshiba, Kingmax and other prevailed brands on the market. It also supports almost all types of files, like videos, images, songs, emails and more. Moreover, when your camera/phone memory cards get some data loss problems, it also can be a professional memory card data recovery solution for you to rescue your data. In short, it is really efficient and comprehensive.
Here, download 4Card Recovery to get back your lost files back within fast and simple clicks:
Step 1:
Install this tool on your computer well. And then, determine which data recovery mode is fixable for your USB flash drive.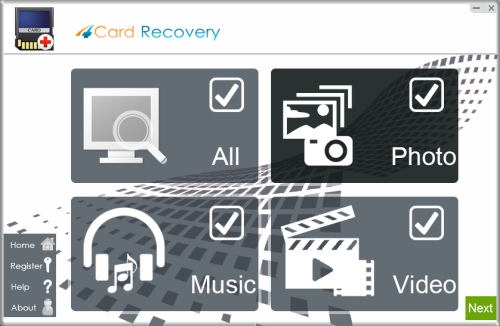 Select recovery options in the main interface
Step 2:
Determine which media you are going to scan. Just pick out this USB flash drive there.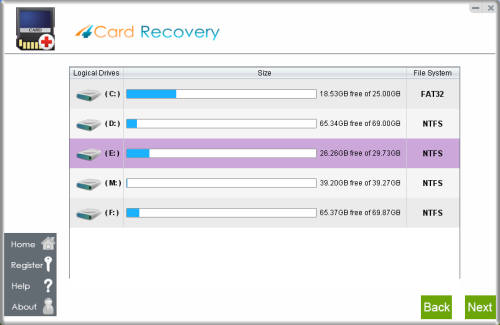 Select card to search photos off card
Step 3:
Determine which file you want to restore. Just label all your wanted files out by previewing them carefully.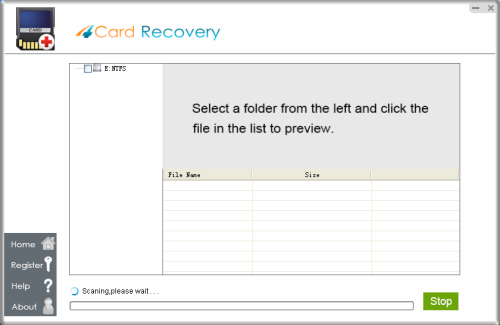 Wait while scanning lost photos, sometimes it takes about 20 minutes to scan a 32G card.
Tips: if it takes more than 2 hours to scan a 32GB card, you may stop the scanning and wait to see
what's already found. Since the card may contains bad blocks that takes longer time than usual.
Step 4:
Determine which storage device to store your restored files. This destination device can be any of your computer drives or other external hard drives, except the original Kingmax USB flash drive.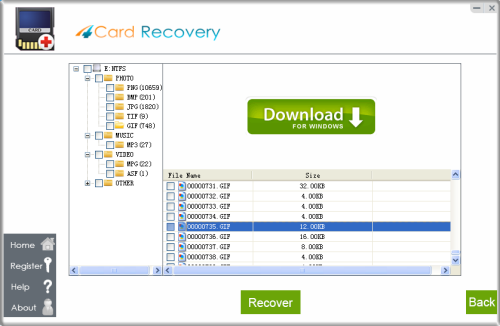 Preview lost photos and save found files. It would generate a folder to contain your lost data.
Please do not save the photo to the card where you lost them. Save them to your PC drive!

Download 4Card Recovery
Note:
* Never forget to put aside this USB flash drive before you start to restore your lost data.
* Never forget to put the restored files on another drive or storage device.
* Never forget to back up all important data on different drives or locations.
More Information of Kingmax USB Flash Drive
There are also many Kingmax USB flash drives listed on the Kingstom official Website, like the USB 3.0 series, OTG series, Urban series, Pop series and Classic series, etc. Different types have their own outstanding features. Some of them are slim, waterproof and dustproof. Some of them are equipped with high transfer speed, high quality and up to 5 years warranty. Some of them are designed with fashionable shapes and colors. Some of them are special for its high capacity, like 32GB. Overall, all these USB flash drives are developed to meet different needs of different users. What are your needs? Just choose one according to your own needs.

Download 4Card Recovery