Summary
Successful camera memory card picture recovery is no longer a complicated task for you to accomplish, when you read the following guidance related to recover Casio camera memory card data and use 4Card Recovery.

Casio Camera Card Recovery by 4Card Recovery
Free download 4Card Recovery to recover lost photos from the memory cards of different types of Casio cameras, such as Casio EX-series, EX-ZR series, EX-TR series and more.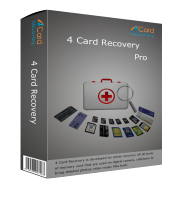 Want to Easily Take Casio Camera Memory Card Pictures Back?
As a comprehensive electronic device manufacturer, Casio has launched a range of products, like calculators, digital watches, mobile devices and digital cameras. Each one of them can be a good topic to continue in the aspect of price, efficiency, quality and the likes. However, today, we will only place our attention on the Casio digital camera and talk about the Casio camera memory card photo recovery problems. Have you ever lost your Casio camera photos? How do you lose them? Accidentally remove most of favorite camera card photos by using "Delete" button? Carelessly use "format" button to wipe out all camera card stuffs? Want to use quick or full format to fix camera memory card RAW file system problems? Need to use reformat process to remove memory card errors or viruses? Or camera memory card is simply inaccessible for card corruption? OK! No matter how you lose your camera card photos, you do have Casio Camera memory card data recovery software to take all desired camera card information back.
How to Restore Pictures & Others from Casio Camera Memory Card?
As an expanded memory device, the memory card of your Casio camera can undoubtedly store your captured camera photos and also hold other files, like videos, messages, music, files, emails and more. Therefore, once this Casio camera memory card have some data loss problems, it could be really annoying to get everything inside back. But, that doesn't work in all cases. As long as the still remained camera card data is not replaced by anything else, it could be really easy and effortless to get all wanted card tuffs back by using camera memory card data recovery software, like 4Card Recovery. With this data recovery, all types of recoverable card files could be taken back with ease. Let's enjoy the easy data recovery process:
Step 1:
Click the download button to launch this card software on computer by following the built-in guidance. Plunge this Casio digital camera via USB cable and tab a data recovery mode from the main screen.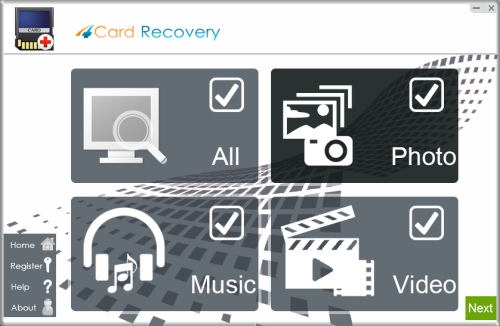 Select recovery options in the main interface
Step 2:
Choose the specific drive letter after your camera memory card mounts as a drive on your computer. And then, scan this memory card. The scanning process may take some time. Just wait.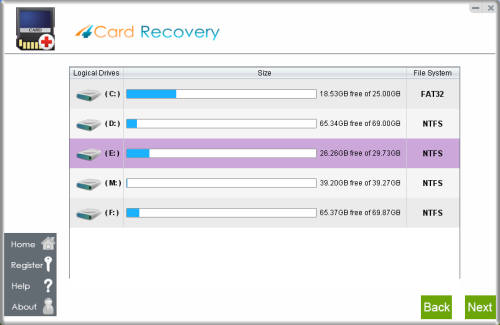 Select card to search photos off card
Step 3:
Preview all files that are displayed after the deep scanning. Mark the wanted ones out.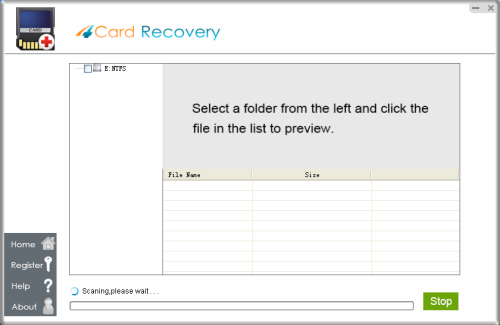 Wait while scanning lost photos, sometimes it takes about 20 minutes to scan a 32G card.
Tips: if it takes more than 2 hours to scan a 32GB card, you may stop the scanning and wait to see
what's already found. Since the card may contains bad blocks that takes longer time than usual.
Step 4:
Restore all marked files back and save them all directly on your computer drives.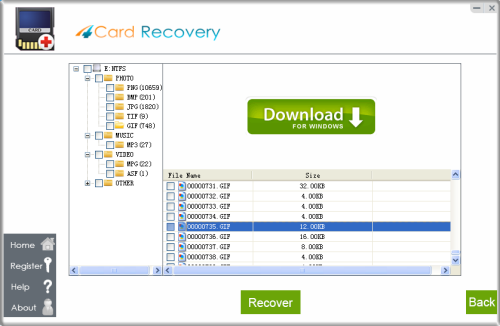 Preview lost photos and save found files. It would generate a folder to contain your lost data.
Please do not save the photo to the card where you lost them. Save them to your PC drive!

Download 4Card Recovery
Note:
* This software will only work when your deleted or lost camera card stuffs are stored on the inserted memory card in advance, not on the internal memory.
* This software will successfully take most or all of your camera pictures, when all your wanted photos are not overwritten by anything else.
* These restored camera card photos should be stored on another storage device to avoid any data recovery failure.
* The camera card photo recovery speed and efficiency will depend on actual data recovery situations, like your card capacity, stored card stuffs and more.
* Stop saving all camera card data on only one memory card in case of similar data recovery troubles.
Casio Digital Camera Overview
Except watches, digital pianos, keyboards and calculators, etc, Casio also offers several groups of efficient digital cameras for users, like the Casio EX-series, EX-ZR series, EX-TR series and more. Some of them are designed to be equipped with high-speed technology that has two images processing circuits and can bring high-speed performance, like EX-100, EX-ZR1500, EX-TR35, etc. Some of them even are not be equipped with special technologies and also can help take nice and professional photos, like the EX-H60, EX-ZS50, EX-ZS35, etc. Moreover, all of them have many recording media options, like SD, SDHC, SDXC and more types of memory cards.

Download 4Card Recovery