SD Card RAW File System Problem?
What do you know about RAW file system problem? Do you know how to tell RAW file system problems? OK! Simple! Just follows our questions below! SD card cannot be opened right now? SD card always gives a "Card Not Formatted Error" message for persuading you to format at first? SD card also has a really strange file system like RAW, not your often used "NTFS" or "FAT32? All right! If most of your answers to these above mentioned questions are "Yes", obviously, you get the "RAW" SD card problems. Immediately take actions to copy your wanted data back from backups and also format this card to fix this problem. But, unfortunately, do not find a wanted data backup or even do not have made any backup, never format this card before rescuing everything back. Just avoid writing new on this SD card and try to take stored card data back with RAW SD card data recovery software.
Fix RAW SD Card Problem& Access inside Photo, Videos
SD card suddenly becomes RAW? Need fix this problem and also access inside photos, videos and files? OK! No matter what your plan for the next step, just pick out this SD card from your camera/camcorder/phone and insert it to computer for farther solutions. To fix your card problem and rescue inside data, SD card data recovery software is what you are looking for. This card recovery tool can offer you a deep scan, considerately previewing and perfect data recovery result. You may also find other practical features when you are suing it personally.
FRecover Data from a RAW SD Card Step by Step
You need several steps to re-access this RAW SD card:
Step 1:
Download this card recovery software and also connect this SD card to your computer. (Insert this RAW SD card to your computer port with a card Reader or directly plunge the original device that has loaded this RAW SD card inside.)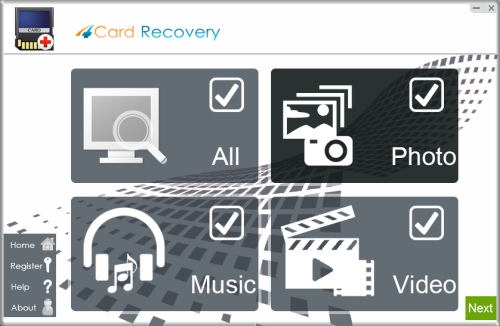 Select recovery options in the main interface
Step 2:
Launch this recovery tool on your computer and also select this SD card as the pace where you want to rescue your data.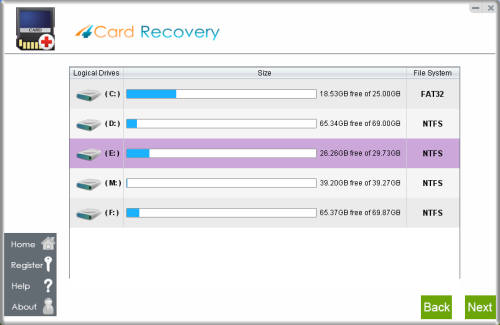 Select card to search photos off card
Step 3:
Pick a recovery mode (There are four data recovery modes for you to choose) and begin to scan your card. (You are supposed to patiently wait as it is scanning your SD card.)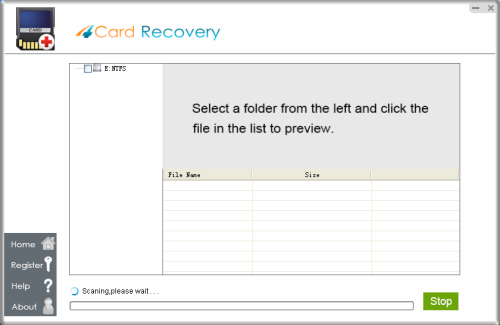 Wait while scanning lost photos, sometimes it takes about 20 minutes to scan a 32G card.
Tips: if it takes more than 2 hours to scan a 32GB card, you may stop the scanning and wait to see
what's already found. Since the card may contains bad blocks that takes longer time than usual.
Step 4:
Preview recoverable data and save the rescued data on a different memory card or hard drive. (Previewing all scanned data before data recovery can help save much time for you.)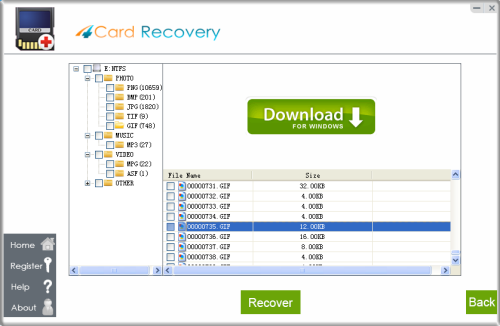 Preview lost photos and save found files. It would generate a folder to contain your lost data.
Please do not save the photo to the card where you lost them. Save them to your PC drive!

Download 4Card Recovery
Notes & Tips:
(1). Do not write any new file on this RAW SD card, if you still want to get your data back completely.
(2). Do not forget to fix this RAW file system error with formatting. 
(3). Do not randomly remove a SD card off from your computer again, especially as it is still in use.
(4). Do not suddenly remove a SD card off from camera/phone/camcorder before shutting down its power.
(4). Do not forget to save all your important SD card data on different memory cards or drives.
RAW SD Card Data Is Recoverable?
When RAW SD Card gets a RAW file system, the inside files are not erased completely. It is still remained there. Before they are all overwritten by new files and become irrecoverable, you often can easily rescue them back with card recovery software. That's why data recovery programs like the above mentioned RAW SD Data Recovery Freeware is created and developed. With its advanced data recovery technologies, it is always a piece of cake for you get all the inaccessible data back from RAW SD card. Of course, the precondition is that you've not overwritten your original data with anything new.
Know Anything of RAW File System?
Generally, when one is trying to explain the word "RAW", he will often talk about two meanings. In the area of photography technologies, "RAW" is regarded as an original photo format which often cannot be directly read by some photo viewers or devices. However, in the computing, "RAW" is explained completely differently. It is a state of hard drive or memory card that has not been formatted under Windows or Mac OS computers. That's why you cannot access or open any file/folder inside this RAW SD card. Therefore, when meeting this RAW file system problem, the formatting process often could be a must to fix this problem. Therefore, you should always take care in the future. Never format a memory card without data backups.

Download 4Card Recovery