SD Card Has Changed Its File System Type?
Dear friends there! I have a Samsung phone SD card that has been used over one year without any problem. But, now, I am suffering from a RAW card file system problem. I didn't really know what the cause is and also have no any solution. After plunging it to my laptop, the windows only gave me a message saying: "The card is not formatted. Do you want to format it now?" Its file system also is changed into RAW. But, this SD card has contained some messages, photos and videos. They are so important that I really want to rescue them back. Please, help me retrieve my cherished contents! .Many thanks!
SD Card Backup Helps Now!
Hello! Dear friend! Changing the RAW file system back to FAT32 is not an impossible or complex task! But, you also cannot do it randomly, since you still have to rescue your contained information. So, to take back your card information, firstly check your SD card backup. Are all your cherished stuffs still stayed there safely? If your answer is undoubtedly "Yes", you can directly format this card for changing its file system. But, if your answer is surely "No", you'd better wait for a while and use RAW SD card data recovery software to firstly regain your messages, photos and videos. To reduce potential troubles, do not use this SD card temporarily.
SD Card Backup Helps Now!
Have you checked your SD card backups carefully? Find most of important photos there, but still need the rest ones? Or you do not prepare data backups? Ok! This is not a disaster for you! Why not to recover your SD card photos with SD card recovery software? This card recovery software is always so comprehensive that it can help take back all prevailed file types, like images, videos, audios, word files, excel files, texts and more.  Here are four steps for you to get back your SD card photos before formatting:
Step 1:
Free download this software and run it easily. Select "All" data recovery mode to scan all your stuffs back.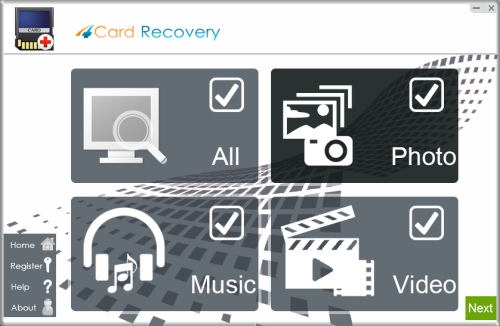 Select recovery options in the main interface
Step 2:
 Hit this SD card from all presented disks. The following scanning process may take sometime.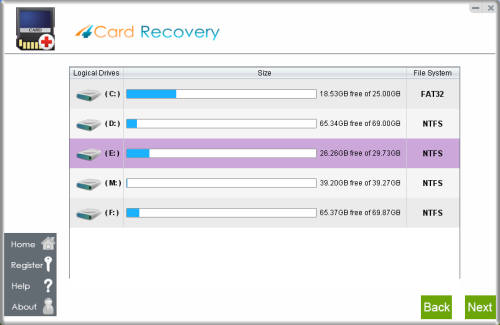 Select card to search photos off card
Step 3:
Choose a fixable data recovery mode from four ones. Click this RAW SD card to start scanning afterwards.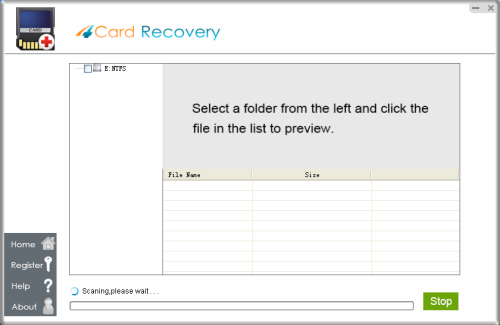 Wait while scanning lost photos, sometimes it takes about 20 minutes to scan a 32G card.
Tips: if it takes more than 2 hours to scan a 32GB card, you may stop the scanning and wait to see
what's already found. Since the card may contains bad blocks that takes longer time than usual.
Step 4:
Select the path folder to find all your wanted photos and check them well. Recover all chosen photos back.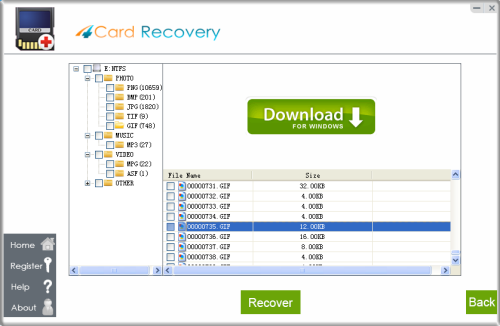 Preview lost photos and save found files. It would generate a folder to contain your lost data.
Please do not save the photo to the card where you lost them. Save them to your PC drive!

Download 4Card Recovery
Tips:
* Follow suggestions not to put new data with this SD card.
* Follow suggestions to back up all important card pictures well.
Change RAW File System into FAT32!
Without data backups, you can retrieve your SD card stuffs back with data recovery software. But, as to the RAW file system problem, no software can help you. Honestly, you also do not need any software, since you can easily format this card on your computer to change its RAW file system back to FAT32. And then, you can freely use this SD card as before.
Prepare Card Backups All the Time!
From the description above, you must realize the importance of data backups. Therefore, in the future, no matter what has or will happen, you'd better ignore everything around and firstly make data backups well. Of course, in case of some incomplete card data backups, you also should update them as many times as possible. Just try to save copies of everything important on different drives or memory cards all the time.

Download 4Card Recovery