Hey, I have lent an 8GB Kodak SD card to my friend since he need move some funny photos to his computer. But, after he gave it back to me, this SD card format was changed into RAW and there was 2GB of data detected. But, every time I attempted to access the stored data, the Windows would ask me to format. I had asked my friend what he had done to this card. But, he just said there was nothing strange. Do you know what's wrong with this SD card? What should I do to keep my SD card data safe? How can I turn the RAW format to NTFS?   
All right! What version of Windows does your friend use? Has he formatted this SD card before using it on his computer? When a SD card is used on a new computer, it often will ask one to format for some incompatible file system problems. Therefore, if he does format this card there, the newly format of this SD card could be also incompatible with your computer. That also explains why your SD card is displayed as RAW and suggests you to format. So, to access this card on your computer normally, you also need format it, too. But, in order to keep your SD card data safe, do not format before you successfully rescue all your data inside with RAW SD card data recovery software. 
Recover SD Card Data without Formatting
The format process could clean everything stored on this SD card and also increase the difficulty of data recovery, you should always remind yourself not to format this card before data recovery. Therefore, download RAW SD card data recovery software to copy all your 2GB data back from this RAW SD card.
Let's restore your card data back together:
Step 1:
Download this RAW card data recovery software and plunge your card to computer. Start software and select a file type from four.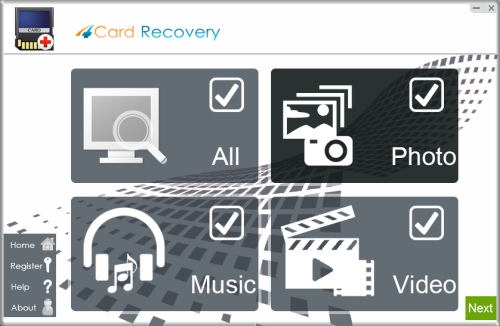 Select recovery options in the main interface
Step 2:
Select your RAW SD card as the target volume and scan it for your data.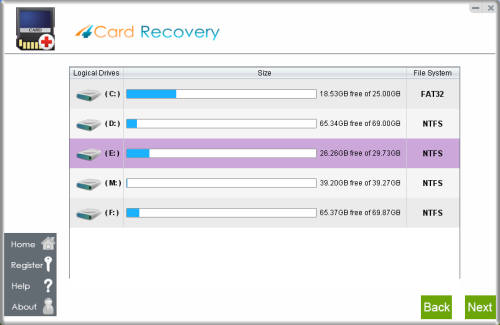 Select card to search photos off card
Step 3:
Specify all your needed card data.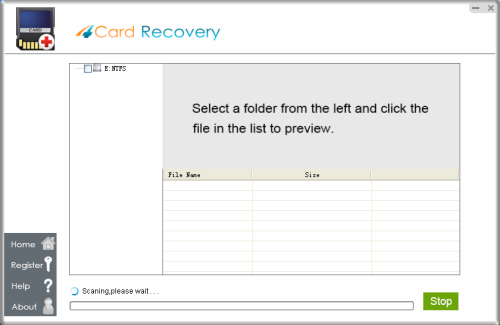 Wait while scanning lost photos, sometimes it takes about 20 minutes to scan a 32G card.
Tips: if it takes more than 2 hours to scan a 32GB card, you may stop the scanning and wait to see
what's already found. Since the card may contains bad blocks that takes longer time than usual.
Step 4:
Recover your RAW SD card data back and move it to computer drive or other storage device. .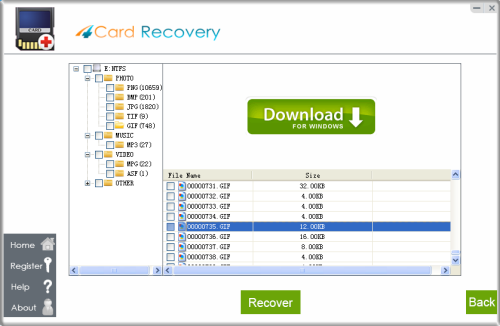 Preview lost photos and save found files. It would generate a folder to contain your lost data.
Please do not save the photo to the card where you lost them. Save them to your PC drive!

Download 4Card Recovery
Tips:
* Prepare more memory cards around so that you do not have to lend a card with important data to others.
* Prepare more copied of everything important on different drives, cards or storage devices in the future.
Convert SD Card from RAW to NTFS
As you've been told above, the formatting process is really necessary. Therefore, back up all your restored SD card data and format this SD card from RAW to NTFS. 
Format Cannot Be Completed?
This SD card cannot be formatted on your computer? Your SD card could be damaged somehow. There are two cluces for you to fix this card problem. Firstly, since you've backed up all important data well, you can seize this chance to replace this SD card, especially as this card has been used for a really long time or has encountered similar card problems many times. But, unfortunately, if this card has not been used so long or you do not want to replace it now, you can easily use a professional card formatter to help. But, if I were you, I prefer to choose the former way.
Format RAW SD Card before Data Recovery?
If you immediately format this SD card when you are asked to, you may find the RAW file system has been restored. But, the inner stored data is also lost, right? Clam down! As long as your lost data is not overwritten by new data, you do have chances to retrieve it back, because the formatting process, especially the quick formatting process, often doesn't physically expunge all data on a memory card.

Download 4Card Recovery