Summary
This article will offer you a handy data recovery tool named 4Card Recovery to assistant you restoring all Verbatim memory card files lost for accidental deletion, mistaken operations, unplanned formatting or others.

Verbatim Memory Card Recovery by 4Card Recovery
Free download 4Card Recovery to re-access all missing files back from different memory cards with diversified brands, like Sony, Verbatim, Samsung, PNY, Kingston and other poplar ones.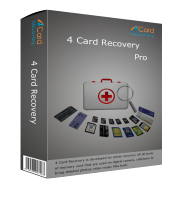 Verbatim Memory Card Files Are Inaccessible or Lost?
Tons of Verbatim memory card files are inaccessible or lost right now? What have you done to them on earth? Accidentally delete them off from your Verbatim memory cards, like wrongly press "delete" button of your camera/phone? Unexpectedly lose them off from your Verbatim memory card for some mistaken operations, like formatting this card without data backups, removing memory card out when camera/phone is still working, or converting the RAW file system without rescuing data at first, etc? Or Verbatim memory card files Unpredictably become inaccessible for other reasons, like virus infection, power surge, file system damage and more? OK! No matter how and why you lose these memory card files, just stop worrying and choose memory card data recovery software to help you rescue them all back right now.
How to Recover Lost/Inaccessible Data from Verbatim Memory Cards?
What type of Verbatim memory cards do you use, SD cards, SDHC cards, Micro SDHC cards or CF cards, etc? Do you also worry about whether different types of Verbatim memory cards may have different demands to retrieve left files back? Don't worry! You absolutely think too much! With our 4Card Recovery, you also have no need to worry about those problems. On the one hand, 4Card Recovery is designed to be compatible with all types of memory cards with all prevailed brands. Moreover, if it is necessary, it even can help restore data from USB flash drives and other storage devices. On the other handle, 4Card Recovery is also produced to have four advanced data recovery modes that allow you to rescue all types of memory cards files, like videos, audios, photos, texts, messages, word files and so on. So, let's rescue your Verbatim memory card data back in three steps:
Step 1:
Download 4Card Recovery software. Start this tool on your computer to pick out a data recovery mode from four.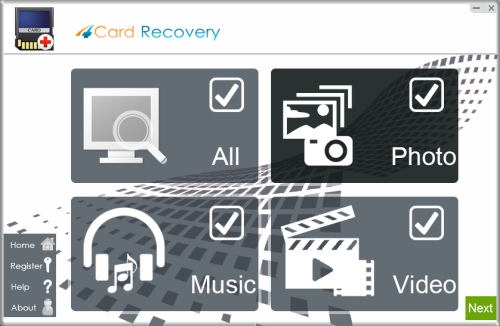 Select recovery options in the main interface
Step 2:
Scan this connected Verbatim memory card. Just click this card in the storage media list, when you are asked to choose one storage device there.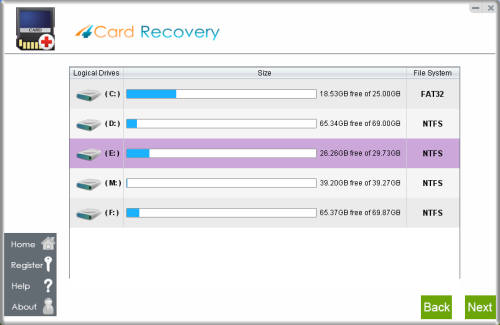 Select card to search photos off card
Step 3:
 Preview all found files to select out your cherished ones.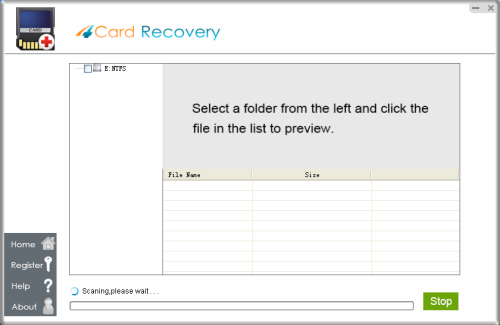 Wait while scanning lost photos, sometimes it takes about 20 minutes to scan a 32G card.
Tips: if it takes more than 2 hours to scan a 32GB card, you may stop the scanning and wait to see
what's already found. Since the card may contains bad blocks that takes longer time than usual.
Step 4:
 Restore all selected files to another storage device.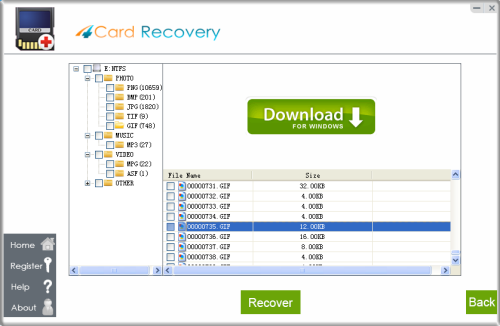 Preview lost photos and save found files. It would generate a folder to contain your lost data.
Please do not save the photo to the card where you lost them. Save them to your PC drive!

Download 4Card Recovery
Note:
* The inaccessible or lost verbatim memory card files can be easily overwritten by new files on the same memory card. So, take care not to do anything to this card before data recovery.
*The "Preview" function of this tool can help you restore all selected files back only.
*The restored memory card files may be also lost again after the data recovery, if you still save them on this Verbatim memory card. So, just transfer them to another storage device.
*The prepared data backups always can help avid many similar data loss problems. So, take care not to forget make data backups all the time in the future.
Verbatim Memory Card Information
Verbatim manufacturers have offered many efficient memory cards for you. Firstly, it has provides you with many memory card types so that you can freely use them on your computers, cameras, phones, camcorders and more, such as SD cards, Micro SDHC cards, SDHC cards, CF cards, SDXC cards, SDHC cards and more. Secondly, al these memory cards also are produced with a variety of capacities so that you can freely use it for storing videos, photos, messages and more, such as 2GB, 4GB, 8GB, 16GB, 32GB and 64GB, etc. Thirdly, all these memory cards are also available in a number of formats so that you can easily use them under different OS version. In short, this verbatim memory cards also can be good choices for you to store or transfer your data.

Download 4Card Recovery