Summary
This article will introduce you an easy way to temporarily ignore all possible card problems and restore all your inaccessible or missing data back from different strontium flash cards with success.

Strontium Flash Card Recovery by 4Card Recovery
Free download 4Card Recovery to retrieve all lost Strontium flash card data back before you are beginning to fix your card problems, like not formatted error, memory card error, RAW file system error, or virus-infection problems, etc.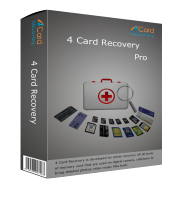 It Is Easy to Recover Strontium Flash Card Data?
Nowadays, flash card or memory card is often used on electronic devices, like smart phones, camcorders, digital camera and MP3 players, etc, so that one can easily transfer or move the remained data from these devices to computer or from computer to these devices. But, occasionally, the memory card or flash card probably also cannot be opened or accessed normally for some card problems (like not formatted error warning, memory card error message, RAW file system error, etc) or other human errors (like mistaken deletion, format, card damage or corruption, sudden card extraction, etc). And the inner stored crucial files may also be lost at the same time, which is really a disaster. However, if your Strontium flash card really gets similar data loss problems, you also have no need to panic! It is extremely easy to recover your previous card data back with proper operations and memory card data recovery software.
It Is Easy to Recover Strontium Flash Card Data with 4Card Recovery
When using flash card or memory card on your electronic devices, you may occasionally encounter some card data loss problems. Therefore, don't be too surprised or tensed when you have to recover your lost Strontium flash card data back. Simply prevent writing new data on this card and use 4Card Recovery to easily rescue your lost photos, videos, songs and more back. This data recovery software often can easily rescue data back from an erased, formatted, reformatted, virus-attacked and even corrupted memory card and USB flash drive. Its interface is also easy to understand and use.
Let's adopt this easy data recovery solution to get back your lost Strontium flash card data:
Step 1:
Download this recovery software and insert this Strontium flash card to this same computer. Run this tool and use a satisfying data recovery mode from the listed four.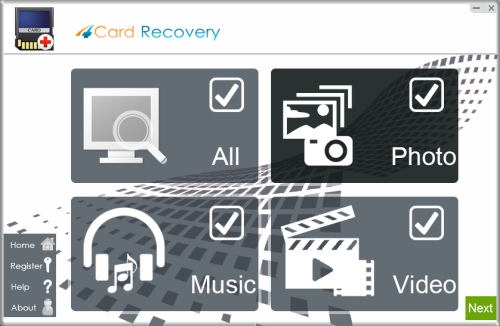 Select recovery options in the main interface
Step 2:
Read the next screen and find your Strontium flash card out. And then, wait patiently while scanning.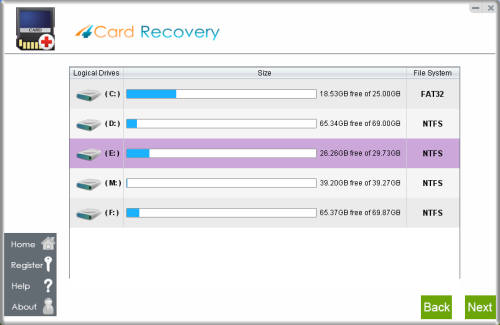 Select card to search photos off card
Step 3:
Preview all scanned files all wanted ones only latter.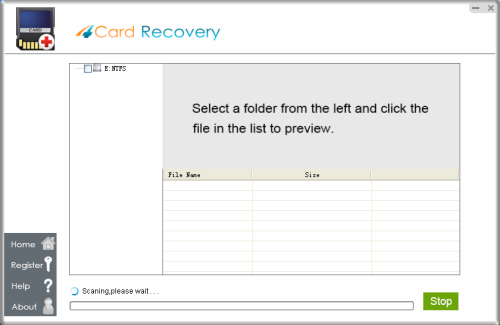 Wait while scanning lost photos, sometimes it takes about 20 minutes to scan a 32G card.
Tips: if it takes more than 2 hours to scan a 32GB card, you may stop the scanning and wait to see
what's already found. Since the card may contains bad blocks that takes longer time than usual.
Step 4:
Recover all selected files back and transfer the restored data on other computer partitions or drives.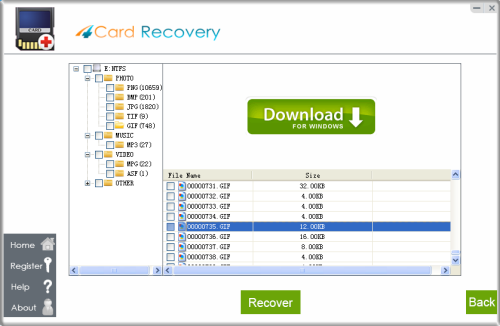 Preview lost photos and save found files. It would generate a folder to contain your lost data.
Please do not save the photo to the card where you lost them. Save them to your PC drive!

Download 4Card Recovery
Note:
* Insert this Strontium flash card to computer by using a card Reader or your electronic media.
* Do not write this Strontium flash card with new files or other storage device files.
* Rescued Strontium flash card files should be safer when you move them to computer drives or other places.
* Keep saving card data on different places in the future.
It Is Easy to Use Strontium Flash Card
Strontium flash memory cards include the Micro SD cards, SD cards, Micro SDHC cards and SDHC cards. Different types have been built with different features. For example, the Micro SDHC cards, comparing to the common SD cards, they are been produced with a smaller physical size so that it can be used in some specific devices. With fast transfer speed and high quality, it can easily help you store your assigned videos, photos and other types of files efficiently and safely. So, in this way, you always can find all of its provided flash cards are realty portable and reliable. It is really easy to use these flash cards on your phone, camcorder, camera and the likes. 

Download 4Card Recovery