Summary
Check this tutorial to restore all your deleted, lost or inaccessible camcorder videos back from inner used memory card before all of these lost stuffs are really destroyed or replaced for you overwriting or other unexpected reasons.

Digital Camcorder Memory Card by 4Card Recovery
Free download 4Card Recovery to rescue your wanted wonderful videos back from the camcorder memory after accidental camcorder card deletion, formatting,, RAW file system problem converting and virus-infection resolving, etc.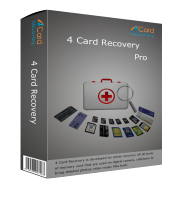 Possibility to Recover Lost Camcorder Memory Card Videos
Nowadays, instead of a common digital camera, to some video lovers, they do love to apply a professional digital camcorder, since a well-designed digital camcorder is really more helpful for them to create a impressive and touching video, not only a stuff to record. Is that right for you? No matter whether you agree with that, hope you've back up camcorder card videos well. Why? Without card video backups on online storage or storage devices, it can be really easy for anyone to lose them completely in seconds. There are always many unexpected reasons that can make your treasured card videos lost, like accidental card data deletion for wrongly clicking "Delete"; option, formatting camcorder card for mistakenly choosing the wrong storage, camcorder card virus-infections, camcorder card RAW file system formatting, camcorder card not formatted error and camcorder card corruption, etc. If you unfortunately meet anyone of these motioned ones above, don't think too much to scare yourself. Without reckless operations, there are great possibilities for you to restore lost videos back with Camcorder memory card data recovery software
How to Recover Lost Videos from Camcorder Memory Card?
After losing everything cherished off from this camcorder memory card, you've better not do multiple things to avoid farther data loss. For instance, you'd better not format this card after encountering RAW file system problem, not formatted error, virus-infection problem and more. You'd better not add new stuffs on this camcorder memory card to overwrite your original card after deletion or formatting. And stopping using this camcorder memory card temporarily could be the helpful solution in that moment. And then, to rescue your lost videos back, insert this card to your PC and start camcorder memory card data recovery software like 4Card Recovery to scan this card as below:
Step 1:
Download this software and select a proper data recovery mode for this camcorder memory card.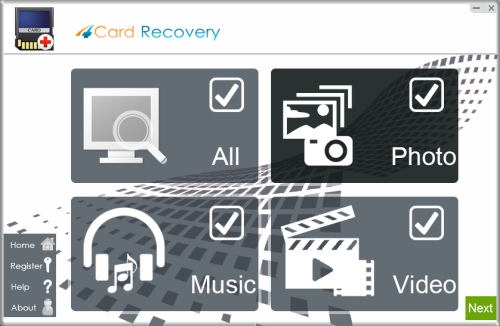 Select recovery options in the main interface
Step 2:
Scan this camcorder memory card and wait patiently to preview all found card videos or other stuffs.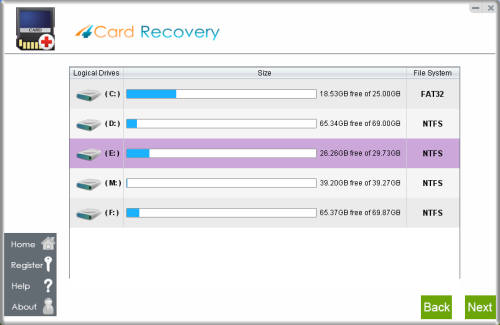 Select card to search photos off card
Step 3:
Mark all scanned stuffs that you want and also can be restored successfully.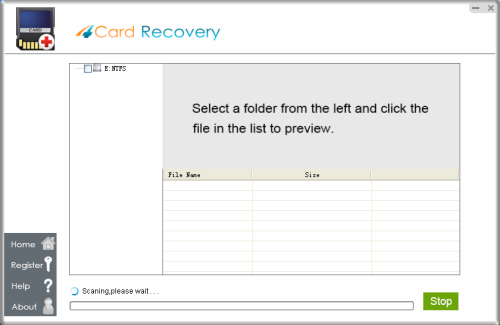 Wait while scanning lost photos, sometimes it takes about 20 minutes to scan a 32G card.
Tips: if it takes more than 2 hours to scan a 32GB card, you may stop the scanning and wait to see
what's already found. Since the card may contains bad blocks that takes longer time than usual.
Step 4:
Restore all card videos and transfer them all to another storage device.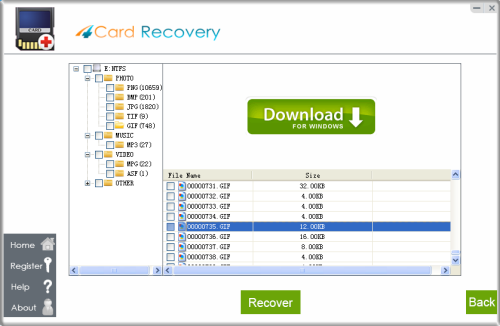 Preview lost photos and save found files. It would generate a folder to contain your lost data.
Please do not save the photo to the card where you lost them. Save them to your PC drive!

Download 4Card Recovery
Additional Tips:
* As you've been told, save nothing new on this camcorder memory card.
* As you've been told, save all restored stuffs on another drive, partition or device in case of data recovery failures.
* As you've been told, prepare camcorder memory card video backups all the time in case of data loss problems in the future.
4Card Recovery User Comments:
Comment1: I have checked this data recovery software when my camera SDXC card is formatted and all photos inside are gone. After downloading this software to my computer, this software just offers a Wizard guidance to help me a lot. Its four data recovery modes, like "Photo", also give me a great hand. Thanks! It has let me re-accessed all my stuffs well.
Comment2: I just mistakenly deleted some message photos off from my phone SD card last year and tried numerous data recovery programs online to retrieve them. But, only this data recovery software restored the most of these deleted photos back. It is worth my thanks! 
Comment3: I have not tried this software before, but, my friend has. He says the well-designed four data recovery modes and easy-to-grasp interface make him have a really pleasant data recovery experience.

Download 4Card Recovery