Summary
This article will share simple solutions for you to scan your camera SDHC card and recover all photos, videos, music and files inside back, when you tab a wrong button or do something else to lose all favorite camera card contents accidentally.

Digital Camera SDHC Card by 4Card Recovery
Free download 4Card Recovery to rescue all camera memory card stuffs back step by step, no matter whether you've ever had some experiences in camera card data recovery.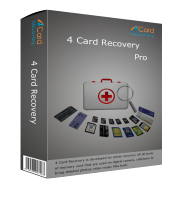 Have Done Something Wrong to Lose Digital Camera SDHC Card Data?
In comparison to the common SD cards, many digital camera owners are more likely to use a SDHC card to hold their camera data for its higher capacity and higher quality. Is that also your reason to select this sort of memory cards? But, right now, all camera card contents, like videos, images, files and messages, are lost for your wrong actions, such as touching the wrong button to format/reformat whole camera SDHC card, deleting wrong SDHC card files/folders, unwillingly formatting SDHC card with RAW file system, or erasing everything important inside this camera SDHC card for not formatted errors or else? OK! You must be shocked for missing everything initial in seconds! But, don't be upset! With the assistant of digital camera SDHC card data recovery software, you also can easily restore them all back from this original SDHC card.
Do Something to Recover Your Lost Camera SDHC Card Data back!
Honestly, not only you, a sea of people all over the world delete, erase or lose their crucial camera/phone/player memory card information for wrong operations every year. However, after making series of efforts, not all of them will really lose their card data permanently. Therefore, don't worry too much! With necessary efforts, you also can rescue your camera SD card contents like them. So, just keep this SDHC card unused temporarily and scan it on your computer with memory card data recovery software like 4Card Recovery to see whether all of your original camera card videos, images and more information can be retrieved. With this data recovery software, you only need minutes to take everything inside this camera SDHC card out.
Follow steps to recover all lost camera information back:
Step 1:
Insert this camera SDHC card to your computer and download this recovery software to the computer drive. Install this software and open its working interface. Choose a file type recovery mode from its main screen.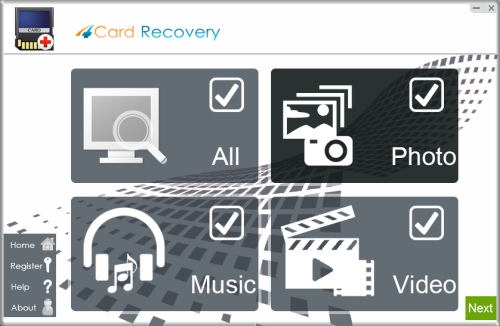 Select recovery options in the main interface
Step 2:
Find the newly plunged drive and start to scan it on the next screen. Ensure this selected new drive is your inserted SDHC so that you can smoothly scan it to search all lost camera information back.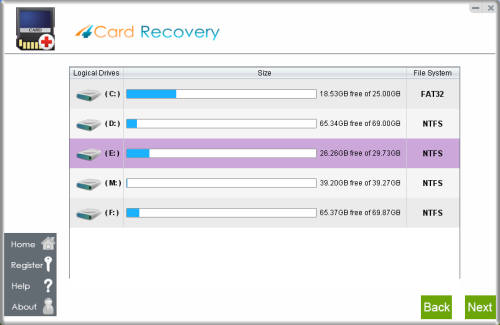 Select card to search photos off card
Step 3:
Open all scanned files on the Preview screen and select your wanted ones.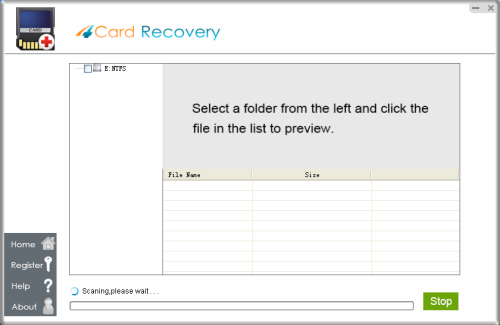 Wait while scanning lost photos, sometimes it takes about 20 minutes to scan a 32G card.
Tips: if it takes more than 2 hours to scan a 32GB card, you may stop the scanning and wait to see
what's already found. Since the card may contains bad blocks that takes longer time than usual.
Step 4:
Restore them all back and save the restored data copy to computer drive.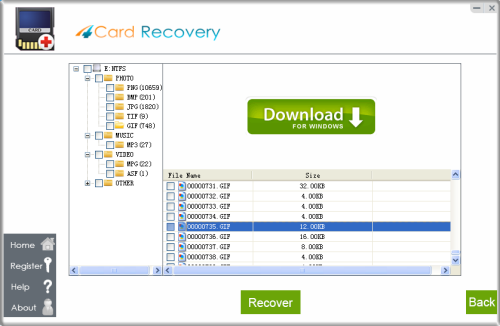 Preview lost photos and save found files. It would generate a folder to contain your lost data.
Please do not save the photo to the card where you lost them. Save them to your PC drive!

Download 4Card Recovery
Tips:
* When finding all camera SDHC card data is lost or gone, just put this digital camera or SDHC card aside in case that anything new will be written on this original card.
* When retrieving all camera card contents back, just save them all on a different storage device in case of any data recovery failure in the last step.
* When taking new photos with this camera or transferring new files to this camera SDHC card, just timely save the changed data copy on another devices in case that they are unexpectedly lost again.
Digital Camera Problems& Fixes:
Here are some problems and related fixes of digital cameras. Hope they will give you some helps in the future.
1). Digital camera seems stuck and cannot be operated properly when the power light is still on.
This digital camera may be stuck for unstable power support, improper data transformation or slow camera performance and more. To fix it, just try to turn off this camera and start it again to check. 
2).Digital camera gives a memory card error message.
When this digital camera is in use, sometimes, it will also give a memory card error message and stop you accessing anything inside or capturing anything new without formatting or other proper operations. Under this circumstances, just format this memory card on computer after rescuing all reserved camera card data back successfully.
3). Digital camera photos are too blurry, bright or dark.
When the captured photos are too blurry, bright or dark, you can simply reset or adjust this camera to make everything right. Without knowing the detailed information of this camera, you can check the camera instructions or directly contact the manufacturers for help online.

Download 4Card Recovery