Summary
This article is about how to safely transfer needed Blackberry phone information back from the inner memory card, provided that you've saved it all on this card before deletion, format, virus infection, card shock, or card corruption, etc.

Blackberry Phone Card Recovery by 4Card Recovery
Free download 4Card Recovery to rescue all lost data back from Blackberry phone memory cards, when this phone has some memory card data problems.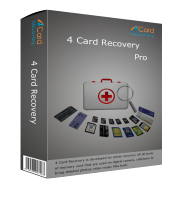 Blackberry Phone Memory Card Data Loss Scenarios
All Blackberry phone are designed to have many features, like smart passage response, fast web browsing, smooth video conversation, unique full QWERTY keyboard and fashionable outface, etc. However, when using a Blackberry phone in daily life, it may also have some data loss scenarios:
1). Blackberry phone memory card photos are deleted for accidental hitting.
2). Blackberry phone memory card videos or tuffs are wiped out for unexpected format.
3). Blackberry phone memory card messages are inaccessible for card error warnings, like RAW file system error, not formatted error, memory card error, etc.
4). Blackberry phone memory card texts are all shown as unworkable shortcuts for virus infections.
5). Blackberry phone memory card data is missing for card corruption.
Have you ever restore your blackberry phone memory card data with success? OK! No matter what your answer is, your phone card information is not gone permanently. Your phone card data loss problems can be easily fixed with Blackberry phone memory card data recovery software like 4Card Recovery.
How to Restore Blackberry Phone Memory Card Data?
The Blackberry phone memory card data loss problem is not complicated. With the help of Blackberry phone card data recovery software like 4Card Recovery, you often can rescue all your photos, videos, music, texts, messages, emails and the likes back from this phone memory card by yourself, even when you are only a computer beginner.  
So, plunge this Blackberry phone to your computer and perform data recovery process there:
Step 1:
Download and install this data recovery software on your computer. Remember your card data type and choose a proper file type recovery mode.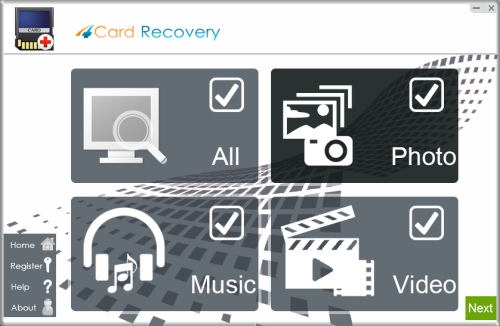 Select recovery options in the main interface
Step 2:
Highlight the drive that stands this phone card. Do not forget the drive letter of this Blackberry phone memory card.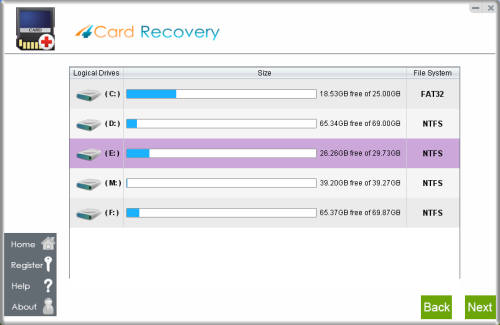 Select card to search photos off card
Step 3:
View all scanned files to pick out your wanted ones. The listed file name or file type may help you recognize your needed data.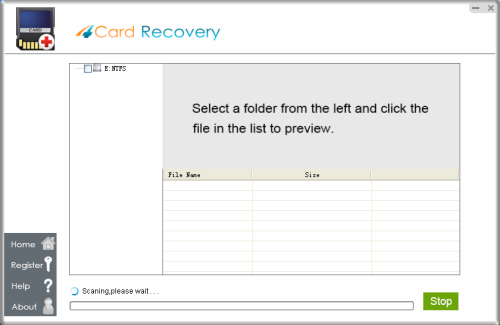 Wait while scanning lost photos, sometimes it takes about 20 minutes to scan a 32G card.
Tips: if it takes more than 2 hours to scan a 32GB card, you may stop the scanning and wait to see
what's already found. Since the card may contains bad blocks that takes longer time than usual.
Step 4:
Restore Blackberry phone memory card data. Save retrieved data on computer internal or external drive.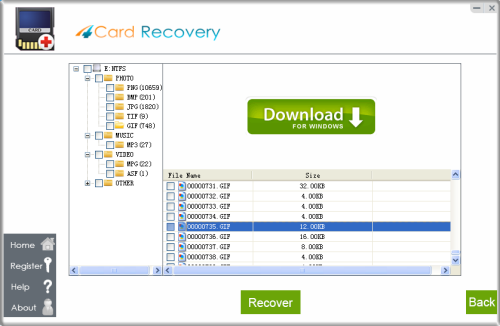 Preview lost photos and save found files. It would generate a folder to contain your lost data.
Please do not save the photo to the card where you lost them. Save them to your PC drive!

Download 4Card Recovery
Quick Tips:
* Take out Blackberry phone memory card and also insert it alone to your computer with card Reader.
* Take all restored Blackberry phone card data to another memory card or computer drive.
* Take future data to separate drives or memory cards in case of data loss.
Useful Points of Blackberry Phone:
There are also some useful points about Blackberry phone for you:
1). Download software to keep you phone system updated
The official website of Blackberry phone has provided some newly designed software for every user to update his phone system timely. Therefore, you should regularly check and download to update your phone.
2). Back up Blackberry phone memory card data
When your Blackberry phone is lost, broken or stolen, the memory card data backups can help rescue all your wanted data back, like pictures, contacts, music, messages and more. So, make sure that you have backed up all your phone memory card data well all the time.
3). Ask some questions of your phone in Blackberry phone forum
If you are facing some unknown phone problems and want to fix them by yourself, you can firstly register an account on its forum and post your questions there. The administrators will answer you once they find them there.

Download 4Card Recovery