Summary
Get help from 4Card Recovery to restore all your deleted or missing photos, audios, videos, word files, emails and other files back from Wintec flash memory card without professional data recovery skills and experiences.

Wintec Flash Card Recovery by 4Card Recovery
Free download 4Card Recovery to use anyone of the provided four data recovery modes to rescue your flash card data without any risk.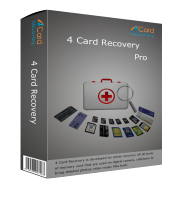 Delete or Lose Wintec Flash Memory Card Files
As a wise Wintec flash memory card user, we often make all possible efforts to keep card data safe, like making data backups, updating data backups, reserving flash card well and more. But, sometimes, even when we've adopted all possible precautions, we may also inevitably meet some flash memory card data loss issues, such as accidental deleted some meaningful card photos, erasing some valuable videos, formatting card and losing important stuffs, virus infected card data loss problems, corrupted card data loss problems and more. After all, we are normal persons and make no mistake all life long. Therefore, when you delete or lose your Wintect flash memory card files, you should never lose your faith and use flash memory card data recovery software like 4Card Recovery to rescue your needed files back timely.
Restore Wintec Flash Memory Card Files
Therefore are many Wintec flash memory cards in different types and capacities. But, no matter which one you are using, you may unavoidably have some card problems, especially some card data accessing problems. No matter when and where you've encountered these flash card data loss problems, just turn off your camera, phone or camcorder, connect it to your computer and use 4Card Recovery to take your card files back as many as possible. By using this flash card recovery software, you always can easily perform the whole data recovery process and restore your needed stuffs back with high efficiency.
Fast data recovery steps:
Step 1:
Start your computer, plunge this flash memory card there and download this card data recovery there. Launch this tool and choose a file type to recover on its main Window.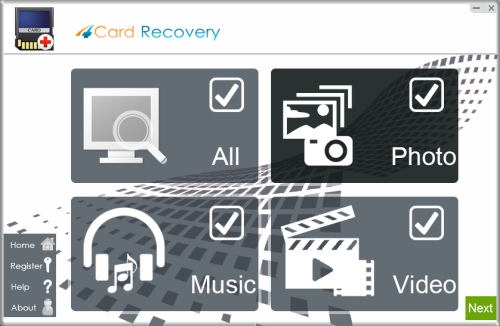 Select recovery options in the main interface
Step 2:
Head to the next page, view all listed mediate and choose your flash memory card out. And then, scan it without hesitation.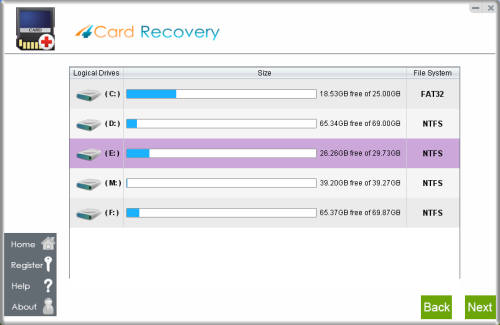 Select card to search photos off card
Step 3:
Preview all find files, check them one by one on the small upper small screen and choose all your wanted stuffs out.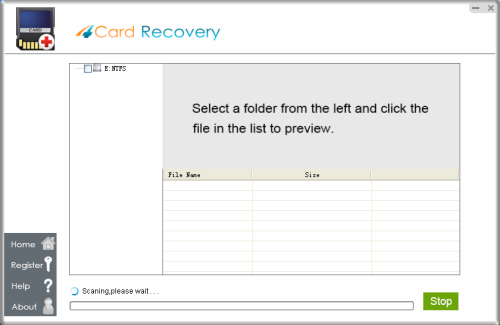 Wait while scanning lost photos, sometimes it takes about 20 minutes to scan a 32G card.
Tips: if it takes more than 2 hours to scan a 32GB card, you may stop the scanning and wait to see
what's already found. Since the card may contains bad blocks that takes longer time than usual.
Step 4:
Recover all verified files back. And also move them to computer drives.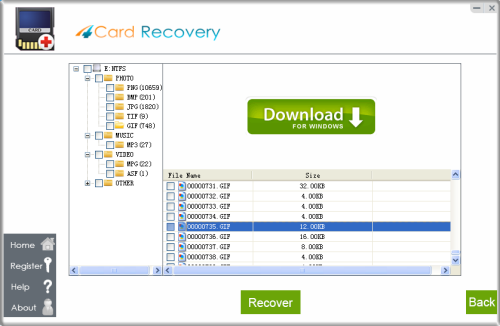 Preview lost photos and save found files. It would generate a folder to contain your lost data.
Please do not save the photo to the card where you lost them. Save them to your PC drive!

Download 4Card Recovery
Quick Tips:
* Don't take more photos with this flash memory card.
* Don't launch this card recovery software on this flash memory card.
* Don't save restored stuffs on this flash memory card after data recovery process.
* Don't make data backup on only one drive or place.
Wintec Flash Memory Card Information
Many efficient storage devices are designed and produced by Wintec manufacturers, like the mentioned flash memory cards, some solid state drives and USB flash drives. As to flash memory cards, there are also the common types of flash memory cards, like compact flash cards, security digital cards, Micro SD cards, etc. Moreover, in order to facilitate the customers, Wintec also promotes a "Card-It-All" adapter which enables your Micro SDHC card to be compatible with four popular memory card adapters, like SD card, MiniSD card, ProDuo and USB flash drive. With this adapter, you always can easily read your wanted card data on different devices, like your computer, camera, smart phone and more. 

Download 4Card Recovery