Summary
Here is software and steps to recover lost or deleted camera pictures, videos and files from the xD-Picture card of your digital camera, no matter which brand of digital camera it is, like Fujifilm, Olympus and Toshiba.

Digital Camera XD Card by 4Card Recovery
Free download 4Card Recovery to retrieve your cherished videos and images back from the memory card your digital camera after encountering some deletion, formatting, virus-infection and more data loss problems.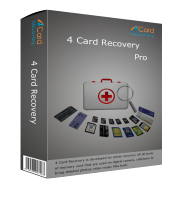 Fujifilm, Olympus or Toshiba Camera xD-Picture Card Pictures Are Lost or Deleted?
As a really old flash memory card format, xD-Picture card is developed by Fujifilm, Olympus and Toshiba and commonly used in these branded digital cameras. Does this type of memory cards work well on your digital camera? Does it bring you some camera card data loss problems recently, like accidentally deleted crucial camera pictures when viewing, unexpected camera card format/reformat for wrong button pressing, inaccessible camera card data for RTAW file system or not formatted error, camera card virus infection or corruption and the likes? Yes? All right! No matter what your data loss problem is right now, simply put this xD-Picture card aside and take chances with xD-Picture card data recovery software to check whether these lost stuffs could be retrieved without backups.
How to Recover Lost or Deleted Camera xD-Picture Card Pictures back?
There is good news that you can retrieve needed camera pictures and videos back with camera card data recovery software like 4Card Recovery from the inner used memory card (like CF cards, SD cards, xD-Picture cards, TF cards, Micro SD cards and more) when all of them are lost or missing for deletion, format, RAW file system error, not formatted error and more unknown reasons without copy left.  But, that doesn't mean you can get them all back all the time. Therefore, when trying to take them back, you are supposed to act carefully:
Step 1:
Download this software to your PC drive or partition and launch it here. Also plunge this xD-Picture card to the same computer and select a card data recovery mode on its main screen.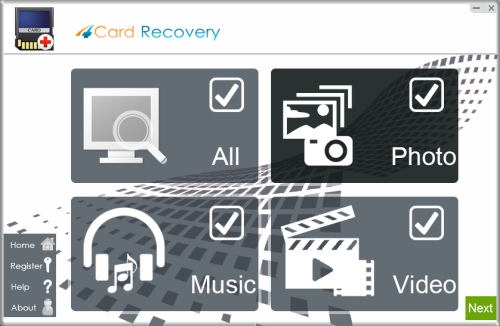 Select recovery options in the main interface
Step 2:
Simply click this camera xD-Picture card to scan it thoroughly. If you do have saved a large amount of data on this camera card, you may also need longer time to let it find everything back.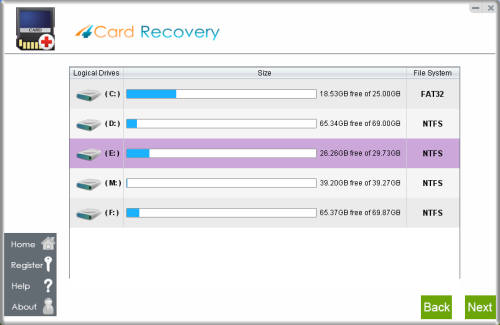 Select card to search photos off card
Step 3:
Check whether all of these found card stuffs are still useful for you. Simply preview them all and mark out useful ones.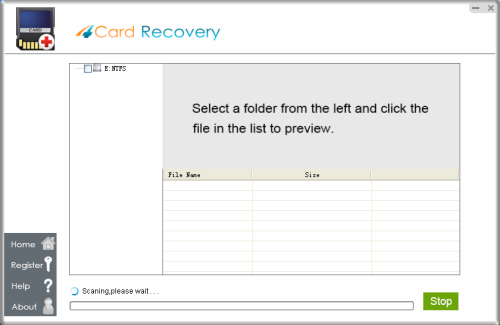 Wait while scanning lost photos, sometimes it takes about 20 minutes to scan a 32G card.
Tips: if it takes more than 2 hours to scan a 32GB card, you may stop the scanning and wait to see
what's already found. Since the card may contains bad blocks that takes longer time than usual.
Step 4:
Restore marked camera card pictures or videos back and also transfer them to computer drive or partition.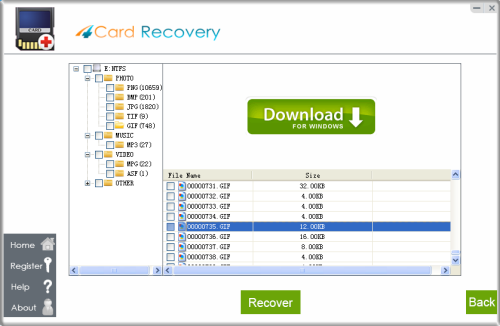 Preview lost photos and save found files. It would generate a folder to contain your lost data.
Please do not save the photo to the card where you lost them. Save them to your PC drive!

Download 4Card Recovery
Note:
* Some data Loss problems will happen again when you save any new stuff on this camera xD-Picture card after your deletion or formatting.
* Some data recovery failures may also occur when you try to save all restored pictures and videos on the same xD-Picture card.
* From now one, make camera card data backups all the time to avoid any possible data loss problems.
Ask & Answer:
1). Why to choose an xD-Picture card instead of other memory cards?
In comparison to other memory cards, xD-Picture card has a really larger capacity and excellent compatibility. Moreover, like other memory cards, it is also small, portable and effective. Most importantly, sometimes, the Fujifilm, Olympus and Toshiba cameras needs you to use this typed of memory cards.
2). How to avoid xD-Picture card data loss problems?
To avoid data loss problems, firstly, the most important and necessary way is to save copies of anything important on your computer drives, partitions or online storages. Even for some emergencies, you can not upload your camera card data to these storage devices. You'd better timely do that as soon as possible. And then, secondly, rightly use this xD-Picture card to avoid any unexpected card errors or problems, like scanning this card with your antivirus program regularly, extracting it off from your camera or computer with the eight ways and also keeping this card well even when it is not used, etc.

Download 4Card Recovery